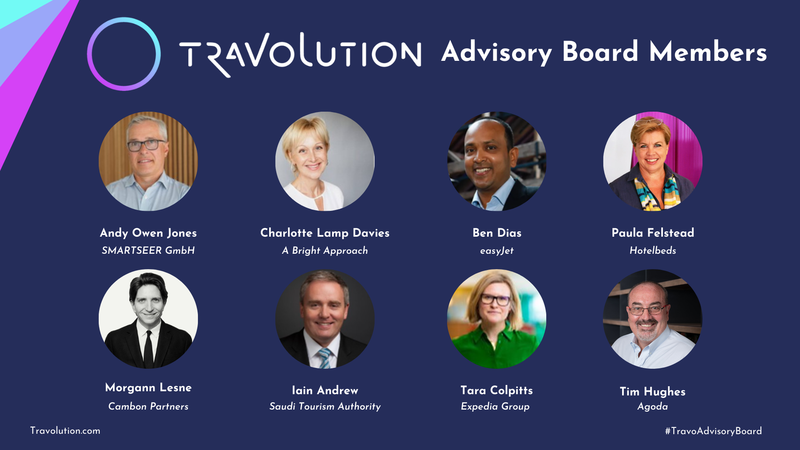 Travolution unveils new advisory board with raft of industry experts
The line-up includes members from easyJet, Expedia and Hotelbeds
Last month Travolution hosted its first Business Breakfast of the year for over a hundred executives from across the industry at Barclays Corporate Bank headquarters in Canary Wharf, London.
On top of the usual insights and networking opportunities, the event also saw the launch of Travolution's brand-new advisory board.
Designed to ensure Europe's leading B2B travel tech publication stays at the forefront of innovation and reflective of industry needs, the advisory board will be responsible for providing key insights on developments within the sector.
The group will benefit from industry experts, who are shaping the digital travel landscape, at the helm of it.
Andy Owen Jones, co-founder and managing director of SMARTSEER GmbH was announced as the chair while Charlotte Lamp Davies, founder and CEO of A Bright Approach, was revealed as the deputy chair.
Owen Jones and Lamp Davies will be joined by an array of thought leaders from a range of backgrounds, roles and organisations, including:
Europe
Paula Felstead, chief technology and operating officer of Hotelbeds
Ben Dias, director of data science and analytics of easyJet
Tara Colpitts, senior director, market management (Europe, Middle East, and Africa) of Expedia Group
Morgann Lesne, partner of Cambon Partners
Middle East and Africa
Iain Andrew, chief commercial officer of Saudi Tourism Authority
Asia Pacific
Tim Hughes, vice president of corporate development, Agoda
Members were extended invitations after a committee from Jacobs Media Group hand-picked individuals based on their expertise, to provide a voice for the main markets the group focuses on.
"From inception Travolution has reported on, contributed to and helped connect the European online travel industry. This next step will bring in more diversity in geographic, sector and subject expertise," said Owen Jones.
"I am delighted to have a chance to work together with the Advisory Board and the Travolution team to ensure that the platform and the events have a greater positive impact on our industry and our customers."
Colpitts said: "The travel industry has experienced a remarkable period of change over the last few years, being upended by huge global events and technological innovation.
"We are living in a transformative era for the travel sector and one that will see different segments in the industry working more collaboratively than ever before in order to put the traveler's needs front and centre.
"The Travolution Advisory Board will provide key market analysis and foresight to a wide range of stakeholders and readers and I'm very excited to contribute along with renowned industry peers."
"With innovation in the spotlight and AI becoming more prevalent, this is a pivotal time for the TravelTech sector. That's why I joined the advisory board – there's so much for us to discuss and learn from each other, added Felsted.
"I'm looking forward to seeing how our industry evolves over the next two years and how the board can contribute to its growth."
Set to meet once a quarter, the group will steer content for events as well as other brand offerings, to address the needs, pains and gains of the market as well as opportunities.
Lamp Davies added: "Embracing change, collaboration, and prioritising the ever-changing landscape of travel technology defines this transformative era in the travel industry.
"I am excited to work with Andy and contribute alongside industry peers on the Travolution Advisory Board, further shaping the brand offering and ensuring Travolution stays ever-present and engaged with its audiences globally.
The advisory board is joined by Travolution's newly appointed editor, Kate Harden-England, to see contribution from four female members in addition to its four male members.
"As the first B2B media title of its kind in the world, Travolution pioneered coverage of the sector and the launch of the Travolution Advisory Board will propel our work in ensuring we continue to deliver offerings that meet market demands and needs.
"I'm extremely proud to have a strong female presence and excited for where the board will take us."
Final members will be announced soon. To hear more about the Travolution Advisory Board and to get updates, sign up to the Travolution newsletter here.