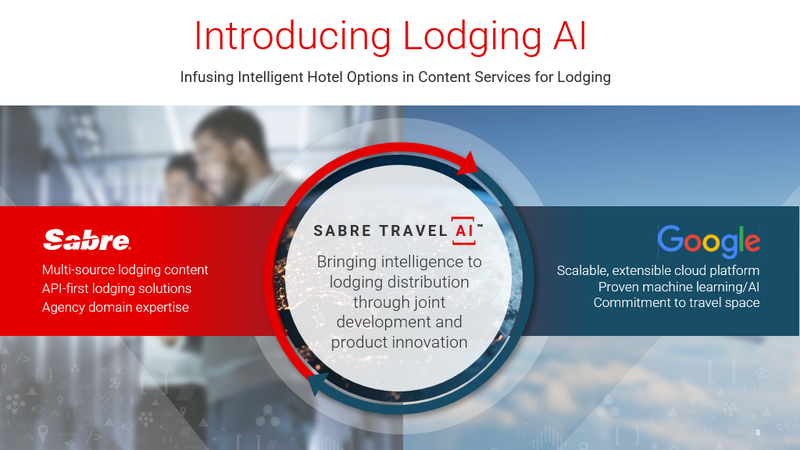 Sabre expands its suite of intelligent solutions with Lodging AI launch
Utilising Google technology, the service will help travel agencies improve hotel attachment rates and revenue opportunities
Sabre Corporation has announced Lodging AI, marking the introduction of its Sabre Travel AI™ capabilities in the lodging sector.
Lodging AI will enable travel agencies to improve hotel attachment rates, create additional revenue opportunities and provide travellers with more personalised lodging options.
Using Sabre Travel AI™ machine learning models, the new capability analyses property attributes, customer trip segmentation and traveller and agency preferences, to generate custom lodging options that provides properties that are most likely to be booked.
It will be available via Content Services for Lodging APIs as well as Sabre Red 360 and will utilise Google technology, as part of the two companies' 10-year strategic partnership.
Two of Lodging AI's micro-services are now available, with additional use cases to be added in the future.
The first, Alternate Properties, facilitates bookings where specifically requested properties aren't available during the shopping phase by presenting up to 20 relevant options with similar characteristics.
Micro-service Cross-sell identifies appropriate air bookings or itineraries without lodging attached and presents suitable lodging options to complete the trip.
"Artificial intelligence combined with data and insights, such as profiles and preferences, is a very powerful tool in removing friction from the travel booking process," said Garry Wiseman, chief product officer of Sabre.
"As the next evolution of intelligent retailing capabilities supported through our strategic partnership with Google, Lodging AI brings more personalized results to enable agents to be more efficient in their workflows and to ensure travelers obtain the most relevant options available."