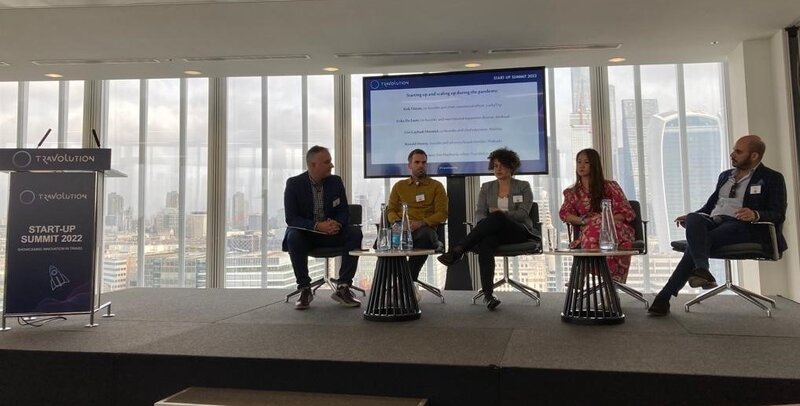 Travo Start-Up Summit: Businesses must be agile in new era of innovation
A panel of founders heard from early-stage travel firms LuckyTrip, We Road, Alto Vita and Pinktada
by Josie Klein
The travel industry is in a new era of innovation and businesses must be agile and adapt to changes, according to experts at the Travolution Start-Up Summit.
The event heard from a panel of businesspeople who each started their business in the years leading up to the pandemic.
Kirk Flitton, co-founder and chief commercial officer of holiday booking app Lucky Trip, said the "last two years of pain" had forced the sector to innovate which has opened up opportunities for start-up businesses and corporate companies to work together.
"I think there is more to do now in travel than ever, but with fewer resources; and when you are in that position it sparks innovation," he said.
"It also opens up an opportunity for start-ups to work with more corporate companies and corporates will need to move fast as they have limited resources.
"I think because of Covid and the last two years of pain we have become a lot more resilient and very agile."
Erika De Santi, co-founder and international expansion director of millennial-focused tour operator We Road:
"I'm super convinced that the pandemic gave a massive boost to the industry, especially to the tour operating industry.
"[During the pandemic], more traditional tour operators started becoming more and more digital. So if in 2019 we were the cutting edge, operators started reaching us and we're like 'no, okay, we need to keep innovating'.
"The whole industry can get the most of [innovation]."
The room was also encouraged to adapt to changing technology and utilise popular social media tools to grow their businesses.
Flitton said: "We did our first paid Tiktok campaign in August which was just insane.
"We worked with 10 creators who were promoting the Lucky Trip concept and we had one of the creators go viral and literally overnight we have 2.5 million views and 45,000 downloads – to put that in context we'd normally have around 25,000 downloads a month.
"It was amazing and correlated to a huge spike in traffic and bookings. It's a new channel for us and means we're not overly reliant on Instagram as our main acquisition channel."