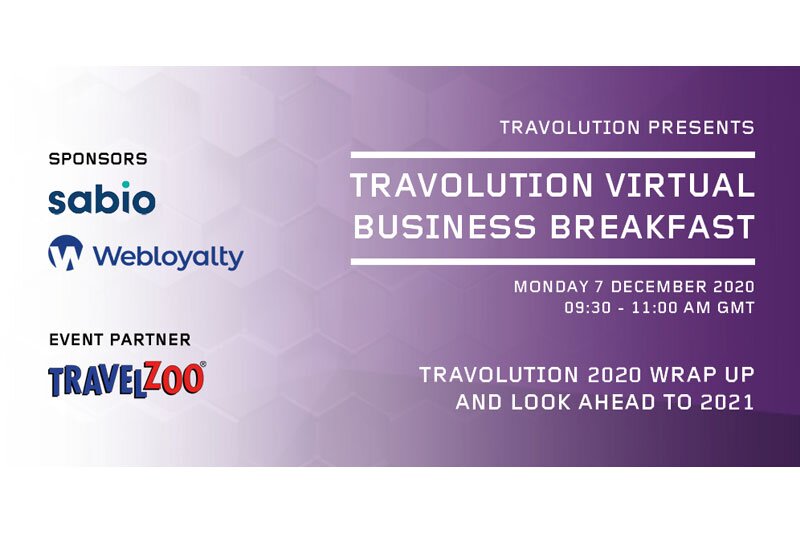 Travo Business Breakfast: Pent-up demand is there to exploit if you're agile enough
ADARA's George Howard presented latest travel data insights at last week's online event
Travel brands need to be agile and ready to react quickly to major shifts in demand and consumer activity as the evolving COVID-19 situation impacts on destinations.
A Travolution business breakfast held in partnership with Travelzoo last week, heard that data shows pent-up demand for travel is genuine and a real potential positive for the sector.
The event was presented with latest UK outbound search and booking data from travel marketing intelligence specialists ADARA.
George Howard, vice president sales and customer success at ADAR said the recent news of successful vaccine trials and roll out have seen some huge spokes in online travel activity.
ADARA tracks over a billion unique customer profiles globally and 22 billion individual events in travel like a search and or a booking.
Howard said: "In the immediate aftermath of some of the vaccine announcements in November we saw globally an average of 17% uptick in bookings, and a 91% uptick in searches.
"If we drill down a little bit more on that looking across Europe. Europeans actually exceeded that average with 35% increase in bookings in a 171% increase in searches which is phenomenal.
---
---
"I think that's indicative of the pent up demand that we've been speaking about and that seems to be the new buzzword in the industry.
"If we drill down even further and look at the UK specifically. While bookings weren't up over the European average at 29%, searches were just you know ginormous with a 237% uptick.
"And there was even as much as 28% increase day on day for international travel booking, so that pent up demand is absolutely there and definitely visible when you look at the data."
---
---
Howard said the ADARA data has been tracking the impact of the announcement of travel corridors and he cited the United Arab Emirates as an example.
The addition of UAE in the travel corridor list saw a 590% uptick in travel searches for the destination in the immediate aftermath of the corridor being enabled and 43% uptick in booking.
Howard added: "This just reiterates the pent up demand that exists for travel.
"At the start of this awful year people were saying travel was the first thing to switch off it will be the last thing to come back.
---
---
"I think actually now, as we move towards the end of it, people are suggesting and the data certainly suggests that travel could be the first thing to come back because that pent up demand is so huge.
"People are so ready to escape to the sun to get out of the country that it's going to be a very quick bounce back at least from a leisure perspective."
ADARA has also seen a significant shift in destinations UK consumers are searching for with long-haul proving more popular than usual, suggesting people are planning big bucket-list trips.
"Typically, in 2019, we saw that Europe accounted for 62% of destinations that people were booking for their holidays," Howard said.
"Whereas, looking forward into 2021 Europe has actually dropped by 20% as the destination market for people looking to travel.
"It still makes up the lion's share, of course, it's 42% of all destinations that people are looking to go to next year, but there has been this huge dip.
"The increases are predominantly in Asia. It's quite interesting to see that Asia's seen a 9% increase in in destinations push for booking and searches in 2021.
---
---
"I think what this is indicative of is people looking to finally pull the trigger on some of their bucket list holidays, looking to go a bit further afield.
"They've been stuck at home for almost a year now. Why stick to the usual routine of popping across the water to France, Spain and Italy and why not go further afield to Thailand, Vietnam, Southeast Asia and places like that.
"So, Asia has seen the biggest sort of share of the uptick, and that that detraction from Europe and North America with 4% increase, and then Africa has also seen a slight bump at 3% with the rest of the Americas at 3%.
"It's only really Oceania that stays consistent year on year, although there is a little 1% uptick there in 2021 booking."
Howard said the changing trends indicate that advertisers should be flexible, agile and ready to respond to shifts in customer demand.
"Previously, it would be unheard of to see a 590% uptick in in people searching for your destination. The recommendation is that brands and advertisers need to have this messaging ready to go.
"Let's have that messaging, that creative ready to deliver and work with partners and vendors that can switch this on very quickly for you to take advantage of that.
"It's just a reactionary time and to have to wait a couple of weeks to turn around creatives to get your messaging right to get your offers ready, you're going to miss these huge spikes.
"It's about how quickly and reactionary the industry is moving at the moment."