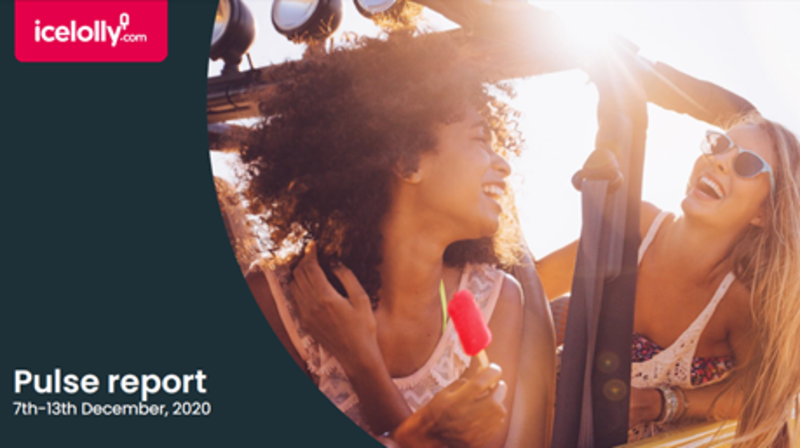 Icelolly.com Pulse: Tracker sees immediate impact of closure of Canaries travel corridor
Search focus on holiday price comparison site shifts to 2021 after latest blow to sector
The latest Pulse report from icelolly.com has tracked the impact of the travel corridor being close for the Canary Islands.
The impact of the decision to require people to quarantine on arrival to the UK from the Spanish winter sun islands has pushed the focus further on to 2021 departure months.
It has also seen the popular travel duration extend from seven days as people look to plan their holidays for 2021.
Icelolly.com said the removal of the travel corridors for the Canary Islands seems to have put a dent in December travel plans and January search share also fell slightly.
Winter 2020 accounted for 46.6% of searches in the week to December 13,  down 5.4%, summer 2021 48.7%, up 4.5%, and winter 2021 2.2%.
Chris Webber, head of travel deals, said: "Searches and bookings both slowed, with both Canaries-specific interest and general holidaymaker confidence suffering a blow in the form of the removal of the travel corridor.
"It can be seen in destination data (larger share for Turkey, smaller share for the Canaries), departure date data (share drops for near-term winter sun travel months), and holiday durations.
"We've seen numerous times since March as restrictions on travel tighten and interest shifts to travel further out, the focus on 7-night holidays weakens and there's a relative lift for 10- and 14-night breaks.
"Pre-Christmas, we're looking to the data to suggest if test and release will help confidence, and whether London heading into tier 3 will impact things."
In terms of destinations Dubai gained in share again to make it the second most-searched destination on the holiday comparison site.
The impact of the removal of the Canary Islands travel corridor was seen with share drops for Tenerife, Lanzarote and Gran Canaria.
In the immediate aftermath of the corridor announcement the Turkish destinations of Antalya and Dalaman saw spikes.