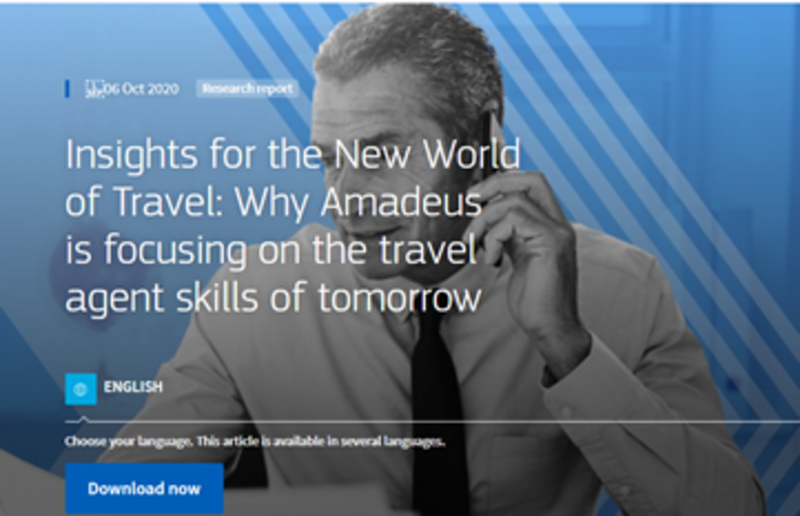 Guest Post: Amadeus study sets out vision for the future of the travel agent
The Travel Consultant of Tomorrow report on the evolving role of leisure and corporate agents
Rajiv Rajian, Amadeus executive vice president, global business travel, explains what the firm's latest study has found about the skills and knowledge the travel consultant of tomorrow will require
With the unprecedented challenges of COVID-19, we are all thinking about and exploring what travel might look like in the future.
Although we cannot predict what the future will look like, we have identified different areas that could be key to the path of recovery for travel sellers.
To navigate the new era of travel, we have prepared a series of reports that looks at 'Insights for the New World of Travel', highlighting recommended strategic areas of focus for travel sellers.
In the latest report, we highlight how consultants are the heart and soul of travel agencies, and how next-generation technology can help them deliver better traveller journeys.
While technology is enabling greater personalisation and taking us to new frontiers, humans will continue to be at the heart of the customer experience.
Emotion plays a strong role in building memorable journeys – for business or leisure.
The need for a consultant is especially key for complex travel itineraries requiring specialist knowledge, and even more so when journeys don't go according to plan and disruption happens.
Today, in an environment of ever-shifting border controls, travel policies and health restrictions, the role of travel consultants becomes more crucial.
Delivering exceptional support is critical as travellers (business or leisure) contemplate returning to the skies again.
In our latest report, The Travel Consultant of Tomorrow, we found that within the travel industry, 50% of leaders feel their employees and workforce are the most crucial factor in their business, even more so in Europe, where 63% of the travel agencies think it is the top success driver.
The second highest priority is providing a human touch with 42% recognising this as the biggest factor in success.
The report also points to the fact that businesses and travel consultants need to be backed by efficient technology tools to deliver on customer needs and exceed their expectations.
The evolution of Artificial Intelligence (AI) is changing the remit of the travel agent.
Automation is helping travel consultants showcase their expertise, passion, attention to detail, and willingness to serve travellers with personalised offerings by reducing the time needed for lower value tasks.
This harmony between automation and AI allows travel agents to spend more time providing in-depth travel consultancy, and the edge needed to compete in a world of constant travel fluctuations, the report cites.
Another key aspect highlighted in the report is that technology skills will be highly valued by travel sellers to provide an immediate, personalised response to travellers, a point made even clearer by the role technology has played during the pandemic.
It has not only helped professional agents to manage travel disruptions efficiently, with massive reschedules and cancellation of tickets, but also to provide the best customer service.
So, the very nature of jobs will change owing to the rapid adoption and inclusion of technology tools in the travel business.
For example, travel consultants may need to stay abreast of messaging platforms, digital marketing tools, and even data analytics to an extent.
We also found that travel consultants will be required to be more active on social media and stay familiar with the platforms travellers' use to look for inspiration.
In a challenging market, the ability to think out-of-the-box and react quickly is key.
For instance, many millennials now choose their next trip on how 'Instagrammable' the destination is and what top social media influencers said about their experience of the journey.
Travel consultants with good knowledge about platforms, influencers and pages will be better positioned to build relationships with future travellers.
The report underscored how crucial it has become to provide travellers with relevant and contextualised information and services across the whole journey to ensure safe, stress-free and meaningful travel during the current COVID-19 situation.
Managing these kinds of disruptions now, and in the future, will not only be needed but will be expected of travel consultants.
As global travel resumes, travellers might find planning their next trip a bit more complex and challenging.
Travel consultants have a key role to play in rebuilding travellers' confidence and assisting them through all stages of their journey.
From our research, we uncovered that travel agencies must ensure their workforce has the right skills and technology needed to compete and to deliver better journeys for people exploring the world for business or leisure travel.
While agencies have taken measures to reduce short-term costs, they are also balancing these actions with reassessing their medium- to longer-term strategy.
This includes ensuring they have the right people strategy, as skilled, motivated travel consultants are essential to capitalise on growth opportunities in the path to recovery.
Around the globe, Amadeus team members collaborate with customers and partners to deliver solutions, services, training support and more to ensure travel agencies and travel consultants are strongly equipped to service and support their customers today and in the future.