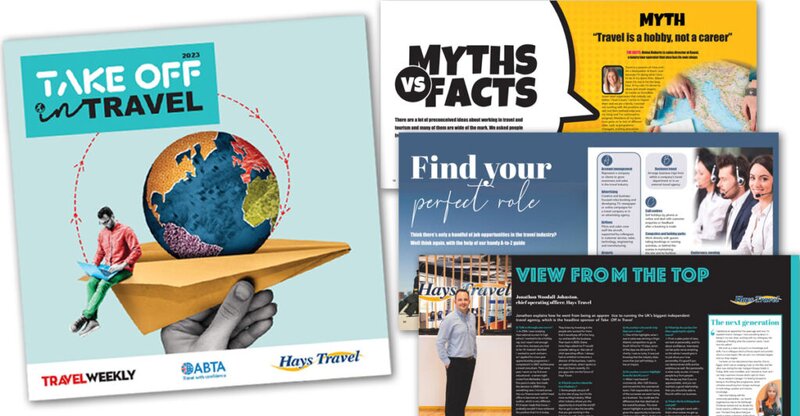 Digital careers focus in Travel Weekly's 2022 Take Off In Travel careers prospectus
The publication will go to universities and colleges to promote the industry to students
Travel Weekly's careers publication, produced in partnership with Abta and Hays Travel, is back after a pandemic-induced gap to once again highlight the career opportunities in the travel industry to students and existing workers alike.
Take Off in Travel, the careers guide produced by the Travel Weekly team, has returned after a two‑year hiatus during the pandemic. This year's 124‑page issue is the ninth edition of the publication and is full of information and advice on how to get into the travel industry.
Take Off in Travel was created to promote the opportunities available to those looking to enter the industry for the first time, whether they're students completing a qualification in a travel and tourism-related subject or are looking for a career change.
Abta has once again supported Take Off in Travel, and Hays Travel is the headline sponsor.
"We were delighted to sponsor this year's Take Off in Travel supplement so that we can help spread the word of our amazing industry," said Jonathon Woodall‑Johnston, chief operating officer at Hays Travel.
"Young people especially are the future of the travel industry, and the Take Off in Travel publication does a great job of highlighting the diverse opportunities and the exciting and rewarding careers on offer. Our award-winning apprenticeship programme is at the heart of Hays Travel, and we place huge value on bringing young people into the business – and with them a wealth of talent, ideas and enthusiasm."
Diverse roles
This year's edition features a stronger focus on the digital and technology sectors, with articles highlighting the jobs associated with harnessing these technological advances.
And to make readers aware of the wide variety of roles in the industry, the guide features testimonials from people who work in jobs that some may not necessarily think of, such as PR, social media and events.
Vicki Wolf, head of education and career development at Abta, said: "We are pleased to be once again partnering with Travel Weekly on Take Off in Travel, as we have done for the past decade, but this year it is particularly important as recruitment and retention is a real challenge and priority for the industry.
"The publication is beneficial for both older and younger people as it really showcases the wide range of careers travel has to offer.
"It is an important resource for people thinking about a career in travel or who wish to build and improve on their current career.
"Younger people particularly may not be aware of quite how wide-ranging careers in travel are and Take Off in Travel does a great job showcasing that variety.
"The pandemic hit the travel industry especially hard, so it is important that we get the message out there that travel is back and that working in the industry will provide you with a great career no matter which area you wish to specialise in."
There are also 23 sponsored company showcases in the guide, highlighting career opportunities and perks within specific travel businesses.
Take Off in Travel 2023 was officially launched at Travel Weekly's first People Summit in London on Monday this week, where sessions included discussions about recruitment and retention of staff in the travel industry.
---
What's inside
Mythbusting: Young people may have pre-conceived ideas about what working in the travel industry entails. We speak to experts to dispel these myths and to present a more realistic view of what it's like to work in the industry.
A-Z: We present an A-Z of travel roles within the industry, to emphasise the variety of careers available to new entrants.
Sectors in focus: From aviation and cruise to selling travel and travel technology, we take an in-depth look at some of the biggest sectors to highlight their importance within the travel industry. We also speak to those in work across a wide range of jobs.
View from the top: Hays Travel's chief operating officer, Jonathon Woodall‑Johnston, reveals how he rose through the ranks after starting at the company as an apprentice.
Routes into travel: We outline some of the ways that people can enter the travel industry, including university and college qualifications and apprenticeships, and outline the benefits of each.