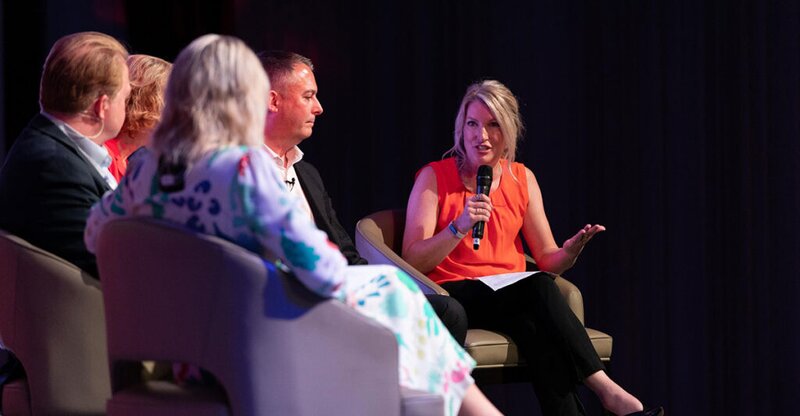 Committing to a sustainable business model is key to attracting talent
Intrepid, the travel sector's biggest B Corp, spoke at last week's ITT conference
Committing to operating sustainably can help travel firms with their recruitment challenges according to Intrepid Travel, the sector's largest B Corp firm.
Joanna Reeve, Intrepid's head of business development and partnerships, told last week's ITT conference in Istanbul that staff want to work for companies which have a purpose.
Intrepid first achieved B Corp status in 2018, meaning it has met independent standards for social and environmental performance and the way it balances profit and purpose.
Reeve said: "We have heard about the importance of purpose, profit, people and talent acquisition, and having a sustainable business model ticks the box of all those factors.
"Our founder in 2005 pulled together the global leadership team and said we have a global climate crisis here, what are we going to do about it. The team, universally, said we want to do something about it."
Intrepid became carbon neutral in 2010 and in 2021 increased its B Corp Impact Assessment by 10% to 91.2, but Reeve said the firm realised that was not enough.
It has now set its ambitions to support the Paris Agreement on climate change to limit global warming to 1.5 degrees Celsius compared to pre-industrial levels.
Reeve said: "It's baked into our business values. We're not perfect and it's very much a journey. It's a continually evolving part of our business."
She said embedding sustainability into the business does cost, but that it was an important investment which helped it to retain staff having doubled in size pre-pandemic.
"For people to see first-hand the positive impact they are having, it's a great story to tell. It's about having a sense of pride for your employees."
Chris Parkin, Hilton Worldwide UK and Ireland senior director of sales, is a CSR [Corporate Social Responsibility] champion and said being sustainable is critical to running a successful business.
"We are competing against other chains to get our badge on the door. If we are not sustainable and have the right policies in place our partners may go elsewhere.
"If we are not doing our bit to protect and support the communities we operate in we are not going to get the talent to work in our hotels. It's all connected."
Lucia Rowe, UK managing director of operator A-Rosa River Cruises, defended the ocean and river cruise sectors for the work they are doing to operate more sustainably.
And she said having buy-in from the top of the organisation has been vital as the line looks to pioneer greener technology such as the world's first hybrid battery-powered river vessel.
"The entire company was refreshed with a new way of thinking," she said. "Yes, it does cost money, but there is no other way. It's our responsibility to make ourselves accountable.
"If you deal in family holidays surely you have to preserve the destinations for the next generation. Accountability is extremely important. It's not just empty words."
Rowe said European river cruising has the advantage of being a no-flight option and she urged people to make the "responsible choice".
"Of course we all want to travel to those lovely places where we need to take a long-haul flight, but we should really think about it before we do," she said.
Charles Perry, partner of consultancy RISE that advises firms on sustainable practices, said all firms should sign up to the Cop 26 Glasgow declaration on travel and tourism committing to net zero by 2050.
He said: "If you have not done that, to be honest, that's a bit embarrassing."
Perry added: "Yes, you have got to make greener choices today. When you are travelling, look at which companies are providing the credible greener choice.
"The question is are you weening yourself off fossil fuels in your personal lives and your business lives and are you rewarding the companies that provide the greener alternatives."
Reeve added behaving sustainably should not only be rewarding but fun: "Travel is an important transfer of wealth from the richer parts of the world. It's important.
"When you know and understand someone else's situation you care and that promotes better behaviour. Travel will always be an incredible part of our Iives and should remain so."
Photo credit: Arif Gardner