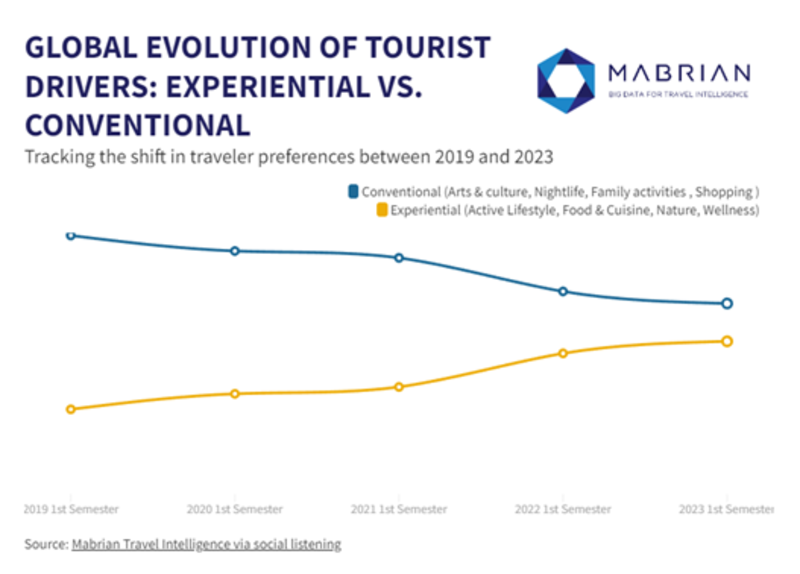 Mabrian reveals experiential travel replaces conventional motivations for travel
Mabrian utilised NLP and social listening to analyse traveller behaviour and motivations for travel since 2019
Travel intelligence company Mabrian technologies has revealed analysis of travellers' behaviours and montivations from 2019 until now.
Mabrian analysed the spontaneous behaviour and preferences of travellers globally using social listening.
The sentiment analysis company then utilised Natural Language Processing (NLP) techniques to analyse over 400 million tourism related interactions on social media during the observed period (first semester of 2019 to first semester of 2023).
The results of this study were presented during the webinar organised by AVIAREPS titled 'Changing traveller behaviour and trends', where Marriot International and Qatar Tourism also presented their insights on this matter.
The main conclusion is that experiential activities or motivations, including wellness, active and lifestyle, nature and food and cuisine, are taking over from conventional travel motivations.
Convention travel motivations have been defined as arts and culture, sunbathing, family, shopping and nightlife activities.
When dividing these motivations into two different blocks, the data shows experiential activities have increased by 10% in the last four years ahead of conventional activities.
This indicates a clear inflection point from 2021, corroborating the Mabrian's hypothesis that the pandemic affected travellers' motivation to travel.
By June 2023 the share of experiential motivations was already almost half, which is very different to June 2019 when arts & culture and sunbathing represented 41% of the travel motivations.
The activities that have picked up the most during these years, reaching unprecedented levels of interest, are active & lifestyle, nature and wellness, while wellness has seen a stable growth since 2019.
Conventional activities that have lost most of their importance are arts and culture and sunbathing, which now represent only 34% of travel motivations, 7% lower than in 2019.
Carlos Cendra, chief marketing and communication officer of Mabrian, said: "The way we travel is constantly switching.
"From the traditional holidays of sunbathing in coastal destinations and culture and shopping in the cities, to disconnecting and discovering experiences where the connection with the environment and ourselves is key.
"There's an obvious impact of the pandemic and the effect of being locked down that made us realise how important it is to enjoy the outdoors and feel well and healthy during our free time which has stuck in travellers' motivations".