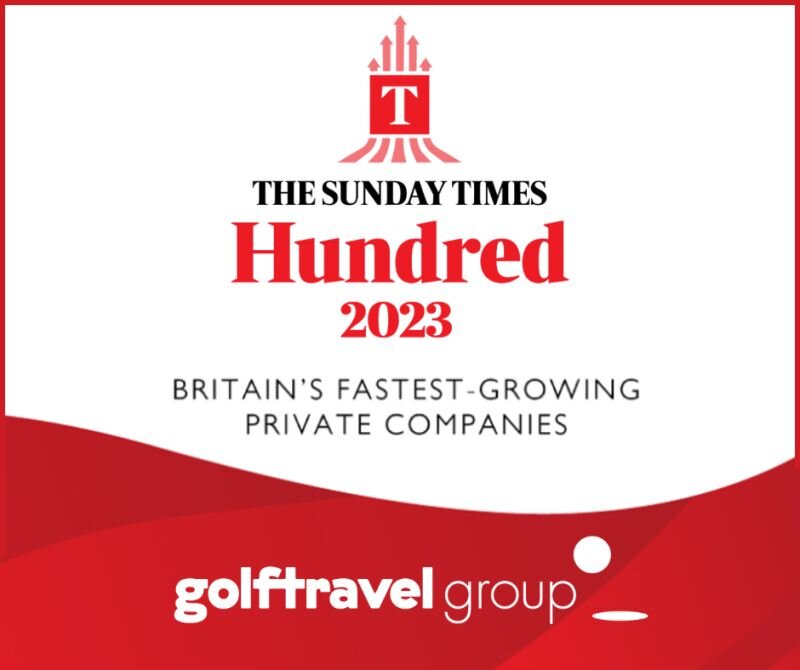 Golf Travel Group recognised in The Sunday Times 100 & Febe.com Growth 100
Both rankings are reflective of their growth and their commitment to investment in tech, among other things
Golf Travel Group, a provider of luxury golf travel experiences has unveiled its inclusion in The Sunday Times Hundred 2023, which is the top 100 of Britain's fastest-growing private companies.
The business recorded sales growth of over 65% from 2019-2022, which saw revenues climb to £12.3 million.
This growth along with its strategic acquisition of Chaka Travel's assets in 2020, helped not only expand its presence in the luxury gold travel market but also its 66th position on the list.
"We are thrilled to be recognised in The Sunday Times 100, Britain's fastest-growing private companies as one of the leading growth organisations in the UK," said Patrick McCaghy, founder and managing Director of Golf Travel Group.
"This achievement is a testament to the dedication and hard work of our team, the pandemic followed by a period of rapid growth has been a rollercoaster but a fun ride.
"We thank our supplier partners in the UK and overseas continued trust and support. As we continue to grow and expand, our commitment to improving the client experience through introducing technology alongside new golfing experiences is our key focus".
Golf Travel Group said it remains committed to "driving growth, investing in technology, building key strategic partnerships and maintaining outstanding customer service" through its portfolio of brands.
The group were also listed in For Entrepreneurs by Entrepreneurs (FEBE) Growth 100 which recognises and ranks the UK's fastest growing private businesses with founders still actively involved. Golf Travel Group ranked 7th on the 2023 list.
GolfTours.com, the groups newest brand will launch in 2023 and will introduce group escorted tours and tuition breaks, designed to be the catalyst for their international expansion.