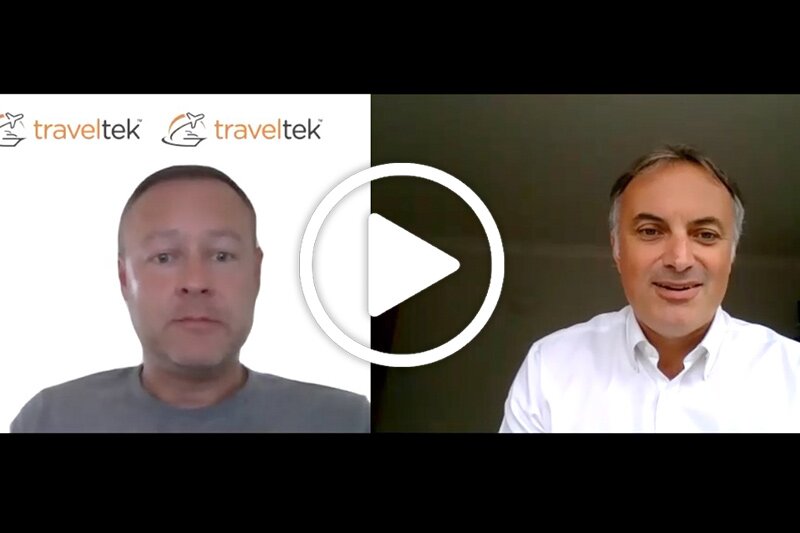 Webcast: Technology supplier partnerships will become more collaborative post pandemic
Traveltek to set up a customer advisory board to shape future of tech development
Leading technology supplier Traveltek is to set up a customer advisory board as it looks to be more responsive to client needs after COVID19.
Mal Barritt, chief executive of the Glasgow-based firm, says the crisis has brought to the fore the need to reform supplier client relationships.
Traveltek, which supplies some of the largest travel firms in the UK, like independent high street retailer Hays Travel with their core systems, says it wants to hear from them about future trends.
Speaking on a Travolution webcast, Barritt said: "I really believe now we've got to change our behaviours towards customers.
"There's always been, especially in the travel industry, a sense that people get frustrated with their technology provider and they get frustrated with the service, and they get frustrated things just aren't done on time or the things go wrong when the project is completed.
"I want to see, and this is something we're really pushing forward, a real cultural and behavioural change in how technology businesses work with the customers.
"We've all learned a lot of lessons over the last 12 to 14 weeks about that. We want to listen more, and we want to respond quicker.
"We want to work towards solutions collaboratively with customers.  Because our job really is to make the job of selling holidays easier, and the administration of that holiday easier, so we've got to work more in conjunction with our customers to enable that."
Barritt said the new advisory board will help it set the direction of development and priorities as the sector emerges from the COVID-19 crisis.
"We really want our customers to help shape our product rather than our product team saying this is what our product is going to be and this is what's right for our customers.
"We want our customers to be able to input into that and advise us on what's going to be the best product in the marketplace for them.
"And I think being more agile and flexible with our customers is key, and being able to look ahead and anticipate what's going to happen in the future, because it's still hard to predict.
"The recovery is hard to predict and what's going to be different. It's hard to predict what are these emerging trends, so we've got to be trying to second guess and think ahead in terms of what will be the emerging trends in the marketplace
"We're spending a lot of time internally trying to assess what that might look like and then, in conjunction with our customers, try and shape the future of our product accordingly."
Barritt predicted there will be more demand for online platforms to assist in the selling process, but he said he expects the traditional high street agents will continue to provide a valuable service.
"I think the role of bricks and mortar travel agent will still remain. I do think it will be very much more on a bespoke, tailormade, personalised basis perhaps where it might be less commoditised.
"It'll be more bespoke products being sold where service knowledge, expertise is paramount.
"Traditionally popping into your travel agency in the high street was something of convenience because you were out doing other things but I think customers will now need more of a reason to go in to the high street travel agency like knowledge, service, expertise and product differentiation.
"I fundamentally believe there is still a place for the high street, and I think it will be more bespoke tailormaking in nature, going forward.
"That said, of course, the opportunity is going to be through technology and the virtualisation of the communication with the customer.
"I've already started to see some customers adopting Zoom, or Teams as a method to deliver a customer experience and to be able to sell a holiday face-to-face. That will accelerate the pace of change.
"Everybody will start to developing more digital platforms so they can embrace the customer experience and whether that's online to offline or over Zoom. It's just going to be a virtuous cycle of customer experience that will be harnessed through technology.
Barritt added: "People have been talking about the high street retracting for 10, 15, 20 years, guess what, it's still there, and it still, up until COVID, was thriving, and still very positive, and people still value that face-to-face communication and face-to-face service. So it will it change? Absolutely. Will it remain? Absolutely.
"A lot of our biggest customers are very much trusted brands and they have a very loyal customer base, so customers will want to reconnect with the travel agent and get that relationship up and running again for when the time comes when they want to book the next holiday because, one thing we all know is, people will always want to go on holiday.
"It's a case of we all know there's going to be a slow recovery and gradual recovery and it will take time but fundamentally people will want to go on holiday, and that will never not be the case."