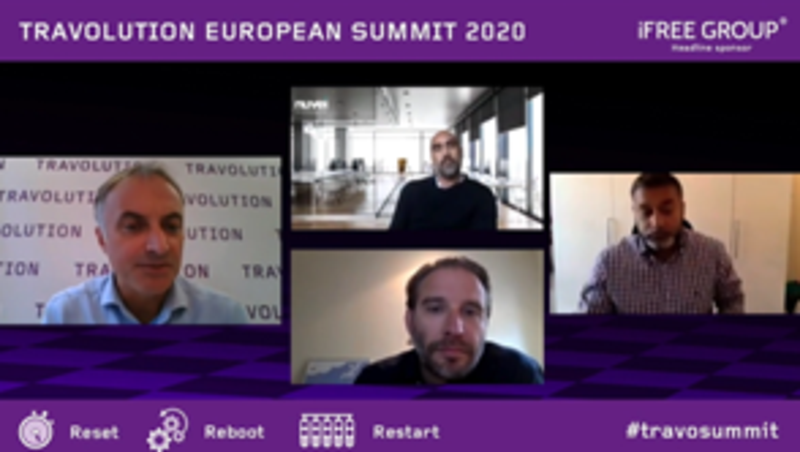 Travo Summit 2020: Build trust before and after the book button for 'true conversion'
Panel on turbocharging conversions with payments and marketing data featuring Nuvei, BA and Hotelplanner
Travel firms must build trust by adopting a personalised and localised approach to payments to understand their true conversion rate, a Travolution Summit panel debate heard.
The session, looking at how firms can turbocharge their drive for more transactions, featured experts from the airline, payments and OTA sectors.
Speakers said the COVID-19 pandemic has made it more imperative than ever that travel firms provide flexible payment options and terms that meet customer expectations.
And they said sub-divisions within companies must work more collaboratively to understand the impact of optimising the customer journey from browsing to the receiving the of cash.
---
---
Shaz Iqbal, senior payments manager at British Airways, said analytics and artificial intelligence to personalise the CX will increasingly be used to boost conversion rates.
"Most payments people don't know anything about the front-end stuff that goes on in the sales funnel like multivariate testing and experiments driving people to the book button.
"This is really about an interaction between finance teams, data teams, treasury teams and ecommerce teams.
"They need to be closer together. It's the same with sales and marketing, you need them to be connected in order to produce better customer experiences."
Iqbal said out of the confusion caused by COVID-19, firms must build confidence to achieve conversions.
And he said this is seeing new forms of payment, like 'buy now pay later' or deferred or split payment schemes are being considered, particularly for younger customers.
He said adoption of these new forms of payment, as well as mobile wallets and 'superapps' like WeChat in China will be determined by generational and regional preferences.
Travel's high transaction values are expected, however, to require firms to ensure they offer the option for human interaction, Bas Lemmens, president of Hotelplanner, said.
Lemmens said Hotelplanner invested in more people to handle inquiries from customers as the pandemic hit because people were confused and needed advice.
"Our partners approached us, and we said, okay, we can help you. We saw online and group bookings were going down but [hotel] partners were struggling with people calling them.
"We are used to situations like this. What we are doing, with our partners, is looking at how we can serve our customers better.
"In terms of conversions, we look at what our customers want. If you keep that in mind every day you will be successful."
Lemmens added: "Cash is king. In March we had to pay back tens of millions to consumers.
"So now we are looking at every stage to diminish our risks and costs, watching our cash position every day.
"What are doing is planning three or four months ahead. You saw Thomas Cook go down last year because they had trouble doing cash management before this crisis.
"A lot of travel agent who do not do cash management will go down and the banks will not help you any more.
"What people like about what we are doing is we pay hotels very fast. And we have flexible cancellation policies in place.
"Now people are rally looking for who they can trust, who's cash position is okay and who will refund clients really fast. The trust factor is so important in the travel industry."
Jay Abbott, vice president of travel at merchant acquirer Nuvei, said: "Across the board, not just on payments, trust is a pretty good topic right now given the volatility globally.
"Within payments, let's call it true conversion. Everything happens around the book button. But if you have to look at it before the book button and after the book button.
"On the marketing side for CRO they're looking to place the right message at the right place at the right time to bring them through the funnel.
"And on payments we want to get to get everything for the right; the right trust, the right payments methods with the right level of security and particularly in travel flexibility.
"These are ways I would look at it, from pretty much the book button, which is that central piece."