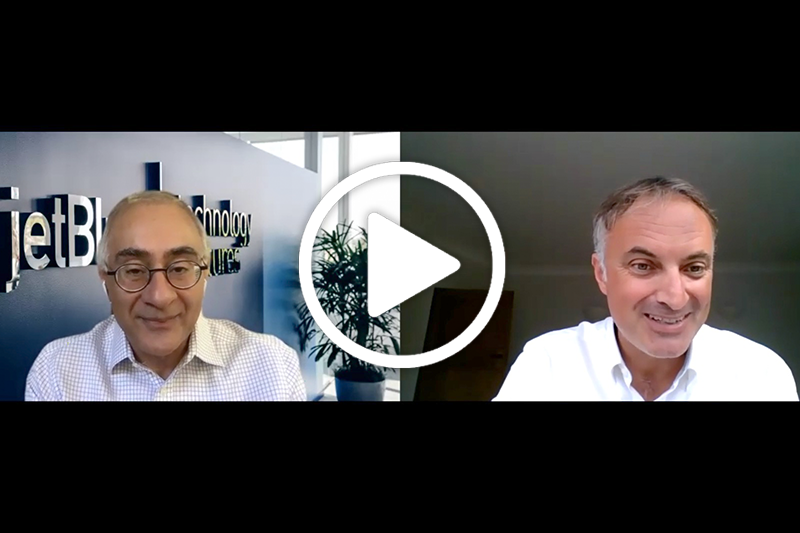 Travo Start-Up Summit: Investors expected to focus on later-stage prospects as sector recovers
JetBlue Technology Ventures chief Raj Singh sees longer term silver linings as travel returns
Investors are likely to favour later-stage start-ups that are better equipped to survive the COVID-19 downturn, the Travolution Start-Up Summit was told last week.
Raj Singh, managing director of JetBlue Technology Ventures, which backs early stage companies, said he expected the number of investment in travel to be lower than normal.
"For start-ups that means that those at the very early stages can probably still get some level of funding, however, it will most likely be from people they already know.
"More broadly new investments, a lot of them, will go to later-stage start-ups who will already have shown that they have a successful business model.
"Those start-ups have all been requested by their current investors to have more money in the bank than they would normally, so they have 36 months of runway as opposed to 24.
"So, I would expect that there will be certain level of early very early stage investments but primarily from friends and family.
"And then the majority of the money in our industry will go to those late stage companies who are looking to pad the coffers to make sure that they can survive the downturn."
Singh said JetBlue has been focussing on helping start-ups that have found themselves "in the eye of the storm" through no fault of their own.
"We've spent a lot of time, supporting start-ups on things such as the government assistance programmes, helping them to retool their business model in order to be able to be successful in the environment as it is today.
"For us as a financial institution, we have we've dialled back our ambitions on new investing and focused primarily on supporting the portfolio, because we believe that it's probably a concern right now.
"And to make investments in this period is going to be extremely difficult in terms of judging how successful a start-up might be given we don't have a good handle on how the future looks right now."
Despite the challenges, Singh said he believes there is a silver lining in the emergence of new opportunities due to COVID-19 like contactless and biometrics.
"The ability to get a passenger all the way through the process and onto the plane without having to touch anything is going to be a big area. And I think that that will expand into hotels' reception lobbies and mass transportation.
"Clearly sanitation which was already something that had been a high priority has taken a front seat now.
"And then the other area that we're looking at is hybridisation by which I mean some element of a face-to-face vacation or business meeting, but overlaid with the ability to have almost as good an experience by not being there."
Singh added he also believes opportunities will also arise from working with large corporates to help them more rapidly adopt emerging technologies.
"I think there's an increased willingness to adopt new technologies. There may be circumstances where a large provider has no choice but to go to start-ups to find the solutions, they're looking for.
"We, as an industry, are very cautious about putting new products in the air and particularly want to make sure everything is as safe as it possibly can be.
"But there are plenty of areas where we don't have to compromise on safety, and we could move a little bit more quickly in adopting new concepts.
"And so I think in terms of differentiating ourselves in the face of the customer, as to what we're doing start-ups definitely have an opportunity.
"That doesn't mean that they don't still need to understand how the business works, speak the language and think carefully about how regulations will affect them.
"But I think people will be more open and the research that I've seen indicates that those companies who are innovative in a crisis will do better during the crisis, and will do better after the crisis.
"They will build a little bit of a lead over their competitors who are solely focused on survival."
Despite the near term challenges due to the coronavirus pandemic, Singh said he was optimistic about the longer term prospects.
"People love travelling. It's one of the first things that people like to do after they're able to fulfil their basic needs.
"I think travel will continue to be attractive for everybody. It will take a little while for it to recover but we are lucky in the travel industry that most of the people have a passion for it.
"I don't think that's going away anytime soon and whatever the future holds, it may different from what we expected, but travel will be a part of it."