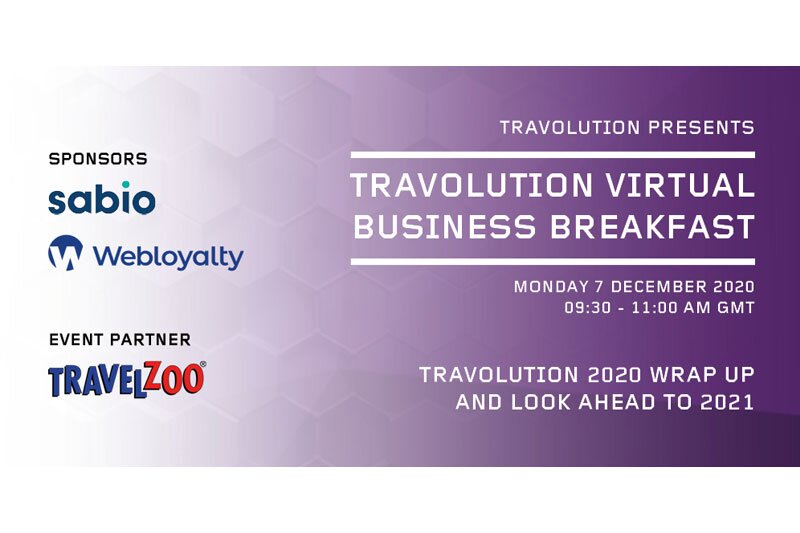 Travo Business Breakfast: Customers are 'dusting off their bucket lists' as confidence returns
A Travolution Business Breakfast discussed prospects for travel in 2021 with Kuoni, Jack's Flight Club and ADARA
A Travolution online Business Breakfast held in partnership with Travelzoo, discussed prospects for travel in 2021 with Kuoni, Jack's Flight Club and ADARA. Lee Hayhurst reports
Holidaymakers frustrated by being locked down at home during the COVID-19 pandemic are "dusting off their buckets lists" and are prepared to "pimp their trips" in 2021.
The positive outlook for next year and beyond came in a panel discussion at last week's end of year Travolution Business Breakfast held in conjunction with Travelzoo.
The online event heard from Kuoni head of communications Rachel O'Reilly who said the brand's virtual call centre has had its best week ever since being established in March.
And she said average selling prices are up as customers who put off plans for landmark holidays this year become more confident of things returning to normal
"Last week things were just flying and I think that sort of continued positivity around the vaccine is giving people confidence.
"If people have had their wedding plans cancelled they're looking to rebook those now for next year, and actually even beyond 2021 into 2022.
"So, there is a real thirst to get back on a plane to get back on with life and we do see people saving and upgrading.
"If they haven't been away for over a year now they're going to go next year and they are upgrading their flights and upgrading their room types. So our average spend per booking is going up."
O'Reilly added: "We are booking more business class and upgraded seats than ever before. So, people pimping their honeymoon or big trip is really a thing.
If people have gone without a holiday for a whole year they're going to push the boat out so we are quoting for business class flights, definitely, and it is an opportunity for leisure travel.
"It's quite a thrill, actually, people don't ordinarily do that so going on their trip in style is quite sort of an appealing prospect.
"And there's the space element if people taking every precaution and thinking if I buy a business seat it's going to give me the extra leg room I'm not going to be so crammed together.
"It's another box ticked in terms of reassuring them that they're going to be safe on the flight."
Fight Hacker at Jack's Flight Club, Tristram Sire, said it has seen deals for upgraded seats on Virgin Atlantic prove to be very popular among its subscribers.
"In the past we've only had about 5% of our audience who have said yes I would be interested in travelling in business class.
"When we covered the Virgin deal, and a few other airlines' recently have done a business class deal as well, we saw demand which was much higher than usual for business class
"Like everyone else has said, where we are seeing a lot of pent up demand for travel. People seem very keen to go on those bucket list trips.
"And, interestingly, we have seen some really good fares to places like Hawaii even though the border situation is still very complicated there.
"We've seen people who are still keen to travel hopefully in the May or June period where we've seen airline sales and there is still quite a bit of optimism that that will be possible by then."
Sire said airline sales have been focussed in non-peak travel periods and only up to October next year, but he expects January will see more promotions that will be popular with consumers.
"Part of the joy of receiving our emails is that you can at the very least dream even if you don't book," he said.
"We have seen a little bit of an uptick for the US and Canada even though the borders are still closed and there hasn't really been too much positive news.
"But people seem really confident that a trip to the US before peak summer kicks in is going to be possible. A lot of people are keen to go to popular places like New York and Los Angeles, San Francisco.
"In January, we'll start to see deals for November and early December and I think those will be very, very popular.
"There is a correlation between how willing a country seems to be to allow tourism and interest. So, for example, a lot of people seem keen to travel to Asia.
"Thailand is a good example because you can go under very specific strict requirements with quarantine.
"for other countries like Vietnam, Taiwan, the Philippines, the restrictions are much less clear and we haven't seen much in terms of deal movement or sale prices on those destinations.
"And that applies for Australasia as well, Australia and New Zealand. But I think that's something that will pick up in January when the good news hopefully keeps coming in and people will start to build a little bit more confidence and see it as a more realistic trip."
O'Reilly said Kuoni was preparing for a "big January" sales period. "There is no question, in the early part of 2021, there is going to be sort of continued complexity around travel," she said.
"There is still going to be a lot of uncertainty in the beginning part of next year. However, we are definitely getting ready for a big January campaign.
"We have to be more agile and flexible in terms of sort of the way that we plan media but we are ready with the right messaging, the right imagery, the right motivation and it isn't just about price.
"Price is a motivator, usually, but the extra complexity means that customers are also going to be looking for companies that can offer them flexibility, reassurance and safe travel.
"That's still going to be top of people's minds."
O'Reilly said the operator is seeing long-haul destinations are as popular as ever, particularly those with direct flights.
"Places like the Maldives lend themselves to the type of travel that people want to do now; isolated retreats, places that essentially provide you with a little bubble.
"Anything which is seen as uncrowded, where people can go away in their little bubble are popular. Africa is doing brilliantly.
"Bucket list destinations, places that are uncrowded and people can have an experience that is a lifetime's wish list are really winning out for next year."
George Howard, vice president, sales and customer success at ADARA, said while price remains important pent-up demand it offsetting lowest price as a factor.
And he said the booking curve has become polarised between people securing a last minute deal and those planning their dream trip well ahead.
"People have been stuck indoors for so long now they're actually willing to spend a little bit more to go on those kind of bucket list trips.
"Whereas 2020 so far has been dominated by short, sharp trips booked in a zero to 15 day travel window, for 2021 we're seeing a huge increase in bookings in the 90-plus day period.
"It seems to be the midterm that has the most uncertainty in terms of booking windows at the moment.
"And absolutely I think they're willing to spend a little bit more to get away, particularly for summer 2021 when everyone expects things to go back to normal.
Pricing is most important at the moment for those short term getaways that people are booking last minute."
As well as reassurance and flexibility, consumes are also looking to use brands they can trust and have expertise, said O'Reilly.
"There's no question people will still want expertise whether or not that is going into a store. we have still got a store network and many of those stores will reopen.
"But we've had a lot of learnings through our virtual call centre. The expertise in travel is going to be more important than it ever has been.
"We've always made a big thing of being destination experts. We can make the complex simple and never has that been in more demand than now.
"The complexities around travel are huge right now. This week, we're launching a new late travel concierge service to help guide people
"We're much better equipped to be able to deal with tactical offers and get those out into the market very quickly.
"And zoom has taken off. The older market has got to grips with zoom and we've done more video appointments online than we ever have done before.
"That is something that's really taken off so people can meet our experts online, they can see them eye to eye and chat about their holiday so I think that's definitely here to stay."