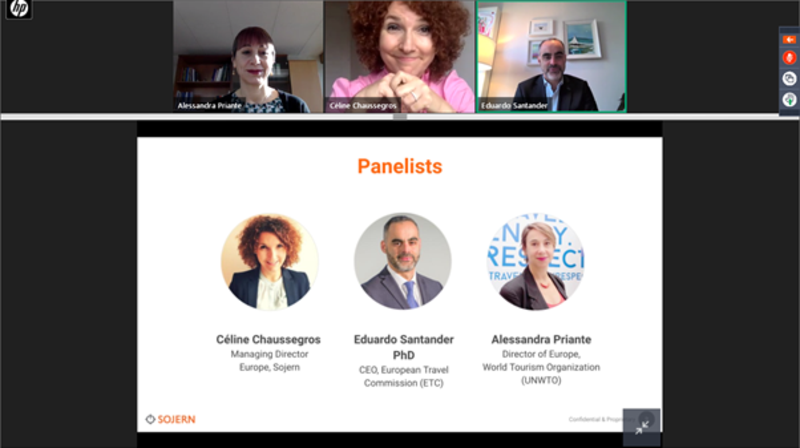 Time is running out to avoid largescale company failures, Sojern webinar told
Latest online event heard from the European Travel Commission and World Tourism Organisation
Time is running out to avoid widespread company collapses in the travel and tourism sector, the latest COVID-19 webcast by Sojern heard this week.
The travel marketing insights and data platform invited Eduardo Santander, chief executive of the European Travel Commission and Alessandra Priante, World Tourism Organisation (UNWTO) director of Europe to speak on the latest online event.
Sojern's managing director for Europe, Celine Chaussegros, said following an uptick in confidence among travellers, the second wave of coronavirus has seen that plateau.
A number of travel clients have, however, opted to continue marketing as part of an "always on" approach, unlike in the first wave which hurt businesses more, she said.
Chaussegros added: "Amid uncertainty about how long restrictions are going to be implemented, it's likely that travel confidence will waver."
Sojern data shows enthusiasm for travel has increased each time there has been positive news about the approval of COVID-19 vaccines.
Santander said although the situation is beyond any worse case scenarios drafted in 2020 travel is safe but the problem is individual behaviours of people when they are travelling.
"I would focus on what we can to get travel to return not on what we can predict because we cannot predict everything.
"Your role is not to predict the future but to shape it. It's tome for action now. We can definitely prepare to go back to a certain degree of normality."
Santander said travel may not immediately return to the exponential growth seen pre-COVID but he said it is predictable that once uncertainties go away it will grow again.
"People put themselves at risk not when they travel but when they arrive in destinations and do types of behaviour that maybe they would not do at home.
"We have to look at demand and supply and also how we have to behave if we want to return and have a speedy recovery and not a very slow one which will be too late for some.
"There is hope we will definitely travel again. But I think we will not see a major move in prospects before the summer. Winter and Easter is probably lost."
Priante said preparedness for the return was more vital now than being in constant crisis management mode.
She said one of the most disruptive aspects of the pandemic was a lack of planning for the long-term impact and the ongoing closures of borders due to waves of infection.
"We all hoped that after the total stop of the Spring everything would get better but then everyone stared thinking about the second wave."
Priante added that talk of travel and tourism as being one of the spreaders of the virus has led to further restrictions being imposed and plans being ripped up.
She said, despite the positive news of the vaccine roll out, travel needs to reset and work together in collaboration to find solutions and to harmonise approaches across borders.
"All of this is progressing," she said, "never before has there been such a united front. Work goes on. We can never think we have achieved enough.
"We really need to continue to come together with practical and pragmatic solutions to restart as soon as possible.
"Otherwise we wont be looking at bookings any more, we will be looking at the mortality rate, [of companies] which will be huge."
Chaussegros said travel businesses have to rethink what their metrics of success are. "The biggest threat for 2021 is operating with outdated metrics," she said.
"Most tourism boards in the past talked about digital spend and direct response, for travellers to take immediate action, but things are changing.
"You might want to look at how many visits you get on your website, how many impressions you delivered.
"As overall budgets decrease destinations are likely to consider more digital branding campaigns.
"They are less expensive, more flexible but also more difficult to track. Maybe it's about creating more sustainable business models for the industry."