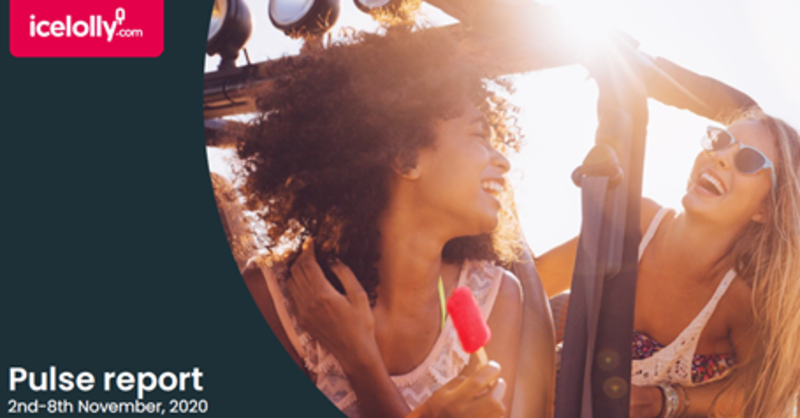 Lockdown 2.0 sees demand switch to summer 2021, finds iceolly.com Pulse
Search activity also spiked for key US destinations as media focus was on the election
Holiday comparison website icelolly.com saw demand for winter 2020 drop away as the second English lockdown kicked in as focus switched to summer 2021.
The firm's latest weekly Pulse report found a spike in interest in US destinations as the American election dominated the news.
Positive search and booking metrics associated with the Canary Islands reversed after the short-lived travel corridor closed due to the lockdown putting a stop to international travel.
Chris Webber, head of travel deals at icelolly.com, said: "Lockdown 2.0 has had an obvious impact on both searches and bookings and the positivity around the travel corridor with the Canary Islands has all but vanished.
"Consideration has shifted further to 2021 with S21 months seeing some of the biggest search share gains. As the election on the other side of the Atlantic gripped not just the US but also the UK, we saw a shift in searches for the US this week.
"Share of search increased for the US as a whole by 123%, with notable increases for New York, Florida and Las Vegas."
New York saw the biggest leap in search share although not enough to see it break into the top 10 which remained dominated by destinations in Spain, Portugal and Turkey.
Popular summer destinations like Costa Blanca, Majorca and areas of Turkey all saw increases.
Although December 2020 saw the biggest increase in search gain, May, June and July 2021 were also among the biggest gainers although August was not in the top 10 months.
Overall summer 2021 accounted for 38% of searches, up 18%, while winter 2020/21 was down 14% to 59%.
Icelolly.com reported 2022 saw 'real volume' in searches for the first time with around 1.2% of searches being for the year after next.