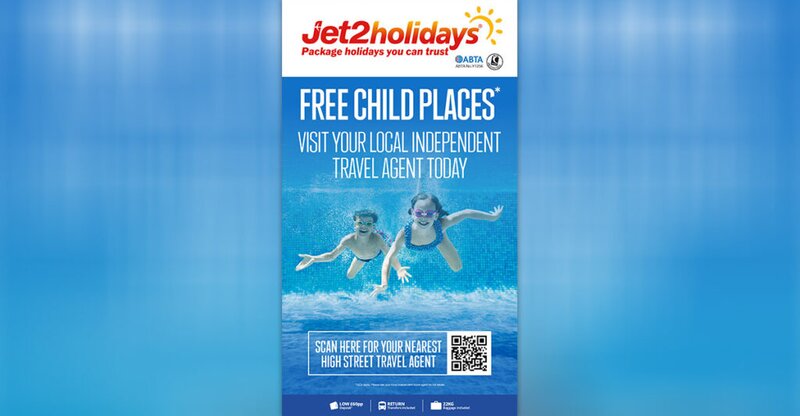 Jet2holidays uses digital billboards to drive footfall to high street travel agent partners
Nationwide promotion went live this week aimed at reaching up to five million adults.
A new digital billboard campaign released by Jet2holidays is dedicated to driving customers to visit their local independent travel agent.
Using bespoke creative on digital billboards in areas with high footfall, the operator calls on consumers to 'Visit Your Local Independent Travel Agent'.
The nationwide promotion goes live today (Wednesday) and is aimed at reaching up to five million adults.
It has been designed to encourage customers onto the high street and into their local independent travel agency.
The initiative will be supported by a social media campaign across Facebook and Instagram.
The digital billboard also encourages customers to scan a QR code, which then directs them to the travel agent finder section on the Jet2holidays website.
Customers can then automatically view a map, contact and address details for their nearest local independent travel agencies.
The campaign is being featured heavily across Jet2holidays' ten UK bases, meaning it can better target independent agents that work in partnership with the company.
Head of trade sales Alan Cross said: "Independent travel agents are at the absolute core of our successful business, which is why we are constantly looking at new and innovative ways to drive customers to them.
"This brand-new campaign underlines our commitment to our independent travel agency partners, as we are making a significant investment into creatively targeting customers to drive them onto the high street and into stores.
"With our track record of looking after customers during the pandemic, as well as getting customers away on their well-deserved holidays, we are seeing very strong demand and this campaign has been designed to put our independent travel agency partners right at the heart of that demand."