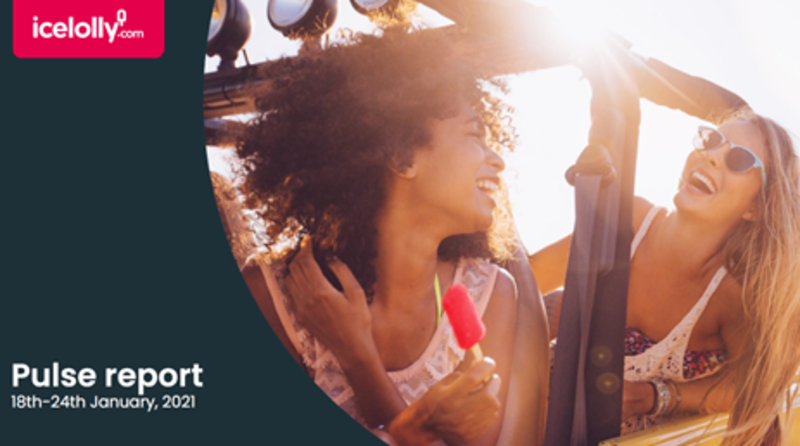 Icelolly Pulse: 2022 sees search share gains amid summer 2021 outlook doubts
Tightening travel restrictions sees focus shift beyond this year's peak travel period
Late summer and autumn travel has seen an uptick in interest amid further concern over this summer season.
With travel restrictions set to be tightened as quarantine rules are strengthened and UK politicians warning over bookings for this summer, consumer sentiment has been hit.
The latest weekly icelolly.com Pulse report, which tracks search and booking activity on the holiday comparison website, found later departure dates increasing in popularity.
Chris Webber, head of travel deals at icelolly.com, said not only was the true for late summer but 2022 holidays, although bookings for next year are lagging search activity.
He said: "The trend we saw last week with the search focus shifting further through the summer travel period has continued, with September and October 2021 searches increasing share while searches for April-August all lost share.
"We're also seeing an increase in S22 searches with share for that season increasing by around 50% week-on-week and now accounting for close to 10% of all searches.
"Bookings for S22 haven't yet followed that trend, though with potential further restrictions on the very near horizon, that could push wannabe travellers to look further into the future for their next trip.
"We all know there's a pent-up demand to travel – it's just when enough people will feel confident to unleash it."
The Pulse report found search volumes for September (up 5%), October (up 20%) and November (up 3%) meant they were the only 2021 months to see increases.
May 2021 share fell by 20%, with June (-5%) and July (-10%) also seeing significant falls. 2022 summer saw the big search gains with both June and July up by 20%+ and May and August 2022 by 50% plus.
Destination data analysis saw a big increase in search share for Antalya in Turkey which icelolly.com said could be connected to the further increase of share for September and October searches.
On the flip side Crete – as well as Corfu, Zante and Kos from outside the top 10 – all fell by 10% plus which was also considered to be the result of a shift to later season travel.
Ibiza built on gains it had seen in recent weeks to enter the top 10 and, just outside the top 10, Egypt (12th position) grew share by 25%.