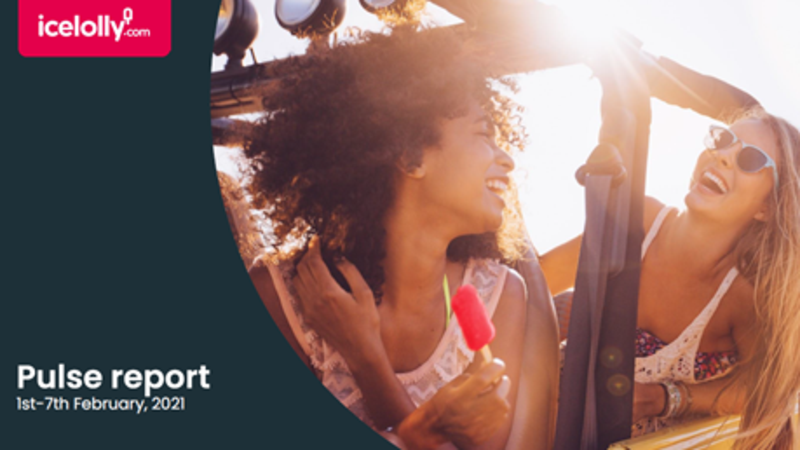 Icelolly.com Pulse: UK beach destinations see rising Summer 2021 demand
More evidence that holidaymakers are looking to take domestic breaks this summer
UK coastal resorts could be the big winners this summer, if latest demand trends from holiday comparison site icelolly.com a borne out.
The site's weekly Pulse tracker has seen further evidence of overseas demand being focussed on later in the year while users focus on the UK for peak season 2021.
Search data showed August to October interest rose again, with July 2021 searches seeing a notable share drop as uncertainty over this year continuing.
Meanwhile June 2021 search share increased and May and July 2022 search share increased following gains last week.
Just outside the top 10 months, search share for January 2022 grew by more than 80%.
The current winter season accounted for 4.5% of share, down 1.1%, summer 2021 67.6%, up 2%, winter 2021 12%, up 0.5%, and summer 2022 14.1% down 1%.
Domestic destination data showed Dorset was by far the biggest gainer of search share in the top 10 while the Lake District saw the biggest loss of share.
Some 7% of searches are for the more generic UK, England, Wales or Scotland, Icelolly.com saying this suggests its audience is focussing on deals rather than the destination.
Overseas data showed falls in share for Tenerife, Lanzarote and areas of Turkey but gains for the likes of Costa Blanca, Majorca, Corfu and Crete.
Corfu's gain of more than 50% was the biggest. Outside the top 10, Menorca and Costa del Sol also saw double-digit share increase. Dubai was the biggest share loser, with a 46% drop.
Chris Webber, head of travel deals at icelolly.com, said latest trends suggest UK holidaymaker are looking to flock to domestic beach destinations this summer.
"The pattern we saw last week has further developed this week – there is again growth in August to October 2021 searches for overseas travel, while departures 90 to 180 days from search date (covering May to early August) are both the most popular and biggest growth area for UK searches.
"The Greek islands and mainland Spain and the Balearics are proving to be the trending destinations for overseas holidaymakers, while those UK beach hotspots of Cornwall, Devon and Dorset are grabbing the attention for staycationers.
"Lake District remained one of the most-searched destinations, though it was also the biggest search share loser in the top 10, again suggesting people are looking at UK beach breaks as a real option this summer.
"After being starved of a holiday for so long, they could even pair an early summer UK break with an overseas holiday later in the year, when that travel is back on the cards."