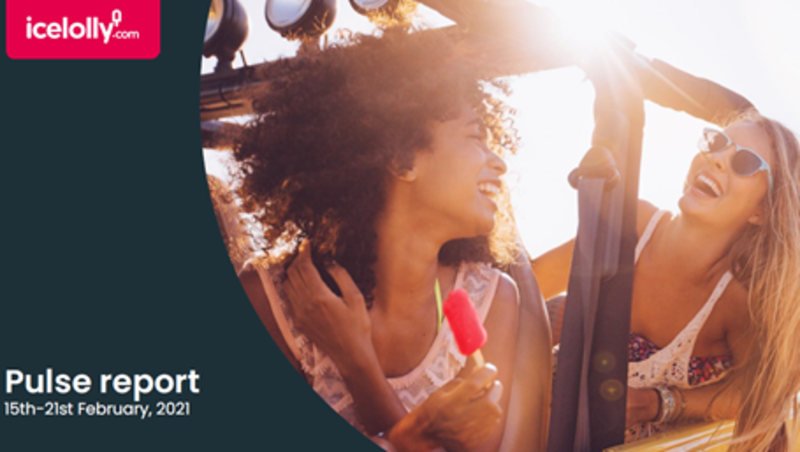 Icelolly.com Pulse: Lockdown roadmap announcement sees immediate search spike
UK and overseas searches both see surge on Monday amid hopes of travel return after May
UK breaks remained popular among holidaymakers searching for deals on icelolly.com this week as the UK government revealed its plan to release lockdown.
Following Monday's roadmap announcement, the site reported a six-fold increase in searches for UK breaks compared to the previous Monday.
And overseas holidays saw a 100% uptick as some confidence that travel will be possible this summer emerged with the government promising a review on April 12.
Around 30% of UK searches were for travel between from 31-90 days from Monday and seven out of 10 UK searches were for late May-late August.
Later summer month departures remained the most-searched for for overseas holidays, but there was a big rise in people searching for travel in June, July and May 2021.
Chris Webber, head of travel deals, icelolly.com, said: "Everyone has been waiting for some idea of when they will be able to get on holiday and the places they will be able to go to – whether that's at home or abroad.
"Yesterday's announcement has given many the confidence to resume that search for a summer holiday, with the UK the firm favourite for earlier in the summer and overseas travel proving more popular for further down the line.
"What's clear is that a summer holiday of some sort is what many people are looking for."
Monday's data reflected the icelolly.com Pulse tracker for the previous week that saw increased activity in both searching and booking.
Webber said: "Searches and bookings increased for both overseas and UK over the past seven days, perhaps with a slight sense of optimism creeping in ahead of the government announcement.
"2022 has become more popular for overseas searchers this week, while UK searches remain focused on the summer 2021 period.
"Off the back of a positive announcement on Monday, we're expecting those summer searches for UK travel to increase over the coming days.
"Early data shows an instant lift in interest for both UK and outbound travel."
The Dalaman area of Turkey and Corfu saw the biggest share increases, both rising around 25%, week-on-week.
Meanwhile, Zante fell out of the top 10 and had one of the biggest share drops, week-on-week. Outside the top 10 there were notable gains for Rhodes (11th place, up 29%) and Fuerteventura (12th place, up 36%).
Cornwall dominated at the most-searched for UK destination, while share of search for Tenby and Pembrokeshire doubled, week-on-week.
Only around 6% were more generic regional searches which Icelolly.com said could suggest people are narrowing down their options ahead of booking.
The weekly tracker showed 2022 proving more popular that 2021, with July and August 2022 joining May in the top 10 most-searched travel months.
May 2021 and December 2021 both fell around 15%, with November 2021 dropping out of the top 10 after its share dropped by 20%.
UK data revealed the share of search for stays 31-90 days in the future was the biggest share gainer again, although summer searches were still by far the dominant period.
The firm said: "With that 31-90 days period covering Easter, we could see an increase in share there next time following the Prime Minister's announcement."