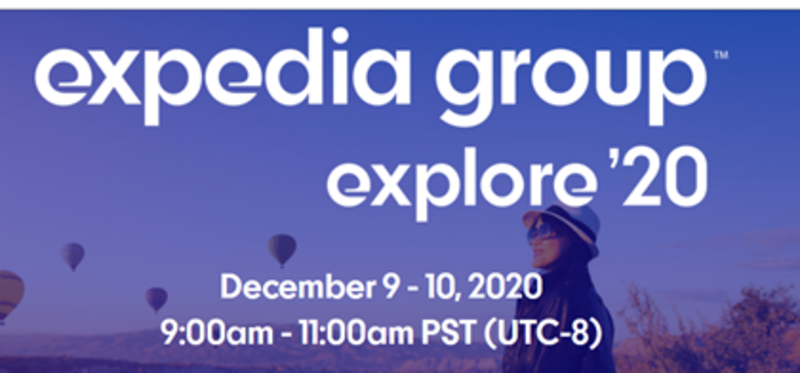 Explore '20: Expedia calls for focus on tech and partnerships to drive recovery
OTA's annual partner event hears how the industry has to adapt to new customer expectations
Expedia has called on the whole travel industry to exploit technology and partnerships to ensure the sector adapts to changing customer demands.
The global OTA this week held its explore '20 annual partner conference, which usually sees over 4,000 delegates converge on Las Vegas, online this year due to the COVID-19 crisis.
The conference featured keynote speakers from across Expedia Group as well as external speakers from the travel sector.
Expedia said all players in the global travel ecosystem must adapt to the shift in traveller expectations in critical areas such as flexibility, cleanliness, and communication to restore traveller confidence.
Cyril Ranque, group president of the Travel Partners Group in Expedia Group, said: "Travel is an industry comprised of many diverse and distinct voices, and by working together, we continue to bring hope of exploration back to people around the world.
"Technology innovation has played a massive role this year and is a key driver in building a more efficient and sustainable travel ecosystem next year and the years to come."
The two-day explore '20 conference featured partners including American Airlines, Amigo Tours, Avis Budget Group, IHG, and Princess Cruises.
On the first day speakers showcased how data-powered technology has addressed the challenges and opportunities brought on by the COVID-19 pandemic, while helping make travel partners more effective, efficient, and resilient.
Expedia has set out the following technologies and services it has deployed during the crisis this year.
Data and technology to give travel partners more control
Expedia Group's first-party data and technology has allowed travel partners to move quickly to capture audiences, understand traveller booking trends, and more relevantly showcase their unique value to better match with the right pockets of demand, the OTA said.
Rev+ Insights API: Expedia's new provides real-time insights during a time when historical data is no longer relevant and creates operational efficiencies to improve decision-making. The Rev+ Insights API will be made available to additional connectivity provider platforms in 2021.
Optimised Distribution Program: Expedia Group opened its optimised distribution program to mid and large-sized accommodation partners in August, allowing them to tap into new areas of B2B demand and giving them increased control of their B2B rates, availability and content across a network of global travel providers. Multiple partners including Highgate and Club Quarters have signed on to-date.
Simplified Onboarding Process: For property managers in holiday rentals, Expedia Group developed the "Add a Property" tool, within Expedia Group Partner Central.
Value Add for Cruise Suppliers: Expedia Group's omnichannel strategy sought to improve the traveller, partner, and distribution channel experience for cruise. This streamlined the booking process to deliver more travellers to cruise partners.
Meeting traveller expectations on flexibility, health, and cleanliness
Booking flexibility and health and safety are expected to remain important factors to travellers now and in the future.
Expedia Group has added new features to communicate new protocols that increase traveller confidence while minimising post-booking complications.
Touchless Technology in Car Rentals: Expedia Group launched "Online Check-in" and "Skip the Counter" features to improve the car experience. The "Online Check-in" feature is live with 15 supply partners including Alamo, Avis, Budget, and Sixt.
Elevating Safety Measures: Expedia Group increased transparency around health and safety protocols, making it easier for partners to communicate their health and safety practices to travellers in listings. For flyers, engagement with cleanliness and safety information is on par with the "non-stop" filter, the most used air filter on Expedia Group sites. Listings with clearly labeled health and safety information saw an increase in interest from travelers.
Delivering on the traveller experience
Streamlined Shopping Experience: Expedia Group's cruise division consolidated every point of purchase into one single platform, allowing travellers to shop for cruise offers on their own or with the help of an agent. Travellers can also purchase flights, lodging, transfers, and activities to create a full itinerary.
Upsell Options for Airline Partners: Expedia Group tested airfare selection in the search results to help travellers compare prices and select the fare best suited for their needs. Upsell gross bookings increasing 237% year-over-year (based on 2019 Expedia Group upsell transactions).
Increased Activities Visibility: Expedia increased the visibility of activities to travellers, which increased distribution across all brands. This connected travellers with relevant activities partners to book and redeem all components of their entire trip, including activities.