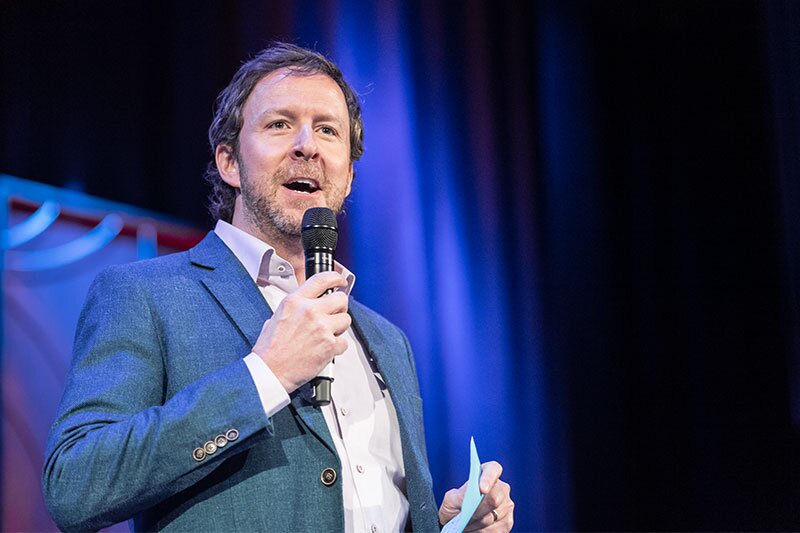 Explore '20: Executive interview with Expedia SVP for transport and cruise Greg Schulze
The role of OTAs in the travel rebound and how COVID has strengthened partnerships with suppliers
Last week Expedia Group took its annual partner event, that usually sees 4,000-plus delegates travel to Las Vegas, online. Lee Hayhurst caught up with SVP for transport and cruise Greg Schulze
The post COVID travel sector is set for the sort of change seen after 9/11 and OTAs will play a key role in its future, according to Expedia SVP for transport and cruise Greg Schulze.
Speaking to Travolution during last week's Expedia Explore '20 online partner event, Schulze said the pandemic underlined how online agents like Expedia have a vital role in dealing with and informing customers.
He said the brand is looking at how it can blend its offline retailing experience in cruise retailing in north America where it operates 300 physical centres, with its online expertise and virtual agent technology.
Schulze said while the pandemic has seen customers migrate to digital they are requiring more information and reassurance about issues like COVID customer protocols and health and safety.
Gaining confidence in travel
"We've seen over the last eight months as the infection numbers go down people start booking travel.
"So we know that as people gain confidence in travel through vaccines, testing protocols, clean plane initiatives and all the different health and safety procedures people will book.
"I think it just comes down to our human nature. We want to move if we can do so right now.
"That does require us as an industry to make sure people have a good understanding of the situation, the health and safety protocols, but also the different restrictions.
"We've been working with our partners as well as industry bodies and governments to ensure we have that we're communicating clearly with our customers."
Schulze said he does see "signs of life" in the sector, particularly in Asia where countries have managed the pandemic more successfully than many countries in the west.
A coordinated approach to restarting travel
Until recently he was based in Singapore, where he has spent the last five years. "I was actually in Singapore in January when the virus started spreading and we saw restrictions imposed quickly there and an immediate halt in tourism.
"It's been interesting now to see how things have progressed in Asia that has made faster, more lasting progress in the fight against the pandemic.
"We are seeing travel return and there are certain places where life seems to be a bit more normal."
Schutze added that for international travel to rebound account must be taken of approaches taken by the likes of New Zealand which has prevented infections by closing borders.
"We really need to be smart about the way we coordinate the global movement of people and I think the industry is making quite good advancements in that area," Schulze said.
"Of course, people will travel and I think we will see it probably returning to levels 2019 levels and then some, because travel will continue to grow.
"When and exactly what that curve looks like, there's a lot of speculation about that. But what travel looks like will certainly change."
Schulze was working in revenue management for American Airlines in 2001 when the 9/11 attacks happened and left a lasting legacy on travel.
Change for the better
"After September 11 in the airline industry there was a quick reaction to ensure that travellers were safe
"As procedures changed and as the situation changed everyone understood what was happening and how things work and now we take that for granted.
"That was a pretty significant change, so will COVID change the way we travel? I think so, hopefully for the better.
"In many ways the convenience, the technological advancements have been pretty massive over these this year.
"You've seen airlines really go aggressively with touchless kiosks and when people start to travel again they will see a different experience.
"Alongside that the scientist and public health officials will decide if we'll need to wear masks but I would say it's going to be a different industry and hopefully we carry forward a lot of good."
The shift online prompted by the COVID crisis has come close to home for Schulze with his own parents, both in their eighties, using the recently IPOs DoorDash to organise grocery deliveries.
He said helped them set up an account. "It's definitely a new world with different expectations and convenience
"I think this is certainly changing the way all of us interact with various products and brands, including of course travel."
Marrying offline and online experiences 
That said Expedia's cruise business, which Schulze now overseas, retains a high-touch, human, offline approach employing 6,000 agents and operating 300 stores across the US and Canada.
Schulze said: "They are the traditional hands-on cruise sellers and over these last few years we've really pushed to integrate that part of our business into the Expedia group ecosystem.
"That means it's forcing us to think a lot about how online and offline works together. Cruise is a good starting place for that because a lot of it is still sold offline.
"We think that the online cruise product is quite good and actually if you can marry those two together, it'll be even better.
"We are now bringing in cruise customers online and connecting them with offline travel advisors.
"And then, of course, it goes the other way. We have customers who are traditionally more comfortable going into a store and talking with their friend who is a travel advisor.
"But now they're able to sit at home and do virtual cabin tours and really get a lot of good rich information about their itineraries and about the ships.
"That's a great supplement to the personal touch. How that applies to the rest of Expedia group, is a question that that we're really excited about."
Schulze said Expedia has made "huge progress" over recent years with its omni-channel approach to cruise in the US. So could we see that replicated in other major cruise markets like the UK?
"As far as the UK specifically goes it is one of our focus markets for Expedia generally and so we want to have a full offering there.
"It's a big cruise source market, so it does make sense for us to expand there. This is a low point for cruise but we are very bullish on cruise and we know that it will come back.
"We see strong bookings for existing cruisers and the industry is working really hard to make sure that return to sail happens and happens quickly and we're going to be a big partner in that."
The power of partnerships 
Closer and more mutually beneficial partnerships with suppliers is one of the key areas Expedia has been working on after the challenges of the COVID close down of travel.
Schulze said the OTA was having to deal with thousands of different airline payment policies which were changing all the time to make sure customer were properly advised and informed.
"One thing that I've seen is come out very clearly is the importance of clear information, no matter the demographic, older or younger.
"We need to make sure that our travellers, the people shopping on our sites, really understand what they're buying, and what they're getting for their money."
In particular communicating refund policies was a challenge.  "We quickly changed our technology so that we could process all of those inquiries coming in.
"But then we had to make sure that we were pushing that out properly to our shoppers online as well as our customer service agents in call centres so they had the right information.
"We think we did very well with the customer refunds given the incredible volume and the complexity.
"Our airline partners had other issues with cash flow and we were in between the customer and our partners and tried to make sure we were providing all the best information and delivering the best service that we could.
"So, having the right information available to our customers, whether it's online or offline, is really the focus for us."
Some of that customer service is going to be delivered by technology in the form of Expedia's virtual agent platform.
Virtual agent platform
Schulze said although this is not new it has been built to it is scalable and through API-style plug-ins can provide latest, up to date information on supplier policies so customers can manage their travel.
"That allows the customers to say I want to change my flight or I don't want to go on this trip and the virtual agent can immediately tell them what their airline policy says and what their options are.
"It avoids that having to be on the call, or be at home waiting for an agent so that is technology we really leveraged in this crisis and will certainly be an important part of our future going forward."
Ultimately Schulze says the COVID crisis has brought Expedia closer to its partners many of whom are in need of support in working out what the future looks like as travel return.
"Crises tend to bring you closer with those whom you consider a partner, and we've always positioned Expedia that we are an ally of airlines, car rental companies and cruise lines.
"Everyone on my ream has worked in the industry and we really do try to understand them.
"It's been a rough year for our partners. They've suffered through the drop in demand that everybody has seen and gone through massive restructurings, layoffs and furloughs.
"So, we've really worked hard to be empathetic, and to really understand their situation. We're an important part of the recovery. OTAs have always been that as we go through crises.
"We offer a broad set of demand. We are a trusted source. Customers will come to us because they know us and they trust us.
"I think our partnerships are stronger than ever and I think we all just want to see the numbers start to go up as we as we go through 2021.
"We're not trying to put a positive spin on this horrible situation but we're making a lot of investments now so that in 2021 and beyond we are going to provide a much better experience for our customers and for our partners."