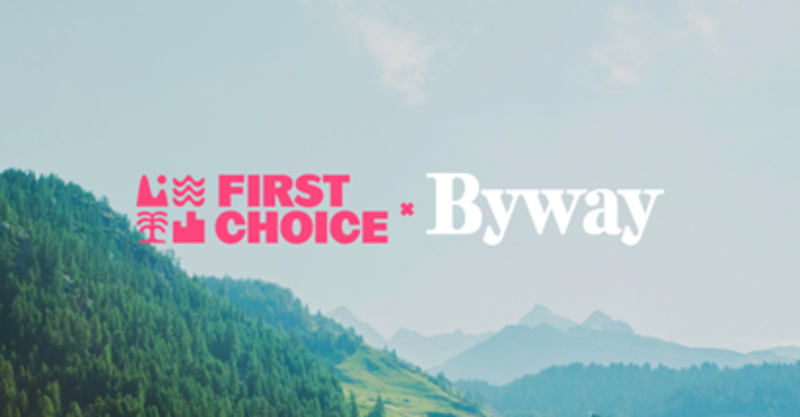 Byway and First Choice partner as 42% of UK holidaymakers seek alternatives to flying
The partnership offers flight-free Byway holidays to First Choice customers
Flight-free travel company Byway has announced its partnership with leading UK holiday operator First Choice.
First Choice, part of TUI Group, announced a major relaunch of its online platform and will now be the first mainstream travel brand to offer dynamic train, boat and bus holidays online due to the collaboration with Byway.
This is to reflect growing demand for environmentally friendly travel, as new research from Byway revealed that 42% of UK holidaymakers are seeking alternatives to flying to reduce their carbon footprints. For London-based holidaymakers that's 56%, and it's 61% for Gen Z.
The research, conducted by OnePoll, surveyed 2,000 UK holidaymakers and found that 43% of UK holidaymakers would rather take a train, ferry or bus than fly and 42% of UK holidaymakers want flight-free alternatives specifically to reduce their carbon footprints.
It showed 38% of those who'd travelled flight free enjoyed seeing more of the places travelled as opposed to 19% did so because it was more environmentally friendly.
The partnership provides the sustainable option travellers as First Choice will now offer flight-free holidays through Byway, which sorts travel and accommodation and financially protects the holiday as a package via ABTA.
It will show holidaymakers flight-free options when searching for plane-based holidays, to "inspire" consideration from a new customer segment.
Bart Quinton-Smith, managing director of First Choice, said: "For First Choice, it's about helping people pick the trip they really want, and sometimes that means introducing our customers to something they might not have considered before.
"Our partnership with Byway means that customers can now travel flight-free by train or bus or boat, experiencing new ways to journey as well as new destinations."
Cat Jones, founder and CEO of Byway, said: "I founded Byway with the mission of making flight-free travel mainstream. For decades, choosing flight-free meant choosing masses of organisation.
"Byway exists to make booking train, boat and bus-based holidays just as easy as flight-based packages.
"We're thrilled to be partnering with First Choice because it accelerates progress towards our mission, giving more people overland options and making the joy of the journey much more visible.
"We hope First Choice's bold move will inspire many more travel brands to follow its lead."