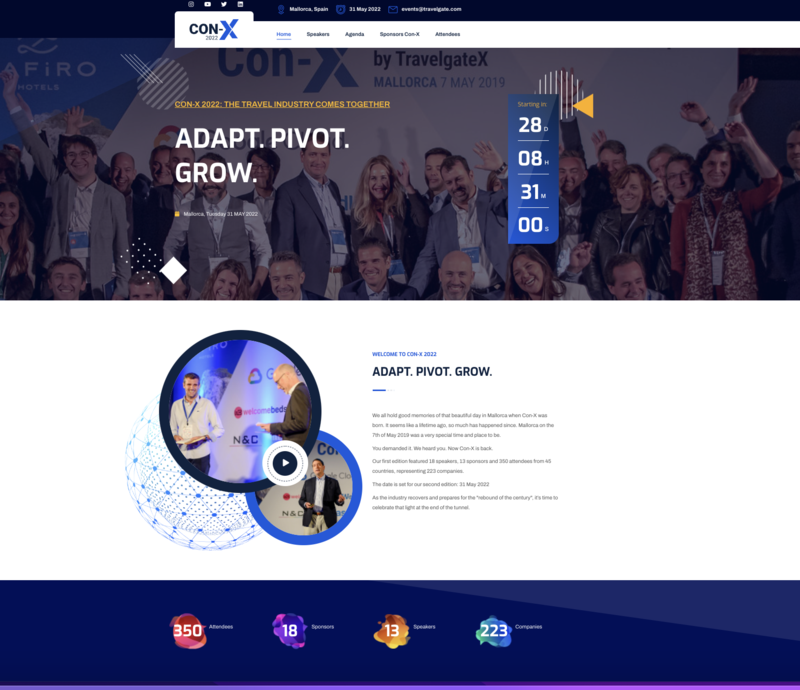 Industry leaders lined up for TravelgateX's second CON-X conference
This month's event in Palma will feature sessions themed on ADAPT. PIVOT. GROW
More than 250 travel leaders will travel to Palma later this month for CON-X the second conference organised by TravelgateX, the travel technology specialist based on the island.
The first CON-X took place in 2019 but because of the COVID-19 pandemic the firm was unable to run it again until this year.
The ADAPT. PIVOT. GROW conference will see 250 senior travel industry delegates from 45 countries gather in Palma on May 31. The event is being sponsors by Travolution and is a partner with our second overseas Digital Retreat.
In the day the event will feature presentations and networking opportunities on tourism and innovation at the Es Baluard museum. In the evening delegates will move on to the Castillo San Carlos for a gala dinner.
Topics that will be discussed in CON-X sessions include the future of business, the metaverse, connections, creative ways to get through crises, big data, trends and predictions, OTA's, wholesalers, hotels and other types of accommodations, quality, quantity, travel personalisation, consolidation of technology, prospects for the sector, and automation.
TravelgateX, which is also celebrating its tenth birthday at this year's CON-X said: "As the industry recovers and prepares for the 'rebound of the century', it is time to celebrate the light at the end of the tunnel."
"We want to help, through this international debate, to rethink the strategies of tourism companies so that the sector can grow through connections and technology".
Speakers confirmed for Con-X include founder of Silicon Valley innovation consultancy Agents of Innovation Bill O'Connor and Toni Nadal, the uncle and former coach of Spanish tennis star Rafael, who founded the Rafa Nadal Academy.
Industry speakers include: Alen French, chief executive of Thomas Cook, Bas Lemmens, HotelPlanner president of EMEA, Maialen Carbajo San Millán, head of industry travel at Google, Mario Gavira, vice president of Growth at Kiwi.com, and Susanna Sciacovelli, chief commercial Officer for Viajes El Corte Inglés.