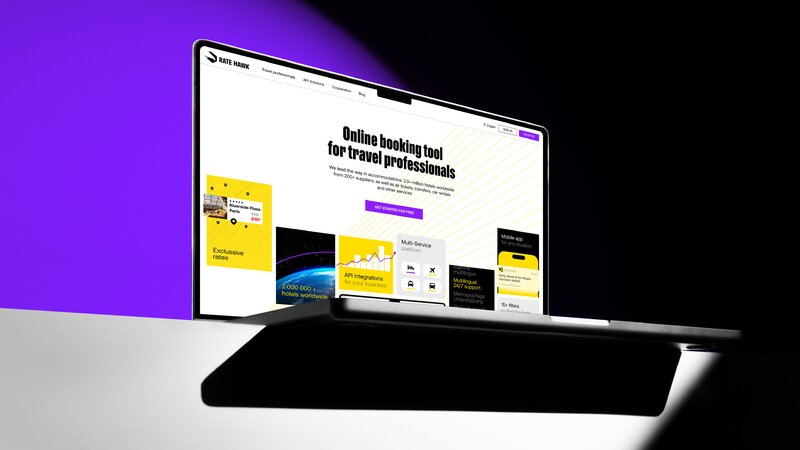 RateHawk unveils rebrand and interface update at World Travel Market 2023
It includes a new corporate identity and a new logo
Online booking technology supplier for agents RateHawk has announced a major rebrand today at World Travel Market London, that includes an updated corporate identity, strategic reimagining and a new logo.
The move to rebrand is said to honour the "invaluable" role of travel agents, advisors, and other industry professionals worldwide.
RateHawk said it remains steadfast in its commitment to developing tools and technologies that empower travel professionals.
Felix Shpilman, CEO of Emerging Travel Group, RateHawk's parent company, said: "The rebranding mirrors the natural evolution of RateHawk.
"With a seven-year history, RateHawk has evolved from a B2B hotel-booking system into an advanced platform that offers one of the most extensive hotel supplies in the market and provides a comprehensive spectrum of travel services.
"What sets us apart is our product-driven DNA, which guides our approach in all endeavors.
"This forward-thinking mindset positions RateHawk to drive innovation in an industry historically known for its resistance to change and limited online presence.
"Our aim is to liberate our partners from the challenges of navigating digitalization on their own.
"RateHawk remains committed to actively engaging with its partners to tailor its products to their specific requirements.
He said: "We develop tools that empower professionals to enhance the sale of travel services, introduce solutions that enable conducting business remotely, pioneer new payment methods and procedures, all while delivering exceptional customer service.
"With RateHawk, partners can rest assured they are not alone in their demanding profession – they are supercharged with top-tier products and professional assistance."
He added: "The rebranding initiative is a reflection of these transformative strides."
The new visual identity features a black and yellow palette, preserving RateHawk's established legacy while making it more "vibrant and memorable".
The brand's core yellow colour, has a new, more "vivid and dynamic" tone.
The updated logo maintains the continuity of the original design, retaining the iconic hawk imagery from which RateHawk derived its name.
The new logo's outline exudes increased confidence and boldness, aligning seamlessly with the hawk symbol.
Introducing a novel element to the design system, the yellow spotlight serves as a symbol of the "powerful stream" that energises RateHawk's partners.
The new RateHawk website with the new changes was unveiled today, while the first physical manifestation of the rebrand can be seen this week at World Travel Market in London, November 6-8, 2023.
Localised versions of the rebranded platform will be released throughout the month.