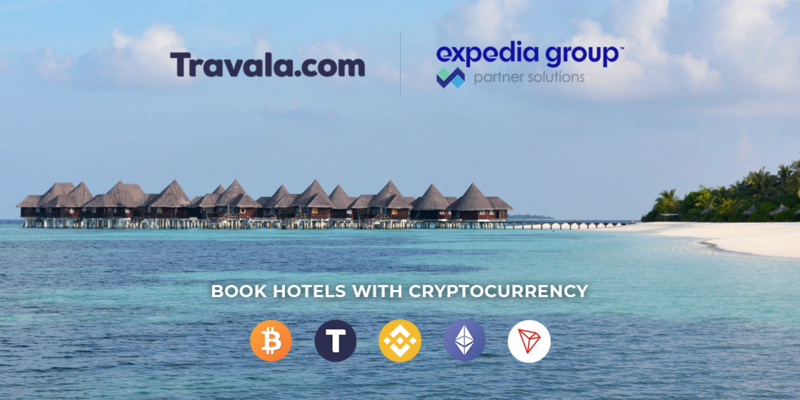 Blockchain OTA travala.com prepares for 'tsunami of bookings' with Expedia partnership
Innovative OTA start-up has seen growth in the last year despite the hit to travel from COVID-19
While the world is still trying to get to grips with emerging blockchain technology and the cryptocurrencies it supports, one OTA is not waiting around.
Founded in the UK in 2017, global agent travala.com is one of very few travel companies able to talk about growth in the last year as the sector was ravaged by COVID-19.
But since it agreed a new partnership with Expedia Partner Solutions at the beginning of the pandemic, the brand has seen impressive growth.
In the first quarter of this year, the firm was approaching $2 million per month in booking revenues and has just had a record month for growth in March.
During the course of the pandemic, travala.com has grown by five times, and co-founder and chief executive Juan Otero says he's expecting a tsunami of bookings as travel restarts.
Growth has come almost entirely organically and is also being fuelled by rising adoption of cryptocurrencies globally – up from 70 million users last July to 100 million today.
"We are pretty bullish in terms of what's to come," said Otero, speaking from his base in Perth, Australia. "We're expecting a tsunami of bookings coming our way.
"There's going to be a massive rebound of travel and it's just a question of if not when."
Much like cryptocurrency communities themselves, travala.com's customer base is highly globally distributed with bookings from hotpots in the likes of Brazil, Miami and Tokyo.
Otero says its tech and innovation first approach and attention to customer experience sets it apart from other OTAs and makes it such an interesting partner for EPS.
"We founded Travala with the vision of enhancing the traveller booking experience with blockchain technology.
"It wasn't just about introducing cryptocurrency payments but also building on top of blockchain and with our own cryptocurrency."
Travala currently sees 70% of transactions happening via cryptocurrencies of which it has over 40 available on its site, and the rest through conventional credit cards.
It seeks to incentive adoption of its own cryptocurrency AVA using it as a loyalty, or membership, scheme and offering customers additional benefits and incentives.
Otero says by cutting out intermediaries like banks blockchain provides the user with a faster and more secure as well as cheaper way to transact than conventional OTAs.
"Traditionally blockchain-based projects have failed to optimise or achieve a level of user experience that they feel comfortable with to achieve scalability," he said.
"We have built a platform with a user-centric approach were the blockchain functionality works in the background and without any additional barriers or friction for users.
"We do not force anyone to use one or another payment, but we promote our own cryptocurrency because we get better retention rates from users who become members.
"And they get access to additional discounts through membership. It's also a mechanism for referral and affiliate programmes and incentive mechanisms on the platform."
One challenge associated with COVID Travala had to overcome was to establish a stable coin wallet to standardise the value of the currency so full and accurate refunds could be made.
Key to this ability to reacting quickly to changing circumstances and consumer demands has been finding a partner that is able to support Travala's technology-first agile mindset.
Otero said EPS's Rapid API was critical in helping it establish itself, as well as the ongoing account support it has received from the global travel giant to optimise the business.
"When we started talking to them we were not doing anything like the volumes they usually expect. But EPS were quick to see the opportunity and engage in that conversation.
"Their Rapid API is second to none in the market, by far the best. The structure of the API makes it a beauty to work with."
Alfonso Paredes, senior vice president commercial partnerships at EPS, said of the many hundreds of partners it works with the potential of the Travala tie-up was clear.
"We saw the passion and innovation that these guys have," he said, "therefore it was clear these guys were becoming experts on different types of payment methods.
"There is a very good connection between our two companies, and we like these types of companies.
"There have been many partnerships in the past that have started in a small way with us and they have ended up being enormous companies.
"Supporting Travala was a super-easy decision for us. The relationship is great. Despite all the disruption and restrictions of the last year the numbers keep on growing.
"And it's only going to continue growing. Travala will be able to use whatever they need from us. We are in this to the end. It's a win, win relationship."
The EPS Rapid API gives Travala access to 700,000 Expedia Group accommodation providers plus 20 million property and room images and over 175 different caption categories.
In exchange, Paredes said Expedia has benefited from working with Travala, particularly during the pandemic and the huge customer services issues travel has faced.
"We need to be very humble. We can learn quite a lot from companies like Travala. That's the beauty of small companies, they are very agile and work faster. We also need that."
In May 2020, with backing from industry-leading blockchain company Binance, Travala.com merged with TravelbyBit creating one of the world's largest blockchain-based agencies.
Operationally, Travala is now Australia-based. It has offices in the UK and Vietnam where tech development takes place. Over half of its 50-strong workforce are developers
In its latest Crowdcube funding round, which targeted £500,000 but raised £1.5 million, it forecast 10% annual growth rate and to hit $1 trillion revenues by 2023.
Ortero said Travala is not just about cryptocurrencies but about building an entire platform for travel based on blockchain technology.
The vision is that with smart blockchain contracts a decentralised and disintermediated travel marketplace is created and many of the sector's intractable problems can be fixed.
And with trust among consumers never more valuable, Otero sees blockchain as the answer in areas like financial protection and reliability of reviews, information and advice.
He concedes, as a new technology, blockchain itself has to build trust which was undermined in the hyped capital raising ICO [initial coin offering] era.
"There's definitely an issue around education," he said, "in terms of functionality and security there are massive misconceptions about blockchain.
"The fundamentals of blockchain and infrastructure that's been built, it's the most secure and reliable way to scale things. There's no other system in the world that's unhackable.
"In the next five to ten years, the perception across the whole industry will become much more positive because the tooling will be available."