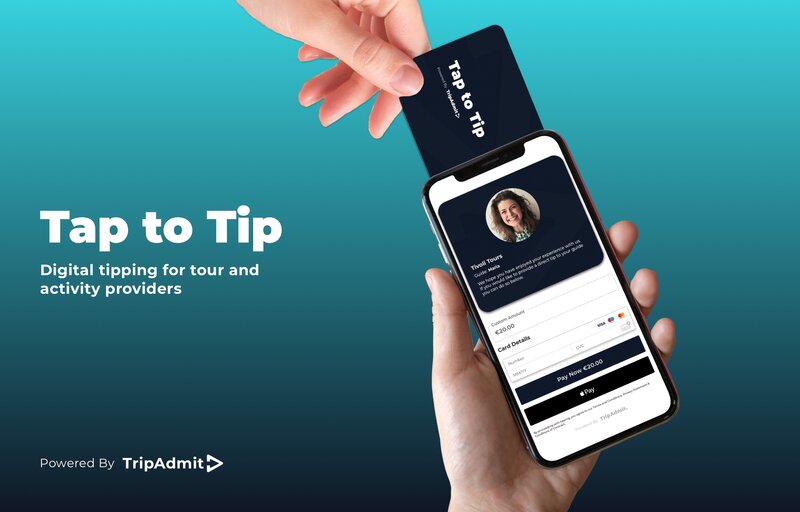 TripAdmit launches cashless digital tipping solution for tour guides
Tap to Tip enables guests to make contactless payments via their smartphones
B2B travel activities distribution platform TripAdmit has launched a digital cashless tipping solution.
Tap to Tip enables guests to make contactless payments through their iPhone or Android devices by just tapping a card eliminating the need for bulky card readers.
Through NFC encoded cards, QR codes or payment links, guests can immediately charge a tip to their credit or debit cards from their digital wallets.
TripAdmit said tips are calculated and paid seamlessly "providing a swift, effortless, and practical way for guests to tip guides digitally". The solution does not require an app or any additional hardware.
John Maguire, TripAdmit co-founder and chief executive, said: "Our digital tipping product has been designed to fit the needs of both travellers and tour guides.
"The flexible solution ensures that guests can tip securely using a method that suits them, whether using tap to tip, a QR code or using tipping links.
"Fewer travellers carry cash with them now so guides miss out on these tips which are a significant part of their earnings. Digital tipping solves that problem by providing a swift, effortless and practical way for guests to tip guides entirely digitally."
With a recent study finding that 80% of tips are paid by card, tour guides are often left without the ability to accept a tip due to not having the technology to process payments.
Maguire said: "The TripAdmit distribution network has over 400,000 experiences in more than 100 countries globally.
"We can rapidly deploy and manage digital tipping across many locations, with multiple configurations. There is no app required because we utilise the technology that's already built into phones.
"Digital Tipping provides a seamless and professional tap to tip service for any sized tour and activity company around the world."