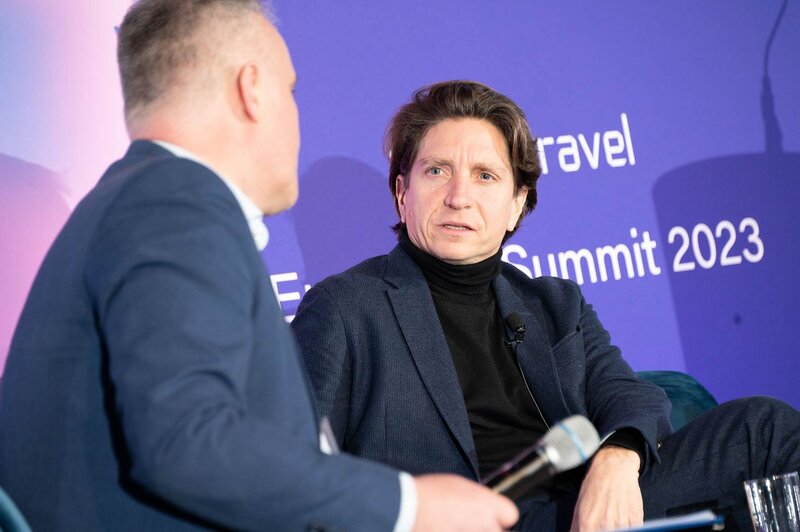 Travolution Summit: Have courage and conviction as M&A rebounds in 2023
Cambon Partners' Morgann Lesne said the sector's big beasts have $22 billion in cash ready to make acquisitions
A bumper year for M&A in travel is expected with the industry's big players having a war chest estimated at $22 billion to spend.
Financing and travel M&A expert Morgann Lesne, partner Cambon Partners, told the Travolution Summit that he has been advising clients to be ready for a rebound this year.
He said Europe remains a favoured region for M&A because it is not only a popular travel destination but because the market remains to fragmented.
"Europe has always been a great destination, so it was a very fertile ground for building new companies in travel.
"We have a lot of talent, but it's also a super fragmented market so it's hard for a European business to reach scale…either by raising money or through acquisition."
Lesne offered advice to potential sellers hoping to attract the large global corporates like Booking Holdings, Expedia Group, Trip.com, Airbnb and Tripadvisor if they are interested.
"M&A has been the DNA of the industry and it will continue to be. So these companies will keep buying more and more.
"We have a lot of cash in the market from these very large buyers. There's around $22 billion available cash for acquisitions.
"I think the market is now ready for big M&A deals, but size will matter a lot. These guys are only looking at sizable platforms.
"My advice is don't expect to be bought by Booking.com tomorrow morning because you have grown a very good business locally.
"It's very likely they won't be interested in your business until it's reached a certain scale in terms of geographies that you cover.
"Europe is a good start but usually they will want to be beyond Europe and then you will see them writing cheques of several hundred billions more easily than small cheques."
Lesne added: "Some [buyers] are looking to add geographies. Look at the Middle East, it is a very fast-growing geography so you will see some M&A happening there.
"If you look at Europe these companies will keep buying, but I would say in fintech or companies that serve one vertical whether it's hospitality tech or short-term rental tech.
"There's a lot to be done in that space; the software part of the travel tech for me is still an interesting area."
Lesne said founders should look to partner with large players who could see them as a potential M&A target but he warned against selling too early.
"Try to establish a partnership with these guys. They will look to buy, but particularly if you a
are already a partner with them. They want to know you well ahead of the process.
"Keep dreaming, but these people are well in place, it's going to be hard to disrupt them. If you have to build your business in order to sell it okay, but don't sell your business to soon.
"It really takes time to build a solid business. With the different rounds of financing, it takes six to 10 years to really build a business to scale.
"This does not always sit well with the horizons of venture capital investors and there might be a bit of a disconnect there."
Although valuations are recovering following COVID, Lesne said there remains plenty of uncertainty in the market and acquirers are looking for genuine evidence of profits.
"For now, we have a key word that we hear a lot and that's uncertainty. So what do you do? Do you do nothing? Everyone is going to make their own decision.
"I can tell you that uncertainty is related to valuations. We've had a massive re-rating of the market at the start of 2022 and we still have not recovered to pre-COVID levels.
"There was COVID and then there was a re-rating. There is uncertainty. What do you do when you have uncertainty? My answer would be to have conviction and courage.
"If you don't know what to do just hold, that's fine. Make sure you can survive. Then if you feel a bit braver go and buy.
"There will be more money available for you to go and buy another company than to grow organically because of fragmentation and size.
"That buy and build strategy is really taking hold, so be bold enough to go and shop around or to merge with a competitor. It's very dynamic.
"Hold, buy, then sell. But you need to be aware of what the market can give you in terms of valuations.
"A lot of entrepreneurs get it very wrong. Numbers have gone down significantly and the valuation is going to be a multiple of EBITDA, not fake EBITDA, cash EBITDA.
"Today you seeing transactions of with multiples of cash EBITDA from 14 to 20 to 30. That's typically the case."