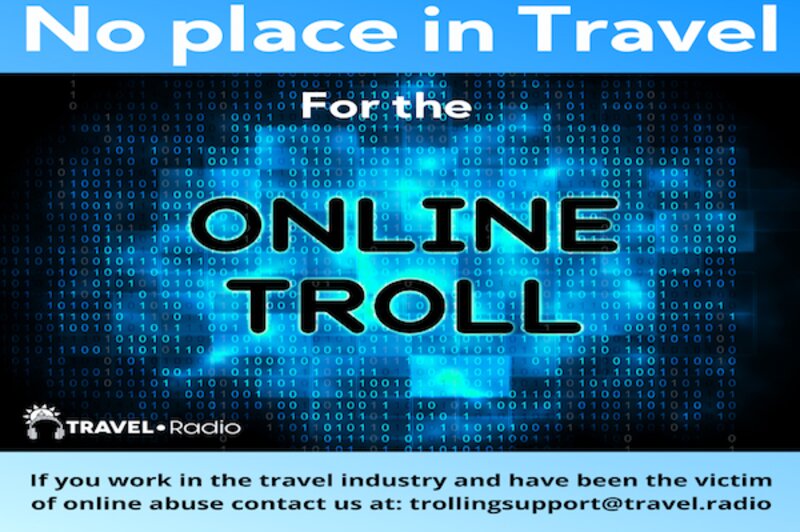 Rallying call issued to stamp out online abuse of travel agents
Travel.Radio launches Tackle the Trolls campaign
An industry campaign to tackle internet trolls has been launched after a string of travel agents were targeted with online abuse.
Industry station Travel.Radio has launched 'Tackle the Trolls' following a "sustained attack" and is working with police to record incidents. It has been contacted by 64 people so far.
Messages are being collated and will be presented to social media firms, with culprits named and shamed. The station is calling on industry partners to ban anyone found guilty of cyberbullying against the trade.
The digital radio station reported a prolonged and personal social media and email campaign aimed at the station and some of its presenters, has pledged to name and shame culprits and is calling on industry partners to implement a life-long travel ban on anyone found guilty of cyber bullying those in the trade.
The extent of the online abuse first came to light when Jacqui Bowring, owner of Buckley Travel in North Wales, talked about it on industry Facebook group Travel Gossip.
Richard Dobinson, of Arrive Relax Travel in Southend and LGBTQ brand Holiday with Pride, received countless anti-vax and homophobic threats and messages, sometimes as many as 19 a day. He has since launched a verified customer review site in response.
Travel.Radio said it has received similar vile comments and presenters have been individually targeted on their social media pages.
The station's chief executive Debbie Henley said: "Each time it happens we block the accounts but they spring up again with a new name and a new account, hiding behind their anonymity . Most times when they post the account has just been set up that day and they have zero followers.
"But even more worrying are the false and damaging claims they make to our partners and advertisers via email. They are completely groundless and contentious allegations, clearly designed to cause as much commercial damage as possible.  It's beyond me why people are so spiteful and spineless when everyone is just trying to go to work and help global travel recover after the pandemic".
Bowring said: "The travel trade community has been fantastic, we have come together in a WhatsApp group to share our stories in an attempt to finally close the bullies down and stop them damaging our businesses."
Dobinson believes the past few months of relentless online bullying has had a long-term effect on his mental health and is calling for the social media giants to step up.
He said: "They are taking racial abuse seriously now and it's time to look at cyber bullying in general. These trolls are just keyboard warriors who inflict serious mental and commercial  harm yet they are still able to post on public platforms. We as a travel industry need to take action, work with the relevant authorities and media channels and finally bring them to justice."
Henley added: "We are urging everyone to just collate as much evidence as they can so we can present a united front to the social media sites. We'd like to see all the big travel providers implement a lifelong ban on those found guilty of targetting anyone in the travel industry."