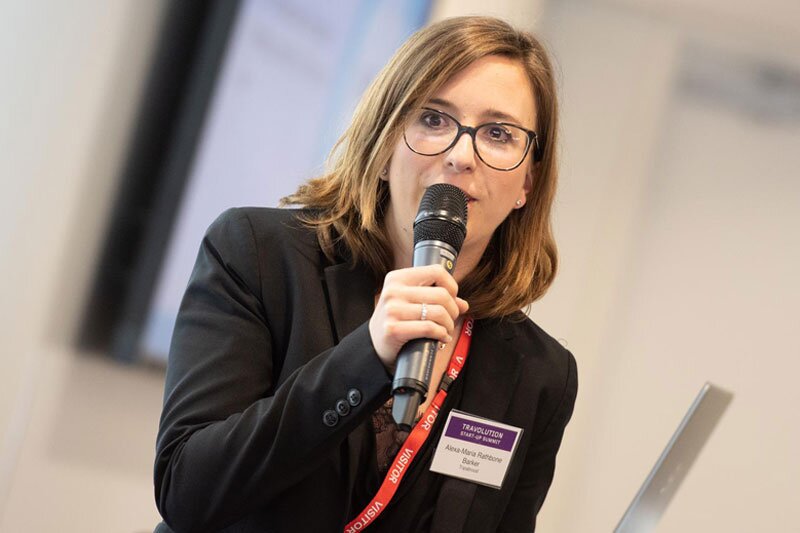 Guest Post: How one start-up is preparing for post-pandemic disruption in travel
TripAbrood founder Alexa-Maria Rathbone Barker says mindset change will drive true disruption
Alexa-Maria Rathbone Barker is the co-founder of tripAbrood, a UK travel start-up on a mission to make family travel easy. It is building an AI travel assistant, matching families to their perfect holiday.
In this piece she explains how the firm reacted to the COVID-19 shut down of travel and looks forward to what she believes will be a vibrant period of post-pandemic innovation and disruption.
As a senior executive in the fintech industry prior to co-founding tripAbrood, I've lived through the 2008-9 financial crisis.
I've experienced my sales pipeline dry up overnight, the key contacts I'd built relationships with over years disappear.
And I've worked day and night alongside inspiring people to win back business and lead $200 million businesses back into thriving sales channels.
But as a co-founder of a travel start-up in the times of COVID-19, I've never experienced anything like this.
These are unprecedented times, most of all because the pathway out of this crisis remains unclear.
As founders, we build a business case based on a real problem that needs solving, and develop an inspiring product to solve the problem with clear go-to-market strategies and a compelling financial plan and an achievable exit strategy.
When three out of four of these pillars are unclear, this presents real challenges for anyone looking to plan for the future.
When will customers be able to travel again (go-to-market)? What will the impact be to our current financial model over the next year (financial plan)? When will travel brands be attractive again for acquisition/IPO (exit strategy)?
Now's the time to focus on product development
This leaves one pillar under our control – product. What is for sure, there has never been a better time to build product than now.
We are all locked down at home, our customers cannot travel at the moment and we have a window of a few weeks or months to create, create, create.
For us at tripAbrood, that has been our number one goal over this lockdown period.
We closed our pre-seed round in February 2020 and were planning a product build cycle over this time anyway.
So, for us, focusing intensively on building product has not been a huge pivot.
What we've found on the positive side is an abundance of hugely talented people, uniquely able to help us build the product at this time.
In an incredibly short space of time, we've managed to build up our remote team to 12 people, based all around the world.
They are all hugely motivated to turn tripAbrood into a reality and create our launch product, ready for when markets open up again.
I believe this will be our new reality post COVID-19: amazingly talented people wanting to work remotely on interesting projects.
TripAbrood has become a remote based start-up, just like that. And to be honest, I can see us staying remote for quite a long time, especially now our eyes have been opened to the sort of talent you can find remotely.
The three key challenges
This leads me to several challenges we've faced. Firstly, how to build up a company culture remotely?
We've put in place communication tools like Slack, Jira and Confluence to allow us to communicate regularly as a team and stay accountable for tasks at hand.
We've defined our weeks around sprints, each week kicking off with a sprint planning session and ending in a demo of what has been built within the week's sprint.
On a Friday afternoon, we close off the week with team drinks and a competitive session on Jackbox Games.
We have spontaneous catch ups throughout the week using the Donut component on Slack, pairing each member of the team at random to another member of the team and facilitating a 15 minute "water-cooler" catch-up.
As a co-founder, the biggest lesson I've learnt so far with remote teams is that people still need to talk.
They need a space for five to 10 minutes at the start of most work calls when we can chat about everything and nothing, moan about not getting out of the house much, get stuff off our chests and just have a laugh.
Inevitably, the conversation then flows naturally into work after that. But these few minutes keep us all sane.
Secondly, how can we make our money in the bank last longer than we originally anticipated?
With no certainty yet over when customers will be able to travel again, we've had to take a long hard look at our budget planning and extend our runway longer than originally anticipated.
We already had granular budgets in place for all activities, therefore this was not an exercise done from scratch, but rather a reassessment of how we can extend our budget by a few months.
On top of budget planning, we've scrutinised all our activities to ensure we are only doing things that bring tangible ROI to the business.
This has meant we have paused all paid marketing initiatives and have diverted our efforts towards growing our customer base organically.
Our current destination activity pack initiative is an example of how we have pivoted during lockdown to create content that is useful at this present time to our target market.
Thirdly, how to build product with limited test and learn capabilities?
In a normal project, you'd go through a build – measure – learn cycle, continuously testing elements of your product with your target market and then iterating based on their feedback.
With traffic massively down for all travel businesses, finding these opportunities to test product with customers doesn't come as naturally as it did before.
Being creative about how we test and learn has been essential to our COVID-19 response strategy at tripAbrood.
We did most of our initial testing in January and February through our beta product on Facebook Messenger, so we were able to take learnings from over 1000 customers into our product plan.
We've been blessed too with very supportive industry partners who's support in terms of data and analytics is helping fill the void of real customer interactions that we are currently facing.
The previous testing, coupled with support from our partners, means we are in a position to continue building based on customer feedback and industry data.
Ready for a new world order
For us at tripAbrood, we have a singular focus at the moment – be ready to launch around the time when travel starts opening up again.
The team is working very hard to make this happen. Despite the huge challenges of this time for the travel industry and the world as a whole, there remains a glimmer of hope for us all.
I've seen incredible disrupters like airbnb, Funding Circle and Slack rise from the ashes of the 2008-9 financial crisis.
As the new world order establishes itself after COVID-19, we will all have the sort of opportunity that comes around once every decade if that.
So many parts of our lives have been upended. Things we thought we could never do, we are doing.
And with that huge upending comes a change in mindset. That is the light at the end of the tunnel – the reason, as start-ups, we should push through these next few months if at all financially possible.
Because when people change their mindsets, they are open to trying new things. And that is when true disruption occurs.