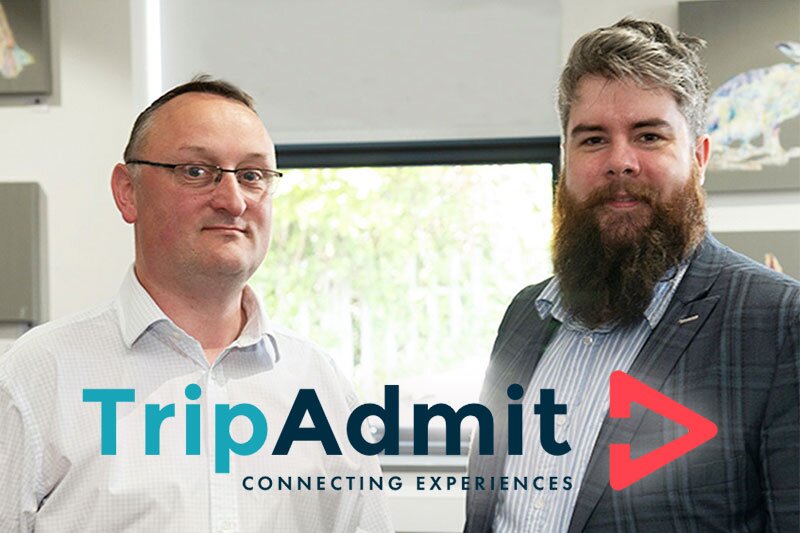 Company Profile: Start-up TripAdmit reaps the rewards of 'going for it' during the pandemic
Founder John Maguire says B-B tours and activities player decided not to wait out the COVID-19 crisis
Hunker down or double down? That's been the dilemma facing many travel firms since the COVID-19 lockdown in March.
But for one Dublin-based start-up that has built a B-B tours and activities platform opting for the latter looks like it was a shrewd move.
TripAdmit was established in 2018 and last year completed an intensive three-month accelerator programme run by the NDRC digital research centre in Ireland.
Since March, during the pandemic, the firm has secured investment – to date it has raised €300,000 – developed the product and signed up both distribution and reservation system partners.
And now with a further €450,0000 seed funding round in the offing and expansion of the team, founder John Maguire says the firm is ready to help its clients prepare for the recovery in 2021.
"Now we are really going to go for it," said Maguire, who expects TripAdmit to become profitable in 2022.
"From our perspective high season 2020 never happened but by September people will start looking towards high season next year from Easter."
Maguire has worked in travel and leisure for almost 25 years firstly with Ticketmaster but also with Aer Lingus and most recently European tours and activities specialist City Wonders.
He said the idea for TripAdmit came to him at a conference when he realised that the tours and activities sector was the one remaining part of travel not yet to embrace digital.
"Coming from the travel and ticketing industry, I was surprised by how offline the sector was," he says.
"The airline industry, the hotel industry and car hire have all moved online but 80% of tours and activities and were still being booked offline."
Knowing how airlines had jumped on the ancillaries bandwagon, Maguire sensed there was an opportunity to provide them with additional opportunities to drive up revenues.
But he also sees opportunities for OTAs and any travel firms that have an audience of travellers interested in what they do while on their holiday.
Maguire teamed up with co-founder Andrew Kelly, a full stack technology developer, and before long had a product they could show to prospective clients and they quit their jobs.
As well as providing a full white label solution to partners, the TripAdmit platform allows travel firms to upload and manage their own contracted experiences.
For tours and activities operators it also provides a reservation system to allow them to enter the digital age and bring a sector estimated to be worth €150 billion annually online.
Maguire said what TripAdmit learned from its time in the NDRC accelerator was potential clients wanted a simple plug-and-play full-service solution.
He said as a purely B-B specialist in a sector that is attracting the attention of a slew significant B-C players, the reservation system is the key.
"We had a white label system to sell activities, however, what people wanted was to pug in their own product.
"As we saw the pandemic coming at us in March we had the white label product but airline clients that had gone live with it were being grounded.
"We thought we could either sit back and wait it out or we could go for it. So, we went for it, hired another developer and sales staff and built out this complete end-to-end solution."
As well as allowing intermediaries to plug in their own content, the reservation system allows suppliers to offer their product both to third parties and direct to consumer.
Currently, TripAdmit has over 50,000 experiences in over 100 countries globally, with a particular stronghold in Europe, the US, Australia and New Zealand and can offer these in multiple languages.
It has plugged in various tour banks through APIs but Maguire said it is looking to scale the business by integrating more as well as working with more reservation systems.
"It's a long process," he says. "There is no standardisation in the sector whatsoever. You have to pick the best approach and map everything to that.
"Standardisation is beginning to happen, but it needs the biggest players in the industry to get together and say this is the format we are going to follow.
"Unlike in the airline industry, where there are really large global operators, in tours and activities there are millions worldwide, so it will probably have to come from the OTAs."
In quarter four this year TripAdmit will be working on integrating more OTAs and local distribution channels that tours and activities operators already use.
The COVID-19 crisis has prompted a rush among local suppliers to get online because they have lost their usual walk-up business on overseas tourists.
And with social distancing protocols customers need to pre-plan more and are looking for the reassurance of a more digitised, contactless experience.
"On the reservation system side there's demand our there as a result of the pandemic because they know they now need to caste their net wider and capture different customers," said Maguire.
A partner in France, Campsited, has seen increased demand from French customers and has used the TripAdmit platform to expand the range of experiences it sells within and around camp sites.
As travel's third largest sector, tours and activities has attracted large players like Klook, GetYourGuide, Musement and Viator, not to mention Google, Expedia, booking.com and Airbnb.
Maguire said TripAdmit's edge will be that it can offer its B-B partners a more tailored, less standardised full solution and no B-C competition.
"A lot of the big players are B-C selling direct to the customer, whereas we are a specialist in the B-B side. We pride ourselves on the fact that we work with our partners to provide solutions that work.
"Just by plugging something in you will earn a certain amount of money, however, if you build a solution optimised for that distribution partner everybody wins.
"We are tapping into companies in the travel industry that have access to a large amount of travellers, like airlines and package holiday providers.
"What that removes is the massive cost of B-C marketing for us. To run a B-C business you need a gigantic marketing budget to do it at scale.
"These days you have to have a balanced distribution strategy. If you are a B-C player, you need some B-B distribution as well."