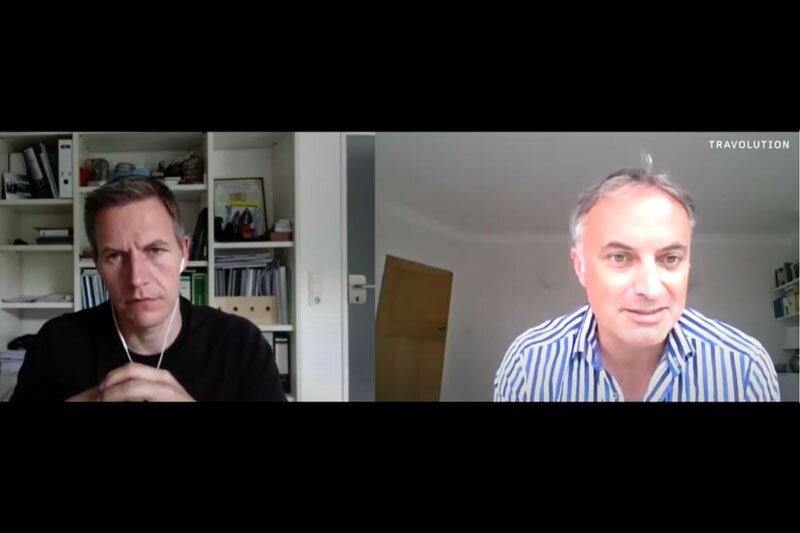 Webcast: Trivago chief on travel's "long path" to rebuilding confidence and recovery
Axel Hefer explains how he sees the post-pandemic travel reset playing out
Travel is in for a very long period of recovery as it grows supply and demand and rekindles trust in travel, according to managing director and chief executive of hotel metasearch site Axel Hefer.
Speaking Travolution in one of our regular COVID-19 webcasts, Hefer said firms need to minimise cash burn as the industry operates under break-even volume levels this year.
But he said if the sector does a good job in rebuilding confidence leisure travel could see a rebound in 2021, although he predicted a long and deep recession that could hit business travel.
"It's clear already that travel as a commodity as it was before the crisis when you could go anywhere anytime is changing.
"I think the certainty that you can go anywhere, and that you also feel safe going pretty much anywhere on the planet, that will have to be rebuilt, both technically in terms of flight connections etc, but also in terms of confidence in travelling."
---
---
Hefer said in the last couple of weeks there are early signs of a restart of travel activity in countries like Germany and parts of the US as the immediate impact of the pandemic recedes.
But he said demand is tending to veer away from metropolitan areas and to more remote destinations like the countryside, mountains and beaches.
And he said there is also "significant change" in the types of accommodation people are searching for with stand-alone units like homes, villas and apartments favoured over hotels.
He said this reflects how the consumer is taking "small steps" to rebuilding confidence by travelling closer to home and in ways that avoid large built-up areas and crowds.
However, Hefer said because COVID-19 is a health crisis it is very personal, and different groups of consumers are reacting in different ways with some preferring hotels due to perceptions of better cleaning and sanitation protocols.
Trivago expects health and safety factors to become prerequisite in travellers' minds in the near-term with price less important, but that price will come back as a key factor.
"For this year we do expect that price is a bit less of a worry, and it is more the confidence in travelling," said Hefer.
"But for next year we expect price to be extremely important because very likely we'll still be in a pretty bad recession and there will be a lot less travel activity than the last year so it is not unlikely that we will face overcapacity, and that needs to be filled.
"From it from a supply and demand perspective, price will be very important next year, but as you rightly say this year probably less so."
Trivago is working on offering its users greater transparency, which Hefer said is a challenge in such a complex situation with different situations and regulations imposed between and within countries.
"One thing we are currently thinking about quite a bit is transparency. What will happen at any destination?
"Our restaurants open? Are the facilities of your hotel open? Are you allowed to go to the beach? What kind of experience can you have?
"That is currently, unfortunately, very untransparent, country by country but sometimes even a federal state by federal state within the countries.
"So that's something that I think the industry has to address and the European Commission has also announced that they want to support providing that transparency.
"The other aspect is related to that. You need to have a reason to travel, so it's not enough that you can rent your apartment or you can rent a hotel you also need some local activities.
"It will be this this coordinated supply and demand increase that will be really challenging and the industry will need to cooperate a lot more than we might have done in the past."
Hefer says Trivago has also been working to provide flexible and cancellable rates to users to inspire confidence to travel, and he said he expects this to be vital until a vaccine is available.
Overall, he predicted a "long recovery path" for travel and the sector will have to be patient as demand and supply return to pre-pandemic levels.
"We do think that the recovery will be very slow," he said. "It's a very, very difficult recovery path if you are starting from zero and need to go step by step.
"And while you're doing that incurring very significant losses because, let's be honest, pretty much everything is running below the minimum occupancy that is required to break even right now.
"So it will be a long recovery path, and for this year the key thing is really to rebuild the trust in travelling and ensure safe travelling.
"Next year, if we do a good job as an industry this year, we have a decent chance of getting back to decent leisure volumes. Nowhere close to 2019, but decent.
"In business travel, recovery will come a bit later because we have now experienced that video conferencing actually works pretty well.
"Time will tell but the recession seems likely to be very, very deep and the impact on overall economic activity will be very severe.
"And in that kind of situation, what you've seen in the past, is that business trips get cancelled and pushed out.
"Overall, volume will be a lot lower and everybody in the industry has to plan and focus on how you minimise your cash burn in a phase where we are making very small steps forward."