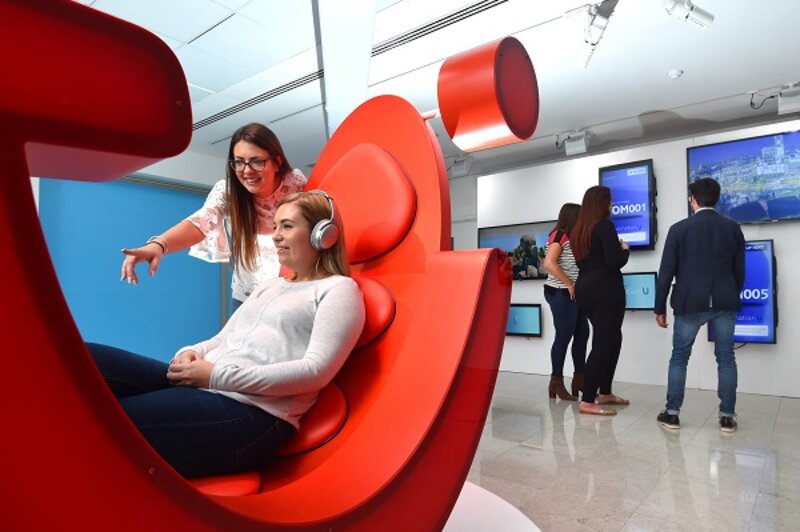 Tui unveils facial recognition technology that predicts customers' ideal holiday
Tui unveiled a facial recognition machine that reads customers' subconscious and suggests to them their ideal holiday. Continue reading →
Tui unveiled a facial recognition machine that reads customers' subconscious and suggests to them their ideal holiday.
The Destination U chair, shaped like the Tui logo, was revealed to the travel industry at Tui's official re-brand in London – ahead of today's official change of name from Thomson.
Billed as the 'future of travel', customers look at the screen while cameras read their facial expressions and measures their emotions, including happiness, anger and surprise.
An algorithm computes every facial response to a rapid series of "evocative" moving images of destinations and experiences, and uses that data to calculate a 'perfect holiday' prescription. It varies the images customers see based on their reactions.
Tui says Destination U – created by Realeyes, a facial coding and emotional measurement company – is a world first in the travel industry.
Currently the machine is a prototype to be rolled out only at a handful Tui UK agencies around the country, but UK managing director Nick Longman said he envisaged them in more stores in the next few years.
He said they will become more efficient over time as they collect more data on holidaymakers' preferences and those of people in a similar demographic who might want a similar type of trip.
Longman said: "It is our ambition to create holidays so personalised that they 'choose you'. Or to put it another way, take customers to their perfect 'Destination U'."
Speaking to Travel Weekly, he said the technology would help travel agents and attract more customers into store – and revealed that the machine encouraged him to go on a fire-eating tour in Sri Lanka.
He said: "In reality, it's not going to be in every shop, but we will certainly look to roll it out in key locations – or move them around.
"Holidays should be inspiring and choosing holidays should be around giving people inspiration. No two people will have the same experience.
"After a customer has received their results, the travel agent can sit down with them and see if that's something they want to try and can then help them find a holiday based on the inspiration they've been given.
"It's not replacing travel agents, and I can see a lot of people having a lot of fun with it."
Realeyes was founded at Oxford University ten years ago by Mihkel Jaatma. He said:  "90% of human decision-making is done without us actively thinking about it – subconsciously.  Traditionally, brands have sought to understand consumers' responses through verbal or written feedback – asking them a serious of tedious questions.   But emotion measurement technology captures and delivers unfiltered emotional responses in real-time, delving much deeper and detecting non-conscious signals to stimuli.   People aren't considering their responses, they are organically reacting, giving a far more intuitive and raw response.
"The Destination U Prototype is bringing this emotional intelligence into a new space and it takes the application of facial coding a leap forward.   The algorithm is not merely tracking expressions to catalogue responses, it is facilitating an emotional journey driven by the subjects' exclusive reactions.  With the consumer market moving towards ever greater personalisation and appreciation of emotions and humanness in decision making, this concept is really pioneering that change".