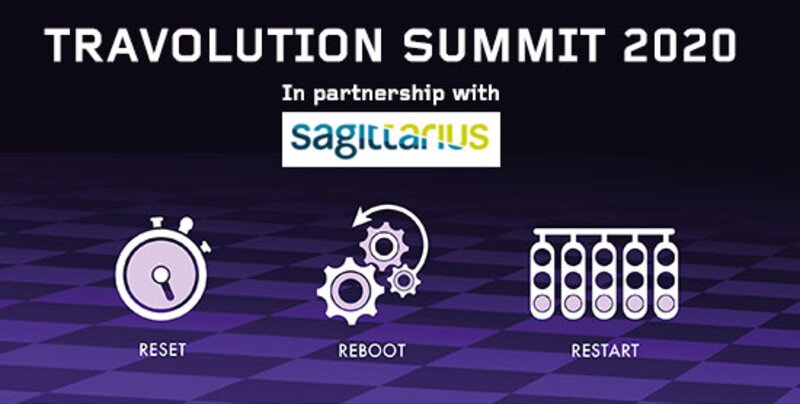 Travo Summit: COVID-19 and the positive impact on digital transformation
Sagittarius and Travolution co-hosted an industry roundtable discussion ahead of next week's Summit
Last week Travolution Summit partner Sagittarius, a leading digital marketing agency, co-hosted a roundtable with some leading travel brands to discuss the impact of the COVID-19 pandemic and their plans for technology investment and digital transformation. Lee Hayhurst reports
COVID-19 has given travel brands an opportunity to assess their technology needs and increase the pace of digital transformation, a Travolution roundtable discussion heard.
The digital and technology sister brand of Travel Weekly brought together leading brands from the sector for a discussion over Zoom ahead of next month's Travolution Summit.
The event was co-hosted by digital marketing agency Sagittarius which will deliver a 'digital masters' session at the summit, which is being held online on October 1 and 2.
Speakers said that while booking activity was low during the pandemic firms have taken the opportunity to make sure their technology strategies are fit for the future.
Stuart Milan, channel director of Riviera Travel, said the shift to online among its largely older customer base has helped it to prioritise investment within the business.
"Everyone always wants to move to a more digital world, so the fact that our demographic have essentially been forced into using more digital platforms will help us in the long run.
"Hopefully, what it will do is help our demographic be more confident using online, whether that's a tablet, a phone or a laptop. If they can do that, then great."
Focus on the customer
Milan said Riviera is particularly focussing on customer communications from the point of inquiry to the point of departure and having the right mix of online and offline.
And he said it is vital that the firm has the right tools as its disposal to make sure that it is bringing in as much potential business as possible.
"That's something we really need to make sure we're doing because we're all seeing reduced traffic volumes, so it's how we are pulling out every possible lead from the site," he said.
Milan said IT projects that were formerly put on the back burner when the operator was busy have now come to the fore.
"It's been a bit of a blessing," he said. "We can bring to the forefront tech requirements and actually get some stuff out of the door rather than sitting back and thinking we're doing well as a business."
Paul Stephen,
Sagittarius joint chief executive
With so many unknowns facing our industry, I think our guests have neatly highlighted, the need to be agile and embrace technology as a solution to improving customer experience and efficiency is now stronger than ever.
Compared to our survey results last year it was great to hear that 'digital transformation' is firmly front and centre for the leadership of all of the leading brands here. It's something all companies need to have a solid plan for if they hope to meet customer expectations and stay competitive going forwards.
As we are seeing with many of our travel clients, now is the time to be using and enhancing all of the digital skills in your company, collaborating with your partners and developing a 'recovery' strategy so that when things do start to move again you can stay ahead of the competition.
Lisa Sendall, website manager at Titan Travel, agreed saying she has seen chief executive and board room level buy-in to the digital transformation job she was brought in to do.
The Saga-owned business created a senior digital group in the spring including the firm's insurance arm, which is considered to be a leading light online.
"Our new CEO has massively helped digital transformation. The amount of people who ask about digital from the board, and the appetite to know what we it is we have to do, is really encouraging.
"We went through some cuts and digital wasn't one of those areas that got cut, which I think is a real strength to say that the business sees that area going in the right direction.
"The digital transformation within Saga is on a journey so we have had the opportunity to step back a little…and we've come up with a three-year journey, and 30-plus projects."
Sendall said, like all businesses, Titan was forced to become a remote operation and so brought in Infinity for contact centre analytics which it is now bringing vital customer insight into the business.
Test and learn in a low risk environment
Zak Harper, head of digital at Travelopia, said the slowdown in travel has given it the opportunity to progress with the integration its brands tech platforms and test and learn.
"It's been very, very busy, but it's given us a chance to look at what's actually important, what tools we don't necessarily need, where have we got bloat or we can just be more agile.
"And it's got rid of a few areas of red tape where we can just get the changes done, we can test things quickly on site.
"We've had very low visit volumes for the last few months on the site, so it's a very nice low-risk environment to test things out and see what works, what we can change.
"It's Just been about making the most of all our owned channels. We've got to try to keep people warmed up and ready for when they can travel."
Ben Briggs, senior marketing manager for distribution at Abercrombie and Kent, said the brand is pressing ahead with digital projects but having to try to do with less resources.
"The main challenge at the moment, certainly from a board level, decision making perspective, is COVID has placed huge strain on budget.
"So, it's impacted our ability to move forward at pace with some of those projects over the last six months.
"However, I've actually never been busier…trying to progress some of these projects with less resource at our fingertips.
"That's been the real challenge, trying to get that balance of inspiring our customers for future travel but then we also had time to take a wider view on some of these more strategic projects.
"So actually, in some cases, they're moving forward faster, but the ones that require significant investment they've had to be paused to some extent."
Digital transformation with a human touch
Luxury operator Carrier has also accelerated the pace of technological development, but with a focus on retaining the human touch while embracing a more digital future.
Maria Huntsman, of Bold Step Consulting, who has been working with the brand, said: "One of our core values is the human touch.
"So, there's been a little bit of reluctance to get heavily into the digital transformation piece without really understanding where it is going to add value.
"Last year we had we had a whole host of activities on the roadmap and, obviously, investment in some of that has been put on hold.
"But two things have happened: everyone moving online and certainly their customer base so, Carrier realised that now it needs to really start moving down that down that route.
"And also, it's looking at it through the lens of how we use the tech to really enhance that human touch element, not taking it away, making it much more intimate and much more personal."
Charles Duncombe, owner of online agent and homeworking agency Holidaysplease, said flexibility has been important as staff were required to help out in whatever areas required.
"A lot of people have had to turn their hand to all sorts of things and situations that we'd never considered like building an entire technical programme for refund credit notes.
"We've been quite lucky. We've been an internet company since 2000 and so we've always been IT focused and we've always done stuff in house.
"We're not a massive organisation so we can be quite sort of agile, cut corners where needs be, and there doesn't need to be massive sign off.
"There was quite a lot of people doing slightly different jobs, but it's actually settled down now we've got over those hurdles.
"I wouldn't say business as usual, more business as unusual at the moment, but it's calmed down and my tech team are now back doing the sort of things they were doing before."
The world's biggest working from home trial
Steve Seddon, director of brand marketing at OTA On The Beach, said firms are facing the world's biggest live trial of what working from home means for business.
"There'll be a lot of businesses who'll never go back to five days a week in the office and that has an impact on where you recruit talent from and what people do for the business," he said.
"People, for ages, hypothesised about what that might look like and now we're actually looking at it, so we'll have some good test examples."
Seddon added it will be interesting to see how fluctuating demand in trave impacts the search channel, particularly with Apple entering the sector and offering competition for Google.
But he said firms will continue to pursue a strategic multichannel approach to marketing to reduce their reliance on Google and acquiring leads through expensive generic terms.
And he was doubtful that there will be a "seismic shift" in the way companies deploy emerging tech like chatbots.
"I don't think we're as advanced with some of technology as we like to think. Chatbots, for example, I don't see anybody using it well, other than as a modern day IVR (Interactive Voice Response).
"I don't see any company just automating the chat bot and doing it well in travel or outside of the travel industry."