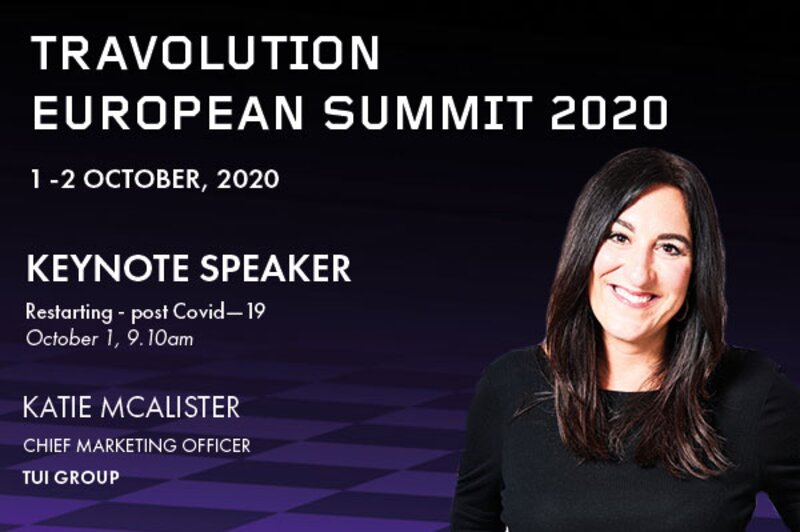 Travo Summit 2020: Tui targets experiences, digital platforms and personalised marketing
Tui UK & Ireland chief marketing officer Katie McAlister gave a keynote at the online event
European travel giant Tui aims to stretch its brand and product offering to become more relevant to its customers' lives outside of their travel needs.
In a keynote at last week's Travolution Summit, Katie McAlister, Tui UK and Ireland chief marketing officer, said the COVID-19 pandemic has presented the firm with an opportunity to reassess the products and services it offers.
As well as a renewed focus on digital retailing and marketing, a new vision is to provide "a million things for a million people to do" will be driven by the recent integration of specialist tickets and attractions platform Musement which Tui acquired in 2018.
Tui Destination Experiences has been renamed Tui Musement that will distribute experiences sourced in over 50 countries.  McAlister told the summit that the platform has "absolutely brilliant technology and content".
She added it "provides something which goes way beyond the range of excursions that you would traditionally associate with us" like theme park and theatre tickets.
"And it gives us as Tui the opportunity to become more intrinsic part of people's lives beyond travel," McAlister said.
"And for that business, we've got a vision to provide a million things for a million people to do, so that's really exciting positioning work that we're going to be doing."
Surveys carried out by Tui have found high levels of confidence about their ability to travel next summer but increased need for peace of mind and flexibility which it is providing with its COVID 'holiday promise'.
McAlister said the COVID crisis saw Tui working to get closer to its customers as it effectively hibernated the businesses, but also prepared to adapt to changing customer demands.
She said this has seen a significant shift to online and Tui has been ramping up its agile real time test a learn approach.
She said: "Over the last few months, we were able to conduct an unintended but very real test of just how customers interact with us.
"How they use the touch points and channels that they've got access to, and how they would behave when effectively we didn't have any shops open.
"We could see, as an example, just how willing retail customers were to move to online and to self -serve, a test which is now fundamentally shaping our sales strategy.
"What we found was some did adopt online ways of working and we could push that online further, but some just could not or would not move to sell-serve online.
"It reinforced for us, in a very positive way, that some customers have got a real need for that very personal human service but also that there was an alternative way to deliver that."
As a result and coupled with the fact that the whole organisation has switched to homeworking, McAlister said Tui concluded it did not need as many high street stores.
But she said the brand was still determined to deliver the customer services its clients value via phone, web chat, or video call.
"Another priority is service evolution," said McAlister. "We'll still provide personal expertise and retail for those who still want it, but will also move towards a way that customers can access our home advisors from the comfort of their homes digitally should they wish.
"Our first priority is to operationalise that and so and that will continue over the coming month or so ready for turn of year, and we're also looking at new dynamic ways to serve customers,
"Things like video appointments will come. They'll be relatively straightforward to implement, even at scale, as we use a booking system.
"But we also know most of our customers are very happy to start a journey online but sometimes they get stuck, or they need a hand and we need to be able to move seamlessly from a channel like online chat, and evolve into a more seamless video Interaction.
"Most interactions, even those that ended up in retail, begin digitally so we will continue to make our online experience the most inspiring and easy that it can be."
McAlister said the Tui app has proved increasingly important as a channel for keeping in touch with customers with 70% of those who travelled this summer using it.
She said the firm has made "massive progress" updating features in the app over the last six months.
Tui has integrated its digital marketing and Customer Relationship Management (CRM) functions into one division as it looks to be more personalised in its approach.
McAlister said this will be critical in coming years as all brands look to acquire new customers and the future of traditional online cookie-based advertising is further disrupted.
"We're all of us going to need to find new audiences to a certain extent. And within all of our customer base databases, we're going to have varying degrees of confidence to travel between customers.
"We work a lot with Facebook. They talk about something called 'discover commerce', whereby you use machine learning to source target segments and get your brand and content in front of audiences who wouldn't normally be reached through traditional targeting.
"For those of you who spent a lot of time on Instagram, or Facebook, think about the brands and products that you discovered through lockdown because they served you an ad that felt just perfect for you at that moment in time.
"That's how advertising is going to evolve and limiting the number of clicks from that beautiful ad through to the purchase will make it feel even slicker and even easier and even more personalised than it does today. So that's a really big focus area for us."