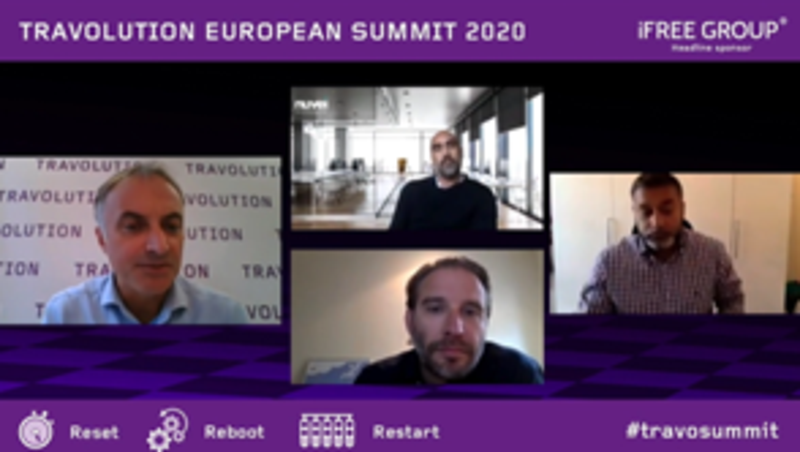 Travo Summit 2020: Merchant acquirers will look to spread the risk of underwriting travel
'Competitive sharing' among payment card processors predicted as COVID-19 increases liabilities
The risk of underwriting travel transactions exposed by the COVID-19 pandemic is expected to see more merchant acquirers look to spread exposure.
A panel at this month's Travolution European Summit heard 'competitive sharing' among financial firms is likely to be an outcome of the pandemic as firms look to re-risk their businesses.
Jay Abbott, vice president of travel at payment technology provider Nuvei, a relative newcomer to the travel sector, said:
"Basically, what the acquirer does is underwriting the merchants so if they go bankrupt, which is a very viable possibility given the pandemic, we have to pay out that money back to the consumers.
"So, that puts us in quite a unique relationship from a risk perspective but also in the terms of the relationship with the merchant."
Abbott said established acquirers with a lot of partners in travel are having to reassess their exposure.
"For these larger players the risk is huge now given the situation with the pandemic. I think you are going to see from the acquirers perspective a lot more sharing going on, more competitive sharing."
Shaz Iqbal, senior payments manager at British Airways, said there is lot of analysis going on among acquirers to help them understand their true exposure.
He said vouchers that are being issued to consumers instead of cash refunds when flights are cancelled are considered a debt and therefore a liability for the acquirers.
As a result, he said: "There is a lot of knowledge sharing going on with acquirers in terms of how much are they going to be underwriting.
"When it comes to contracts being negotiated what is the debt that's outstanding and that direct communication with acquirers is paramount for a merchant of our size.
"A clear understanding of the airline industry is clearly important when it comes to choosing an acquirer. And at this moment in time they have stood up for us."
Outside of the Summit panel session, industry accountant Chris Photi, of White Hart Associates said acquirers are suggesting a number of solutions to mitigate risk, including using multiple partners.
Others include trust accounts or segregated bank accounts to keep card payments separately protected, and bank guarantees.
Photi added deferred settlements agreements can also build security for acquirers for new bookings although firms are likely to nee access to the working capital once the bounce back happens.
With 60% of travel bookings paid for by credit cards and regulators passing on risk to merchant acquirers, Photi said there is a general threat to all travel firms as card companies cover their risk.
Alan Bowen, legal advisor to the Association of Atol Companies, said firms are being pressured by some large acquirers into using other forms of financial protection like insurance, bonds or trusts.
However, he added he has identified 17 payment card processors that are looking for new business because, for most firms, changing their business model is not a viable option.
"My clients are simply looking to move their business elsewhere rather than succumb to the threats," he said.