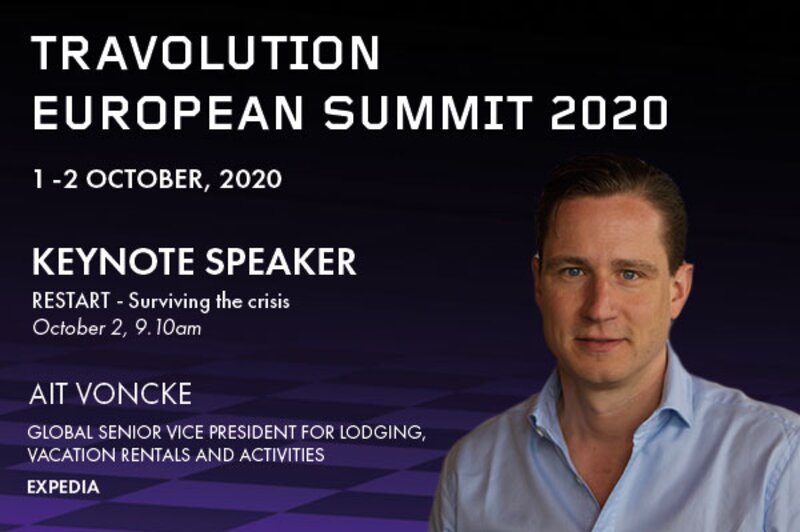 Travo Summit 2020: Expedia change, test and train approach to getting back in the race
Senior vice president Ait Voncke gave a keynote presentation at the recent virtual conference
Travel firms must change, test and train to get back in the race when the travel restart comes after the COVID-19 pandemic.
In a keynote presentation Ait Voncke, global senior vice president for lodging, vacation rentals and activities, explained how Expedia is preparing for the bounce back working with industry partners.
These included offering flexibility, helping partners and suppliers communicate detailed health and safety information for customers and providing them with a market data insights dashboard.
The global OTA is also looking to roll out its wholesale rates programme developed initially last year with Marriott.
"Our Expedia Group partner solution team have developed a new version of our optimised distribution solution.
"That allows watching suppliers to more effectively to manage distribution of wholesale rates among third party providers.
"This helps us to increase revenue by enabling partners to optimise their business to business strategy through our global distribution network so you tap into more demand, but at the same time you are in control of those rates."
Voncke said Expedia has also been busy maintaining interest and desire to travel among its customers with campaigns like its 'Where Next' online campaign.
"The engagement on this campaign have been really promising so the first week we had tens of thousands of visitors on that page," Voncke said.
"Expedia.com is working with local experts to launch virtual travel experiences from hiking through Yellowstone to watching the Berlin Philharmonic. We need to keep reminding customers why they love to travel."
Expedia has also been working with destinations having created a $25 million advertising fund on standalone and co-op campaigns.
And with many travel sector professionals placed into furlough during the pandemic Expedia launched a free LinkedIn academy and education programme to help people gain new skills.
"This is largely content we created for our own teams internally but now we made it public for you," Voncke said.
"The programme features online live content by subject matter experts and other industry leaders.
"The modules are things like how to navigate change, building your brands, industry skills training, enhancing overall business skills and leadership foundation skills
"The programme also provides opportunities to connect with like-minded peers and industry leaders and helping participants expand and strengthen their personal networks."
Voncke said that Expedia was already implementing change before the pandemic hit, and the Expedia that will emerge from the crisis will be more consumer focussed.
"You'll see a more focused Expedia Group going forward, more focused on the customer, on what the customer wants. We're already on that path.
"We see ourselves as a technology company that empowers a lot of industry players right across multiple categories. So you'll see more of that.
"Take the example I mentioned before of the wholesale rates and we empower a lot of partners, maybe even smaller partners, to play in different parts of distribution.
"That's something we started off with Marriott, but are now opening up for a lot more players."
Voncke said he was surprised with how Expedia itself reacted to the impact of the pandemic when it prompted a deluge of call from customers and partners about cancellations and refunds.
"And that was at the time when we had to move, working from home, Voncke said. "That was a huge shift."
"So, agility is very important and for me it was very surprising to see how agile we actually can be, even more so in a situation like that."