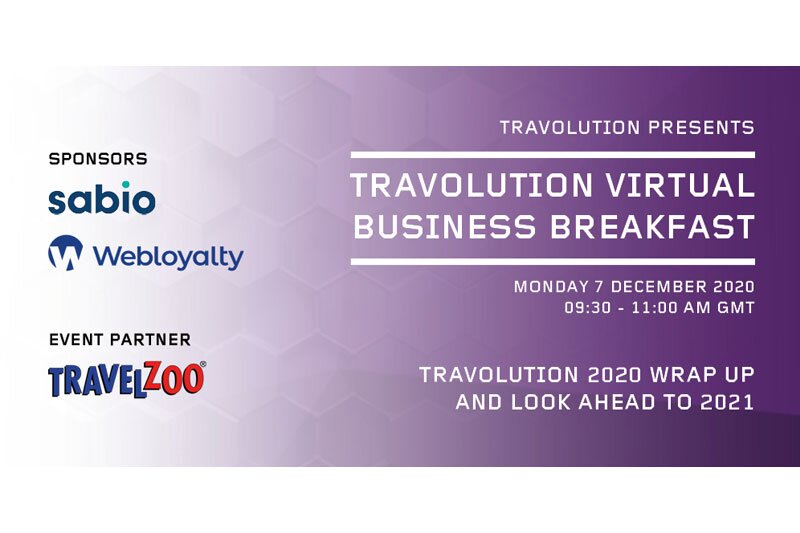 Travo Business Breakfast: Pent-up demand remains strong among Travelzoo subscribers
Domestic travel is popular for 2021 but bucket list holiday experiences are high on the to do list
Domestic travel in the UK is poised to have a strong 2021 but long-haul bucket-list trips are also popular, according to a latest Travelzoo survey of subscribers.
The study was carried out prior to the news of COVID-19 vaccines approval and roll-out, but showed already strong pent-up demand, according to the deals publisher.
The results were revealed exclusively during a Travolution virtual business breakfast webcast on Monday by Travelzoo UK general manager James Clarke.
He said there is clear opportunity for firms to tap into a willingness to travel, although there remains a degree of caution with 28% of people undecided on whether to travel in 2021.
Sentiment for travelling was stronger in the second half of next year, with 48% of respondents saying they plan to take three or more domestic trips.
A further 76% said they plan to take one domestic trip, while 58% plan to take one of more international holiday.
Desired durations appear to be lengthening with 44% saying they would look to get away for eight to 14 nights.
Clarke said people are looking to make up for being stuck at home and are willing to spend more on experiences with 76% saying they want to do something out of the ordinary.
He said: "Confidence is starting to grow. We've seen the latest figures from EasyJet stating over 200% growth in searches, while cruise lines are reporting hitting full occupancy already.
"But consumers have had their confidence knocked, so need reassurances and trust will be a key currency for trading in 2021.
"There's a huge opportunity in domestic but there's also an opportunity to flip a large number of those people who are still undecided on their travel plans.
"Our members are always open to new ideas, that's something we've seen for over 20 years now.
"May, June and September travel windows provide a real opportunity for travel with the latter part of the year looking promising for all of the industry.
"The real winner here in this market is a travel supplier that can boost consumer confidence by offering smart and flexible offers with long travel windows to the right destination."
Clarke said he expected travel brands to take the opportunity to buy up inexpensive media and advertising opportunities in the traditional peaks turn of year period to drive early sales.
"This year will be probably very different for a lot of businesses who are very nervous around investing cash into advertising channels.
"We know the likes of TV, radio and broadcast media isn't cheap. So I think it will look slightly different.
"Some of the big players will look at this as an opportunity to consume more media than usual, buying it cheaper potentially…to maybe take more of the audience that's available.
"There is a huge amount of pent up demand and there is an opportunity to get in there early to get the consumer to book if you're offering the right product at the right time.
"You can actually be one of the smartest advertisers out there securing those early bookings and not missing the opportunity."
Clarke said he expects advertising messages to have evolved away from a pure focus on price and more on brand, customer service and encouraging people's wanderlust.
"We did some outdoor advertising in the middle of the year during lockdown but the messaging we went out with was not telling people to book a holiday or rush to travel
"We were saying the wanderlust, the dreaming of a holiday continues, don't let this period knock you down.
"Advertising will evolve during this time. The currency of customer service, that's going to be key going forward.
"For those businesses that are spending lots of money on marketing, if they haven't treated their customers right or still haven't paid refunds, that could be a very tricky situation."
While Clarke believes that consumers still have money to spend – 87% said they will spend the same or more on their holiday in 2021 – they will still be after a deal.
But he said the successful companies will be able to get the consumer "in the door" with a deal but then persuade them to treat themselves having not holidayed for 12 months.
"What's been interesting in the last couple of weeks you've seen quite a lot of business class sales by airlines. Virgin ran an incredible upper-class sale.
"That type of product at such low prices have had a huge uptake from people who've never been on upper-class who are saying I'm going to treat myself.
"It's positive that members are saying they've got more disposable income or are willing to put more of their disposable income into this.
"And what we should all remember is during lookdown there was a huge amount of cost associated to living our normal lives that hadn't been consumed.
"Yes, some people have been on furlough and had to reorganise their finances, but for lots of the older generation it's just increased their pent up demand to spend it on travel."
Clarke described the COVID-19 vaccine rollout as "fantastic news", particularly with the UK playing such a lead role.
"It's great that the UK is leading the charge," he said. "That says a huge amount about our country and how we've invested the money to get the vaccine so quickly.
"Personally speaking, I know we've got an amazing industry and we rally around each other.
"When we go to one of our travel industry events, it's not like a set of bankers who won't talk to each other about what's going on.
"We all rally around, we all talk to each other and we've all been waiting for this news.
"It won't be a silver bullet but it will move the needle significantly enough to give us all hope in January and February that tour operators can have a good start to the year and hopefully we see that just grow into the latter part so 2021."