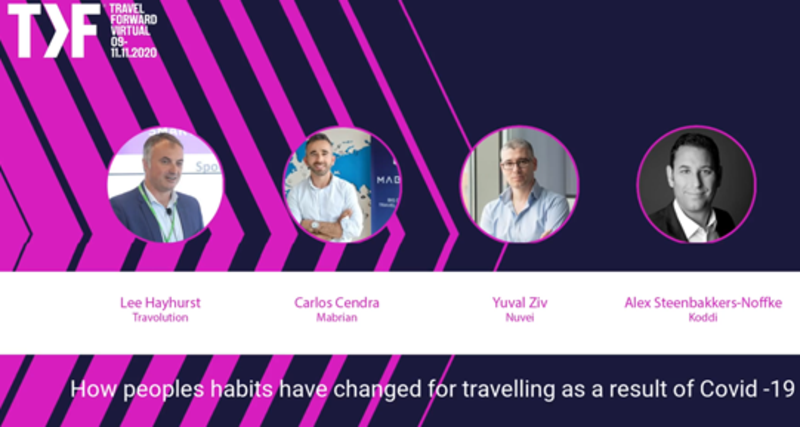 Travel Forward: How COVID-19 is reshaping consumer behaviour and business models
Travolution session at this week's virtual event featured speakers from Nuvei, Koddi and Mabrian
The impact of COVID-19 on consumer confidence, supply and demand will see a reshaping of business strategies, a Travolution Travel Forward panel was told.
World Travel Market's technology conference went virtual for two days this week as COVID-19 continues to prevent most face-to-face business events to take place.
Travolution brought together experts from the worlds of payments, marketing and data analytics t discuss what changing consumer behaviour means for travel firms.
Panellists agreed that many of the trends seen during the last nine months will endure after the pandemic and firms will have to adapt to operate more flexibly and to be more agile.
---
---
Yuval Ziv, managing director digital payments at Nuvei, said he was optimistic that travel will return rapidly once a vaccine is widely available.
But he said the sector was uniquely complex and all firms had to find new ways of working with partners to handle payments issues like refunds, chargebacks and reconciliations.
"The challenges we have seen are across the board," he said, "how to accept payments, how to increase loyalty of the users and how to improve cashflow or profitability.
"All of these have been significant challenges during the pandemic. Some of the changes [we have seen in the market] are here to stay for the long run.
"We as a tech company are asking ourselves what is required and finding the solution in the meanwhile.
"In a survey we have found the rebound process of coming back to normality is very different in estimation.
"Some clients are saying 2021, some are estimating a three to four years rebound process, it depends on the type of travel.
"I'm a very optimistic person and believe we will be back to normality as soon as a vaccine is out."
Alex Steenbakkers-Noffke, managing director of marketing tech specialist Koddi, said the recovery will be led by leisure travel.
And he said, for many airlines, luxury travel will have to replace lost premium business travel as corporates continue to reign in their spend on international travel.
"Once rapid testing is available and travellers feel secure to book again, I think leisure trave will pick up again quite quickly," he said.
"Ten percent of airline capacity was business travel, but 50% to 70% of revenues. Airlines need to reshape their strategy to focus more on luxury leisure travellers.
"International business travel will recover last because there is way too much insecurity globally."
Steenbakkers-Noffke said firms will have to give bookers the reassurance of flexible cancellation policies as well as health and safety advice.
And he said they will have to get used to reduced booking windows. "Travellers are booking two to four days in advance. It's a last minute decision because people do not feel safe to book in advance."
Carlos Cendra, sales and marketing director at Spain-based Mabrian Technologies, said it is vital that firms track consumer sentiment about travel to destinations.
And he said tracking sentiment in origin destinations about travel is also vital as what is happening in those countries can have an impact on people's desire to travel.
Cendra said the COVID-19 crisis has been a "rollercoaster ride" for airlines as destinations came on and off sale due to quarantine and other travel restrictions.
"We are seeing different patterns in terms of airline's agility to activate and deactivate for a destination," he said. "Some are quicker, others are more calm and take more time."
Cendra said carriers that reacted quickly to the opening of The Canaries to UK travellers last month paid the price of being too quick when the new lockdown in England was announced.
He added firms should carry out scenario planning based on the latest real-time data. "Historical data and traditional tools for research are becoming useless now.
"There has never been a situation like this before, that' why it's vital to have this real information, to work on information based on data and analytics.
"We are monitoring four or five different and important indicators and building different scenarios from the more prudent to the more optimistic."
Ziv said: "It's a lot about flexibility and maintaining the dialogue between any partners supporting the travel operators.
"Then in times of uncertainty providing the data and also the tools to handle the data ant to handle it faster.
"The most important thing is to become more flexible. Tour operators would like to explore more opportunities…and different partnerships to increase their capability.
"If one location suddenly it safe they would like to be able to accept payments as fast as possible in that jurisdiction which means new payment methods are important.
"Payment management within companies, especially big ones in times of uncertainty become crucial and strategic."
Steenbakkers-Noffke added: "You need to align everything to true success. Players in the market which have rapid and agile response to market trends or user behaviour will have a leg up."
---