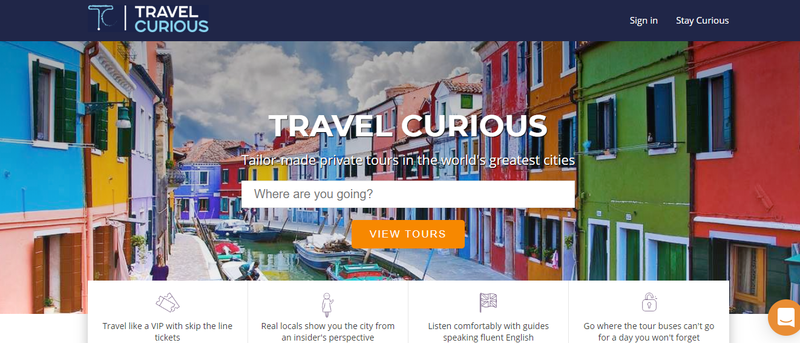 Travel Curious unearths destination's hidden gems with new Magpie content platform
Bespoke tour company uses more than 900 handpicked guides to tailor itineraries
Bespoke private tour company Travel Curious and San Francisco-based travel tech company Magpie have partnered to build a content management and distribution platform.
Travel Curious uses more than 900 handpicked tour guides to create its itineraries and allows its trade partners and travellers to book instantly.
The new content platform will help it promote the bespoke nature of its tours immersive, local and cultural experiences and secrets of the destinations it operates in.
Alex Grant, CPO and founder, Travel Curious, said: "We are excited to be working with Magpie.
"They were the obvious partner for us, as we manage hundreds of tours and we have been looking for a way to scale our distribution.
"Magpie offers us fantastic efficiency, saving us a lot of time and effort. Chief executive and founder Christian Watts has many years' experience in online distribution.
"He has insider knowledge and understands the challenges that we face distributing our product across many channels quickly and accurately and keeping it up-to-date."
One of Magpie's investors and advisors is Rod Cuthbert, the founder of the original activity and experience OTA Viator, and Rome2Rio.
Grant said: "Magpie really gets our vision and our growth strategy and they provide the perfect content management and distribution solution for our rapidly expanding business."
Watts said: "We are delighted to get on board with Travel Curious. They are trailblazing in the tours and experiences industry, and we have the solution to help them get mass distribution.
"Magpie's mission is to empower efficiency on both sides of the marketplace. For forward-thinking operators like Travel Curious, we want to help reduce time spent managing content, while simultaneously helping them reach new distribution partners.
"For OTAs and resellers, our suite of tools unlocks access to high quality content from world-class operators like Travel Curious.
"It's a win-win at a time when efficiency is of critical importance to all players across our industry."
Last week Travel Curious also announced a partnership in the US with Redeam, a leading independent global connectivity tech firm offering digitised channel management.
Travel Curious said this will help it "innovative technology and enable more global distribution and reach".
"Travel Curious has a fantastic and smart business model," said Redeam chief executive Melanie Meador.
"Its tailor-made tours and approach to market as both a tour operator and technology builder makes them a perfect complement to Redeam's own innovative distribution technologies."
Grant added: "Travel Curious is thrilled to partner with Redeam in order to broaden distribution for our instantly bookable bespoke tours and experiences.
"We are very impressed with Redeam's innovative distribution technologies and are excited to work closely with some of their exclusive partnerships."