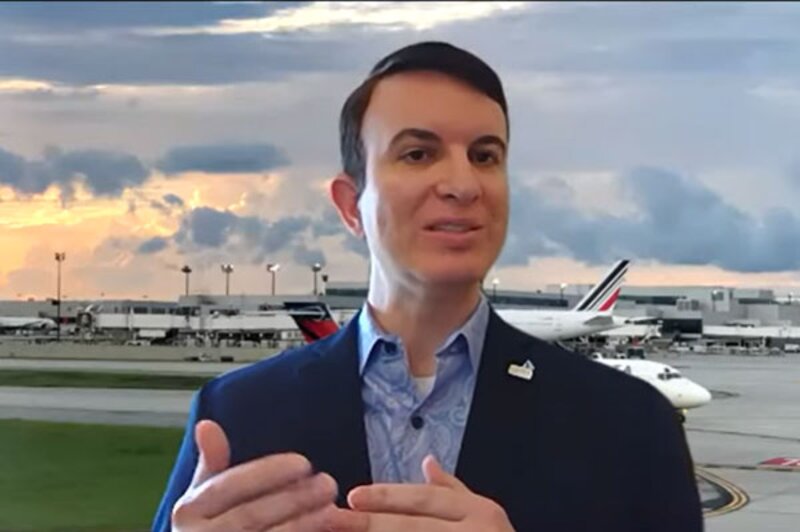 Online Travel Conference: Travellers will seek reassurance and information before flying again
Trip.com and Skyscanner joined expert panel looking at COVID-19 impact on aviation
Travellers are optimistic of flying again but are seeking information to reassure them it is safe and flexibility, Skyscanner told an Online Travel Conference panel session on last week.
The discussion, hosted by Travolution featured Skyscanner vice president commercial High Aitken, James Spalding, trip.com regional flight director, Dr Joe Leader, chief executive of Apex, and Steve Domin, chief executive and founder of start-up Duffel.
The panel discussed the future of aviation and online travel in a post-COVID-19 world and how airlines, airports and intermediaries may have to adapt once travel restarts.
Aitken said Skyscanner's regular consumer barometer is finding a high degree of optimism over the safety of international, and particularly domestic travel, within the next six months.
"Very much we see travellers wanting to start travelling again. But we also see a lot about information being very important to travellers, about what the journey is going to be like, what restrictions there might, what the border arrangements are.
"A lot of information or advice is needed and travellers are wanting that assurance when they are booking right up to travel, and also flexibility.
"So travellers are believing we might be in a cycle of opening up, then closing and they are wanting to know that they have flexibility so we've started adding notes on flexibility options for hotels and flights responding to that sort of feedback from a traveller."
---
---
Leader revealed the results of a recent global study of 900 million traveller social media sentiment insights over two months conducted in partnership with Black Swan Feather, Apex and Ipsa.
"We were surprised to see that the top issues in terms of negative passenger sentiment were difficulty finding information from their airlines about how to travel, what was restricted, what was allowed, what was going on.
"And then second behind that was food Inspection, which was a surprise to us as well. And third behind that were sanitary efforts where airlines worldwide were taking the most assertive steps."
Spalding said it had already picked up on this need for information from travellers and is taking steps to provide that.
He said: "At trip.com we've already launched a travel advisory tool and an international travellers guide which is accessible from the homepage of our website and on the app.
"A traveller can quite easily go into that and they can see a lot of what the arrival restrictions may be the destination that you want to go to, as they can start to start to plan their travel if they're looking at that.
"We're also bringing into some elements of flexibility as well so whether the airline has a flexible ticket we're making sure that that's quite well noted, so that the traveller can see that into consideration when they're flying.
"The key thing here, going back to Joe's reports, is that the traveller wants that reassurance in terms of what's going to help them feel comfortable when they start to travel again.
"What do they need to know? In the past we just had visa requirements, now we've got quarantine requirements. You're going to have the nice to haves as well like what is my airline doing for me? have they got air filters on board? Are they doing deep cleans on their aircraft?
"This is the information that we're bringing to the travellers, both in the booking stage but then also in the travel stage to give them a little bit of reassurance, so they don't have to fall back on the cancellation change policies which the airlines are putting out there."
Spalding said trip.com was seeing similar sentiment to Skyscanner in that it will be domestic travel that emerges first from the crisis.
"Domestic is one of the areas we feel will come back first, just because there's going to be less restrictions. People are going to get bored staying in their house and will want to get out.
"They will want to try something new, and domestic travel will probably be one of the first areas to come back. That will follow by visiting friends and relatives so that will require travel for international purposes.
"The last part will be the business travel and that will be down to corporate responsibility, and also budgets, what are the corporate and the financial markets going to do in terms of that business travel coming back.
"But really, for us, it's all about empowering the traveller, making sure they've got a lot of that information during that decision making process so that they can make that informed choice."
Domin said, as an enabler in the sector, Duffel will be working with airlines and intermediary partners to ensure they are able to provide the sort of vital information to travellers which they seek.
He said it will be important to take all the information that's being made available by the industry and by the airlines and make it "readily available rather than everybody having to scrape and trying to figure out how to assemble that assets".
Domin added: "Then, I guess, looking at the airline side, we can see a renewed interest for automation around vouchers, cancellation and refund all of this process that are usually manual a lot of the airlines that we work with are looking at how they can automate that to avoid a similar situation in the in the future.
"Especially if we go through this period of interrupted travel, so restrictions non restrictions, having really good processes around vouchers, refunds and cancellations is going to be very important for the travel agencies and for the airlines."
Domin said he saw this being integrated in Iata NDC data standards. "The standards are ready for vouchers, but in the latest version of NDC that the airlines haven't implemented yet. One airline doing a lot of work on that is BA.
"They've pushed a lot of stuff on their roadmap in Q2 towards vouchers, cancellations and refunds. What's going to be interesting is that everybody's delaying the question of the redemption of the vouchers. This is a problem for later."