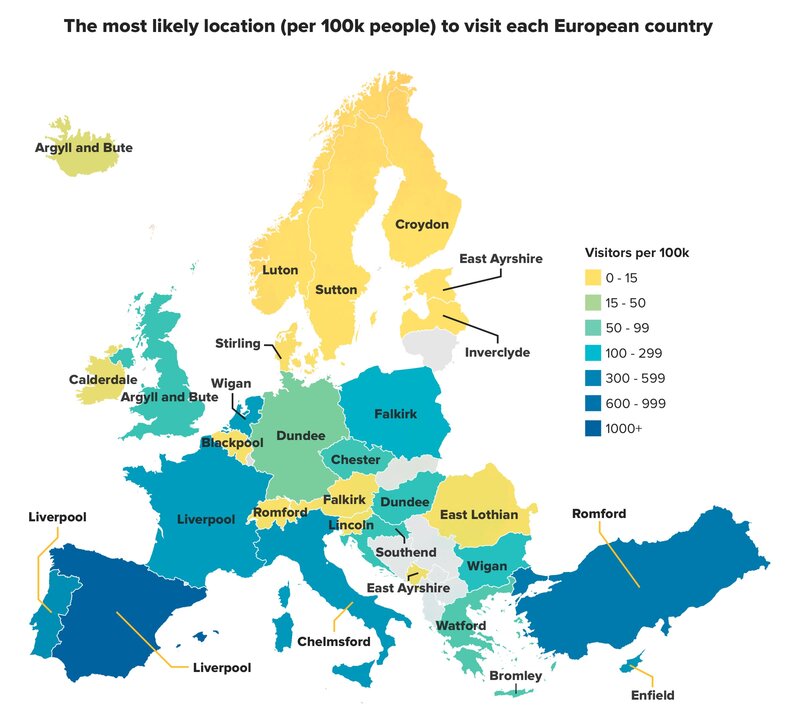 Love Holidays data reveals destination trends by town, gender, generation and star sign
SEO specialist Verve Search developed the interactive map for the UK OTA
A new interactive map has been developed that allows users to see where people from UK towns are most likely to choose to holiday in Europe.
The data is taken from 850,000 bookings made with leading OTA Love Holidays in 2019 and is anonymised to show trends.
As well as seeing where people opt to holiday, the map also reveals where different generations favour and also shows the trends by star sign, and gender.
The map shows the most likely location per 100,000 people to visit each European country.  A search function allows users to surface information for specific UK towns.
Liverpudlians were found to be more likely than Brits from any other hometown to travel to Spain, Portugal and France.
Meanwhile people from Dundee in Scotland prefer Germany and people from Luton, Sutton and Croydon would head to Scandinavia.
Generational data shows baby boomers will most likely flock to Spain and Portugal while millennials favour staycations in the UK and exploring the Nordics and Gen Z France, Germany and Poland.
Spain is a favoured destination for people who have the star sign Virgo, while those who are Aquarius prefer more northern climes with the UK, Sweden, Belgium and France top of their list.
The map also drills down on expenditure data to show what people in towns across the UK and which age groups spend on their holiday in real terms and as a percentage of their monthly salary.
Users can also look at the most popular destinations for solo travellers, couples and groups, with Majorca coming out at the most popular for all three sub-sectors of customer.