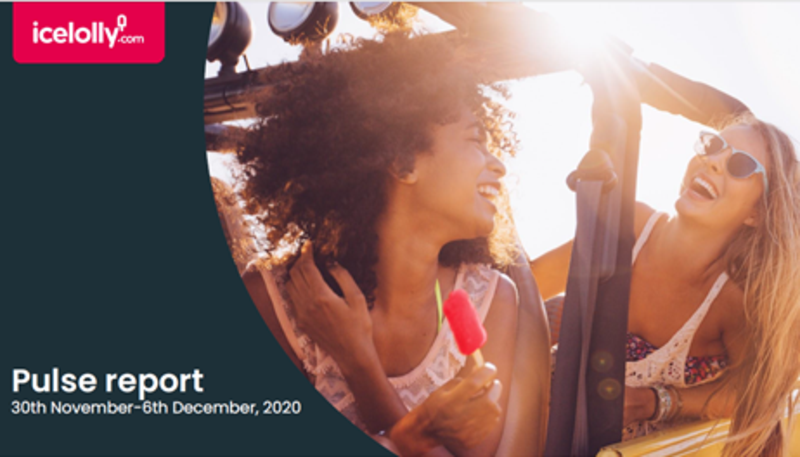 Icelolly.com Pulse tracks bookings and search uptick as COVID vaccine roll out starts
Second consecutive week of growth raises hope for turn of year peak selling period
Bookings and searches on holiday comparison site icelolly.com continued to show increases raising hopes for the traditional start of year peaks selling period.
The site's Pulse weekly tracker indicated gradually increasing sentiment amid positive news of the COVID-19 vaccine roll-out.
Search share for winter 2020-21 and summer 2021 remained fairly equal on 52% (up 3%) and 44.2% (UP 0.5%) respectively.
Searches for departures in Christmas continued to account for close to one in four December searches.
Chris Webber, icelolly.com head of travel deals said: "We saw a rise in both searches and bookings for the second consecutive week following the positive vaccine news.
"Tenerife continues to be a firm favourite and is where many of those looking to getaway in the next few months are booking.
"Looking ahead to S21 and it's the ever-popular Majorca, Costa Blanca, Crete and Corfu that are booking for that season.
"There's a pretty even balance for both lookers and bookers for both W20 and S21 as we continue to look – and cross our fingers – for something of a peaks around the corner."
In the list of most popular destinations, Tenerife, I top spot, saw its share drop slightly, with Costa Blanca the big winner in both search share and search volume.
After being the big gainer last week, Majorca experienced the biggest share drop in the top 10.
Outside the top 10, Malta continued the strong growth in share it saw last time out, and Amsterdam saw search share grow by 27%.