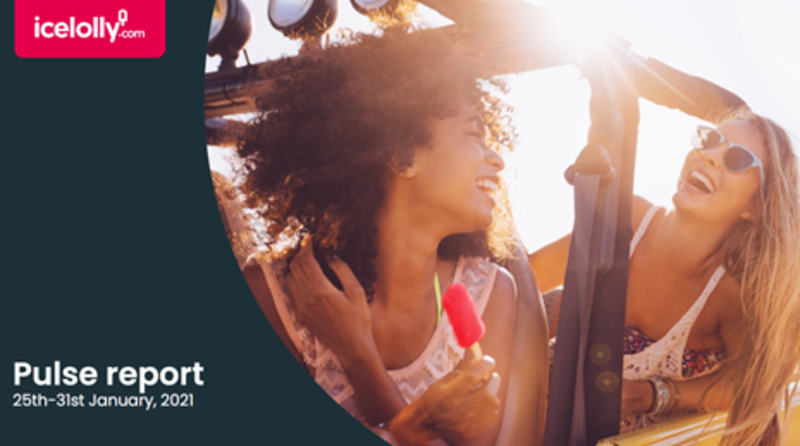 Icelolly.com Pulse: Domestic search data indicates UK popularity in 2021
Weekly search data continues to point to increased interest in summer 2022 overseas holidays
Holiday comparison site icelolly.com has added UK destination search data into its week's Pulse tracker highlighting the popularity of domestic travel in 2021.
Cornwall was the big gainer in search share this week, with North Yorkshire the notable share loser. The top four destinations accounted for approximately half of all searches.
The late April to late July travel period (three to six months from search date) was the most-searched in the past seven days.
Icelolly.com said that was a "marked shift from travel later in the summer that dominated share the previous week".
Overseas destination data saw Tenerife, Crete and Dubai as the only destinations in the top 10 that gained search share.
Outside the top 10, Larnaca, Amsterdam and Maldives all saw double-digit share increases. Antalya area saw the biggest drop in share of around 25%.
September and October 2021 travel search share rose in line with last week's Pulse, and December 2021 search share also increased.
There were falls for nearer term summer 2021 travel dates, with search share for each of April to August dropping between 12% and 21%.
For the second successive week summer 2022 searches recorded the big gains, with May and June 2022 entering the top 10.
Chris Webber, head of travel deals at icelolly.com, said: "As we've seen now for a few weeks, there's a growing interest in travel for the latter part of S21 and also S22 travel.
"September and October 2021 searches continue to grow but the entry of May and June 2022 into the top 10 most-searched reflect that increasing focus on next year's summer holiday.
"And it could be that those same people are thinking UK in spring and early summer, overseas after that.
"In our UK search, people are looking to much nearer-term searches, with travel from late April to late July dominating.
"The popular destinations reflect people looking for a summer getaway, too, with beach destinations like Cornwall, Devon and Dorset all prominent.
"However, as we've seen at numerous points through this pandemic, as soon as things change so does consumer search and booking behaviour."