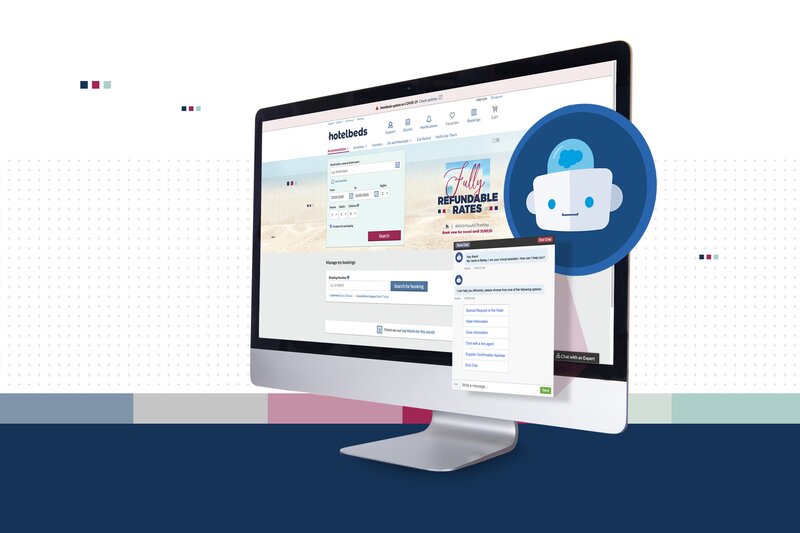 Hotelbeds introduces Bedsy, the trade partner chatbot
Feature is part of global bedbank's new SelfSeT range of serf service tools
Global distribution giant Hotelbeds has added a chatbot  as part of new self-service technology developed for its B2B partners.
'Bedsy' is being made available to Hotelbeds and Bedsonline customers to provide booking updates, answer day-to-day queries and provide confirmations in real time.
The introduction of the chatbot comes after Hotelbeds launched Livechat that puts clients in direct contact with their local contact centre via a web chat function.
Hotelbds said Bedsy can also point clients in the right direction for many requests and queries, such as how to send a special request to the hotel or provide links to access hotel information.
Both Livechat and Bedsy form part of SelfSeT, a self-service toolkit from Hotelbeds designed to help clients resolve their most common queries more quickly and conveniently.
Further planned launches will include a reservations help desk, a reservation management portal for API clients, an automated phone support platform, and a range of new functionalities and improvements to the booking engine.
Bedsy and Livechat are available to more than 60,000 client partners globally with the exception of Japan and China.
Marc Albert, global operations director at Hotelbeds, said: "We listened to our clients and recognized that they wanted to reduce operational costs and boost efficiency, so we've created Bedsy to respond to those needs.
"Bedsy will maximise the efficiency of our customer care teams and save a lot of the time clients currently spend resolving their most common queries, not least as 35% of calls we receive are just to re-confirm hotel bookings.
"Equally Livechat means our Contact Centre agents are instantly accessible to our clients and thus can handle customers' enquiries quicker.
"Our main objective is to offer the best customer experience and we strongly feel that with the launch of Bedsy and Livechat – along with other SelfSeT tools in development – we are delivering the best possible customer care in our sector."