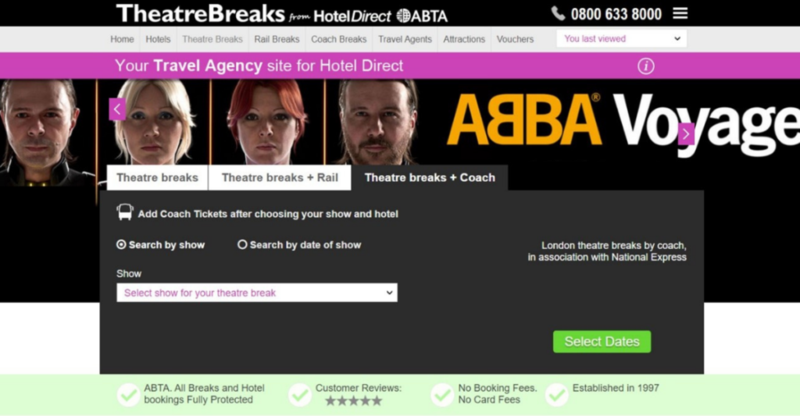 Hotel Direct develops dynamic coach break booking platform for trade
Agents can now book a package holiday to any hotel with any National Express coach
Agents can book dynamically packaged coach breaks thanks to a new partnership between Hotel Direct and National Express.
Hotel Direct, which sells through Hays Travel and Co-operative Travel, was previously offering dynamic rail packages to the trade, but has now launched what it says is the "UK's first dynamic coach package platform".
Agents can now book a package holiday to any hotel with any National Express coach plus, optionally, any London theatre show.
The lead-in price for return coach travel from Birmingham, one-night stay at the four star Millennium and Copthorne Chelsea FC Hotel including breakfast, and ticket to Tina – The Tina Turner Musical is £108 based on a July 18 departure.
Return coach travel from Newcastle with a one-night stay at the three star Chelsea Cloisters Hotel and ticket to Wicked on August 16 costs from £106.
Prices for return coach travel from Manchester, a one-night stay at the three star President Hotel and ticket to Phantom of the Opera start at £132 based on an August 15 departure.
Mark Wilson, director of Hotel Direct, said: "We're so proud to be launching this innovation in association with National Express. Both companies have worked tirelessly over many months to achieve this.
"It gives travel agents complete flexibility and almost infinite choice.
"Any National Express coach can now be packaged with any hotel – and we have thousands – and, optionally, any of the 150 London theatre shows, all with a highly competitive package price.
"Coach breaks and theatre breaks by coach complement our existing rail break offerings but hugely increases the choice, answering the needs of a broader market in respect of budget and departure point."