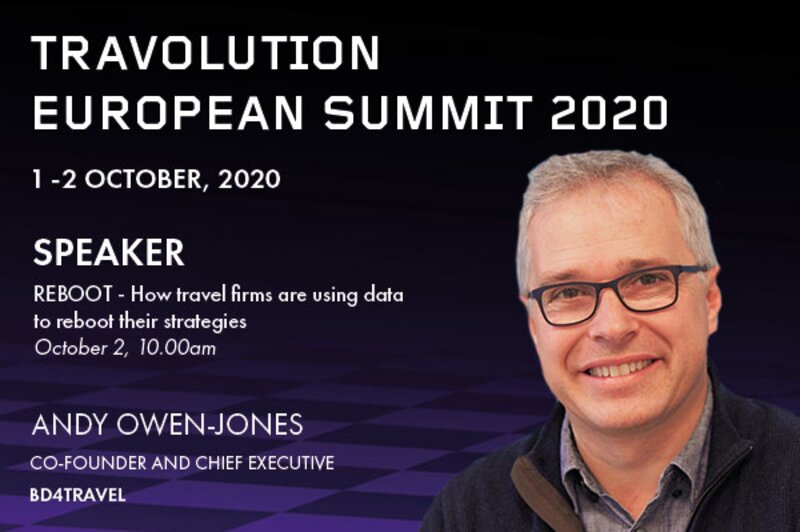 Guest Post: Replace forecasts with real-time visitor data 'nowcasts' to rebuild travel
Andy Owen-Jones, of bd4travel, says travel firms must use AI and tech to react quickly in unpredictable times
 Ahead of his session at this week's Travolution Summit Andy Owen-Jones, founder and chief executive of bd4travel, says travel firms must use AI and tech to react quickly and remain relevant in unpredictable times
Let's face it, we are seeing substantial changes in consumer travel booking activity.
Where we used to see Mondays and Tuesdays as key booking days, this is now spread across the week.
Greece usurped Spain as the number one holiday destination for Summer 2020, and even domestic trips in Germany have entered the Top 10 on package holiday portals in German-speaking markets.
Governments' Covid-19 travel guidance, restrictions, air-bridges and the impact of lockdown on consumer travel confidence is well and truly establishing a new normal.
These uncertainties cannot be analysed based on historical data and traditional booking patterns.
Market behaviour has a way to go before activity stabilises while we wait in anticipation of a second wave and return to wider lockdown restrictions.
What we can be certain of is that real-time data, analysing and reacting to live consumer behaviour are essential for travel businesses to optimise bookings and provide value in the customer experience.
---
Andy Owen-Jones will be presenting a digital masters session at this week's Travolution European Summit. Register for FREE now.
---
Data is the new currency
The role of insightful data has come to the forefront as businesses try to navigate these murky and uncertain waters.
Data is the new oil: its value underpins decision-making, enabling travel companies to react in real-time.
In spite of that, it's not data for data-sake, but – just like oil – the wrong type of data in the wrong place dilutes demand, losing value.
The pertinent question for all businesses is – what type of data is valuable right now?
Data analytics needs to respond and engage with new consumer behaviours immediately, forcing businesses to look at their data warehouses to evaluate the value of their data, and how it can be utilised to determine a way forward.
Data cannot work alone but needs artificial intelligence and machine learning to interpret and predict user signals to prioritise correctly what promotions to present to the customer, helping convert lookers into bookers.
Out with the old – historical data
We are seeing users display irregular behaviour that is in line with government warnings and holiday cancellations.
However, most travel companies continue to base insights and campaigns on historical data from past booking activity and website engagement.
This is hindering businesses in understanding customers' present demand and intent. What happened last week cannot be an indicator of current and future demand.
As we saw between June – August 2020, traditional booking patterns failed to materialise.
One week we see a surge in bookings, followed by destination restrictions impacting traveller confidence.
Today the travel industry has to utilise a different data set to serve customers at each specific moment in their planning and booking journey.
The Nowcast – Real-time visitor data
Real-time situations and context need to be taken into account.
We need to listen and understand live visitor data, replacing forecasts built on history with 'nowcasts' based on the present.
The market has been well and truly disrupted, accelerating digitalisation and placing importance on real-time predictive analytics to respond to each live visitor signal and profile.
Companies need to react fast and intuitively to capture customers, responding effectively on a personal level.
By understanding the DNA of your audience, as it adapts and evolves, travel companies can present the right messaging which connects to travellers demand and intent.
While customer surveys and historical data may give you a snapshot of your users' sentiment, it will only be at that specific moment in time.
Insight based on live data analysed by well-targeted artificial intelligence is now critical for decision making as market dynamics change.
Marketing automation
As we see teams stretched with limitations on human resources and manpower, there is the opportunity for AI to flourish and personalise content at scale.
A new approach to customer-centricity is needed to meet the needs of every individual user.
At the same time, with restrictions in destinations and available products, travel companies have to steer available, marketable and profitable products to visitors to support core commercial aims for survival.
This requires an intelligent use of data which matches individual visitor profiles and demand to product availability.
If a travel corridor is blocked, you cannot be offering this destination to visitors. Similarly, why would you present a product to a user they can't afford?
All of this needs to happen in real-time in order to add value to the user experience.
Marketing automation isn't about taking work away from marketing teams, but about helping them work smarter to recognise the product fit and relevance, to continually personalise the experience.
Context and story-telling
Every trip has its own context so requires a unique understanding of the individual user.
bd4travel's Live Profiler provides the DNA of each and every visitor, capturing unique signals so travel companies can present the most powerful message.
Today, we need to build a two-way dialogue with customers, even if they are anonymous users, to improve the experience and show we are listening, understanding and responding.
Recording and analysing user activity builds a conversation with users to help them with decision making.
Travel portals have to move from presenting static products and focusing overwhelmingly on price to become an interactive personalised journey, requiring greater emphasis on product information and updates that taps into the intent and sentiment of each user.
Travel companies need to craft stories for people at scale – explaining why this holiday is the right one for each user and why the destination is the place to feel relaxed and safe.
Not generic messages, but targeted by segment type, user type and the type of holiday being researched.
Convincing people to travel requires a new layer of comfort for potential travellers.
Understanding the relevance of price versus other factors will enable you to better forecast demand while presenting dynamic content to reflect the ever-changing marketplace where promotions are presented based on personal intent and interest that enhances the customer experience.
"Prediction is very difficult, especially about the future." (Mark Twain)
In times when only the immediate future can be predicted, because government regulations and travel corridors continue to change constantly, only live predictive analytics can best service your users.
Therefore, we need to move from historic-data based analysis towards instant actions and messages based on real-time data for a true 1:1 user communication.
 Next steps – Click here to find out how you can #comebackstronger with AI-driven Personalisation
 And discover bd4travel's August data and consumer intent activity and signals to understand new key performance indicators for visitor engagement