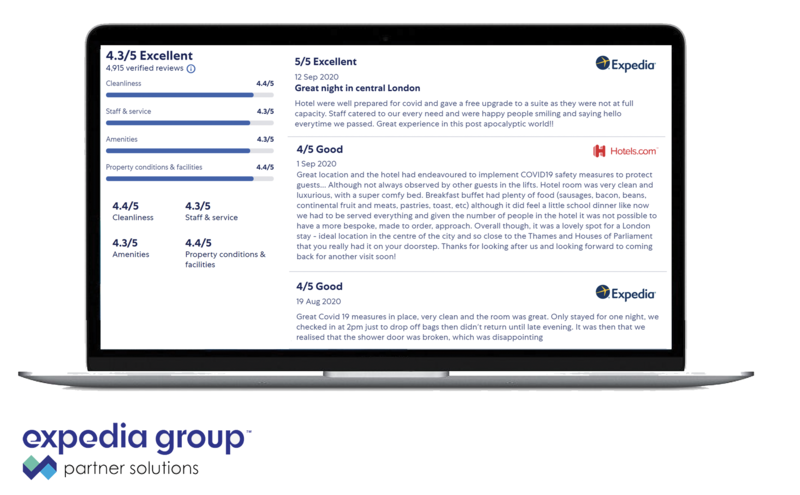 Expedia makes millions of ratings and reviews available to travel agent partners
OTA's Partner Solutions division says reviews are boosting consumer confidence during the COVID pandemic
Expedia has opened access to its collection of travel reviews and ratings to travel agent partners for the first time.
Expedia Partner Solutions says the move will give partners access to tens of millions of reviews and ratings to boost consumer confidence during the COVID-19 pandemic.
EPS partners, including online travel agents, business travel and retail brands can access over 75 million ratings and 58 million textual reviews to share with travellers.
Ian Knox, vice president of product and marketing at EPS, said: "User-generated content is hugely influential in booking decisions, especially at this time.
"A full 70% of travellers read online reviews before they book. And, with the pandemic, today's travellers want to fully understand a property's check-in procedures and practices before booking."
Expedia said research shows that transparent health and safety content generates more bookings, with properties seeing 10% more net room nights when reviews show how they are dealing with coronavirus.
The OTA added recent guest experiences can be used to inform new bookers on what to expect on arrival, social distancing measures, and what cleanliness and hygiene practices are in place.
"Through access to these detailed traveller reviews and ratings, EPS is supporting partners as they help reassure travellers and provide up-to-date guidance on the best places to stay," the firm said.
Traveller ratings and reviews are available through the latest version of the EPS Rapid application programming interface (API).
Obdulia De Pedro García, head of integrations at Grupo CDV, a partner of EPS' Rapid API, said: "We believe that traveller ratings and reviews will help convert shoppers worried about safety into travellers ready for their trips."
Since March 2020, 1.7 million new traveller reviews have been added to the platform globally, including those shared by customers from Expedia.com and Hotels.com.