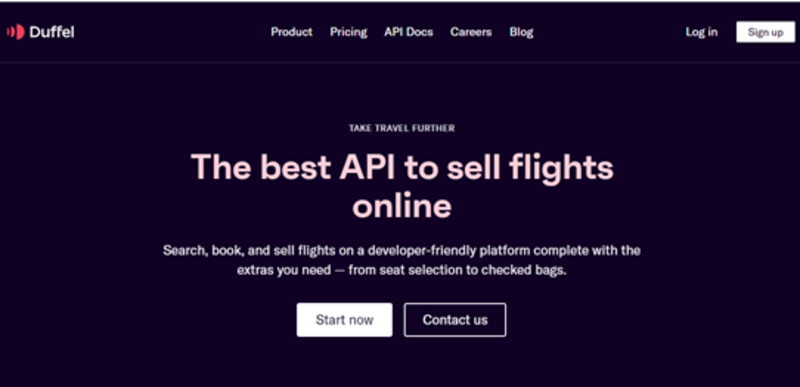 Duffel to help travel 'build back better' with free starter offer for flights platform
Self-serve platform means agents can be signed up and selling flights from 20 suppliers in minutes
Duffel is hoping to help travel firms get back on their feet with the launch of a self-service version of its flight selling platform.
The firm says its mission is to democratise travel at a time when the sector has been shattered by the ongoing pandemic.
Its new platform reduces integration time from months so firms can be up and running selling fights from 20 airline suppliers in minutes.
Duffel has introduced a new tier system for users that lets start-ups try out Duffel's enhanced APIs for free for the first 12 months.
The firm said its software platform acts as a bridge between airlines and merchants of any size, enabling them to offer customers the best flight and paid extras deals online.
"It democratises travel by lowering the barriers to entry for anyone looking to start a travel business, or those in need of digitising their existing processes, reducing overheads and reaching new customers, particularly in the age of coronavirus.
"The relaunched website and self-serve signup flow allow travel businesses to join the platform at unprecedented speed – minutes versus months – and without any assistance from Duffel," Duffel said.
The platform provides access to both NDC [New Distribution Capability] and non-NDC airlines.
Partners include American Airlines, Lufthansa Group, British Airways, Emirates, Cathay Pacific, Transavia, United Airlines, Air Canada and more.
Duffel founder and chief executive Steve Domin, who has posted a video demonstrating the platform on YouTube, said:
"A frictionless, hassle-free experience is even more important and crucial to the future of the industry now.
"Travel has taken a substantial hit in 2020 and airlines and agents have had to cut hundreds of thousands of jobs around the world.
"Not surprisingly confidence among passengers is down, revenues have sharply declined and the industry urgently wants to recover.
"We hope our new platform, and our decision to offer it free for 12 months through the new starter tier, will help the industry build back better and give travel sellers who are considering new technology the confidence to make this move."
Duffel chief technology officer, Norberto Lopes, added: "Duffel was already the fastest way for developers and travel merchants to build a seamless flight booking experience with access to exclusive content.
"Our new website and self-serve features take this speed, efficiency and intuitiveness to another level – moving the world a step closer to enabling any merchant to sell flights instantly.
"We've built these tools with developers in mind. When airlines and agents are better connected, the entire travel industry benefits, from the corporate companies all the way down to the consumer."
Australian banking app for travellers Pelikin is among the first customers to use Duffel's self-serve platform to offer users the ability to book flights.
Sam Brown, Pelikin chief executive, said: "Offering flights via our app has been a feature we've been keen to add but getting all of the various accreditations and building a platform capable of doing it in a way that benefits our customers made it almost prohibitively difficult and time consuming.
"Not only does Duffel remove these barriers, its self-serve platform is incredibly intuitive.
"Each step is self-explanatory and we were pleasantly surprised by just how quickly we were able to offer this game-changing feature which we'll soon be making available to our customers."
New self-serve features will offer companies the ability to activate their accounts, track their spend, and fully service their tickets, via a single dashboard.
As new airlines join the platform, merchants will be able to turn them on with a single click and begin accessing content immediately.
As well as the free starter tier Duffel is offering 1,000 free bookings to its entire customer base to aid recovery.
"By removing the barriers to entry for new travel start-ups, and offering a way for existing travel companies to access better content at reduced fees, Duffel aims to both aid industry recovery and become the new software backbone of the travel industry," Duffel said.
Last year Duffel raised $51.5 million from investors to continue expansion.  It will use this capital to finance the free services to agents.
In 2020, the London-based company has quadrupled its team, tripled customer numbers, expanded to the US with its first office in New York, and hired its first US employee.