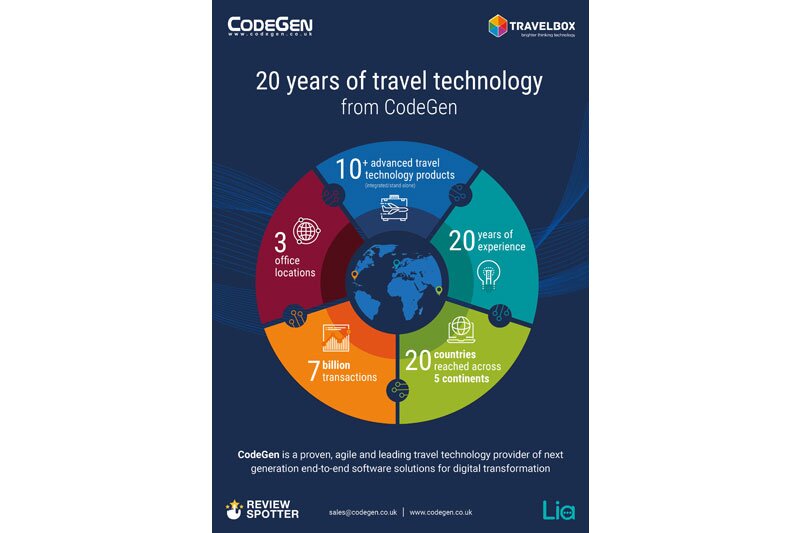 CodeGen hits 20th anniversary landmark in confident mood about the future
TravelBox developer's clients account for seven billion annual travel transactions today
The developer of the widely-used travel operating platform TravelBox, CodeGen, says it is confident about the future as it marks its twentieth anniversary.
Having launched in 2000, today the firm provides its software to businesses in more than 20 countries across five continents.
CodeGen has three offices globally in the UK, US and Sri Lanka swerving clients in multiple travel market sectors accounting for over seven billion transactions.
CodeGen is best known for its TravelBox platform that provides a full suite of tour operating capabilities to operators, airlines, DMCs, cruise lines, resorts and attractions.
Bharat Patel, CodeGen president of commercial and marketing said: "20 years has gone by very quickly but we've always stayed relevant.
"CodeGen will continue to innovate and provide cutting edge travel technology like the Review Spotter platform and Lia chatbot to help our clients stay ahead of the game.
"We're looking forward to and are extremely excited about the future, to help transform the industry."
Harsha Subasinghe, chief executive, added: "We believe in disruptive transformation where curiosity, passion and innovation are key attributes we need to change the world.
"Our teams have patently transformed billion-dollar companies globally, and we continue to take many more home-grown brands to the international arena.
"I am proud of the 600 brilliant minds that work to design and engineer our purpose-built proprietary innovations. We dreamed, we pioneered, and CodeGen's journey continues.
"Our ability to invest in disruptive innovations is sustained by the exponential organic growth of CodeGen itself.
"This flexibility invigorates creativity, and we are all about taking considered risks to be the best at what we do."